Jewish atheist may be next UK PM
Reports from 1) BBC news, 2) Haaretz, 3) Ynet news.


Ed Miliband and his wife Justine visiting the Khan al-Ahmar Bedouin community in the West Bank. Photo by PA.
Ed Miliband criticises expansion of Israeli settlements
By BBC news
April 12, 2014
Expanding Jewish settlements in the occupied West Bank poses "a mortal threat to the two-state solution" to the Israeli-Palestinian conflict, Ed Miliband has said.
The Labour leader, nearing the end of a three-day visit, said Israel's policy on settlements was "wrong and illegal".
He visited a Bedouin camp where residents are among 2,300 Palestinians facing possible displacement.
Mr Miliband's trip follows a recent faltering in US-led peace talks.
Israel and the Palestinians have blamed each other for taking steps they believe breach commitments aimed at advancing negotiations.
Mr Miliband, who is Jewish, said he supported "the homeland for the Jewish people" but also made it clear he does not back all actions of the Israeli government.
Speaking after his visit to the Khan al-Ahmar camp on Saturday, Mr Miliband said: "What I have seen today shows that the expansion of Israeli settlements on the Palestinian West Bank is not only wrong and illegal but represents a mortal threat to the two-state solution and to a successful outcome of the peace process.
"If we are going to have a viable, democratic Palestinian state the more we see an expansion of settlements the more it becomes difficult to construct this state."
Israel captured the West Bank from Jordan in the 1967 Middle East war. Settlements it has built there are considered illegal under international law, though Israel disputes this and continues to approve the construction of new homes for Israeli citizens.
Palestinian leaders say the West Bank must form part of a future Palestinian state.
Mr Miliband, who has been accompanied by his wife Justine, will stay overnight in the West Bank city of Ramallah.
He is due to hold talks with Palestinian President Mahmoud Abbas before he leaves on Sunday.
He has already met Israeli Prime Minister Benjamin Netanyahu.
Taking questions at the Hebrew University of Jerusalem on Friday, Mr Miliband said he had "a deep sense of gratitude to Israel for what they did for my grandmother".
She survived the Holocaust in Poland before emigrating to the country.
'Frozen' taxes
Meanwhile, Israel has imposed sanctions against the Palestinian Authority (PA) in retaliation for its signing up to several international treaties – moves which analysts say could give the Palestinians greater recognition internationally.
Israel says such moves hinder peace negotiations.
It said taxes collected on behalf of the PA would be frozen, with limited access granted to bank deposits in Israel.
Palestinian chief negotiator Saeb Erekat told AFP news agency it was "theft of the Palestinian people's money" and a "violation of international law and norms by Israel".
The Palestinian leadership accuses Israel of reneging on a plan to release Palestinian prisoners.
---
Miliband and the loneliness of a Jewish diaspora politician
In interview with Haaretz, visiting U.K. Labour Party chief speaks of 'deep affection' for Jewish state

By Anshel Pfeffer, Haaretz
April 11, 2014
In a little over a year from now, Ed Miliband could well be the first Jewish* prime minister of the United Kingdom. Despite this, in the three and a half years since he became leader of the Labor Party, there has remained a lingering feeling of unease with him in the British Jewish establishment, especially the more pro-Israel element of the community.
"David Cameron isn't Jewish, neither were Tony Blair and Gordon Brown, but there's always a feeling that Miliband feels a lot less comfortable than they ever did at Jewish events" says one veteran official at a major Jewish organization.
In an interview with Haaretz yesterday, Miliband tries to dismiss the suspicion with which he is regarded by some British Jews and Israelis.
"I think there are different people with different views. I have a very good relationship with the Jewish community in Britain and I'm very proud of my link with the Jewish community." Perhaps unconsciously this is the reason for some of the unease; Miliband regards himself as having a relationship with the Jewish community, not as being part of it.
Miliband is visiting Israel and the West Bank this weekend, only four weeks after his opponent, Prime Minister David Cameron was here, delivering a rousingly pro-Israel speech to the Knesset. For Israeli diplomacy, this has been a rare coup, having Britain's current and quite possibly its next leader here in the space of a month. At times, they both seem to be outdoing each other to praise Israel and paper over any differences between the two countries. Unlike on domestic policy, where the Labor Party and its leader constantly clash with Cameron's Tories, here in Israel, Miliband does not seem at pains to emphasize their differences on foreign policy.
"We have a bipartisan approach on these issues, so I think it's important we have a unified position. There are certain points of difference but in general we have a similar position." he says, reiterating the regular formulations of the two-state solution with security for Israel and independence for the Palestinians. The main division on the Palestinian issue was in November 2012 when Miliband supported the Palestinian bid to update its status at the United Nations because in his opinion it strengthened the "moderate" Palestinian elements, while the Conservative government abstained. Now, however, he refuses to take a position on the latest decision by the Palestinian Authority to unilaterally join more than a dozen international conventions, saying that the most important thing now is to get back to negotiations as soon as possible.

Ed meets Bibi in the PM's Jerusalem office.
Miliband in his visit seems to be going out of his way to seem as pro-Israel as possible. In an hour-long session during which he took questions from Hebrew University students at the Mount Scopus campus in Jerusalem, he started out by saying that "Israel gets into lots of headlines but its great achievements get ignored." In the interview he says "I'm here to learn, not to lecture."
But supporting Israel is never simple. A year ago, he was asked at an open meeting with a Jewish audience whether he is a Zionist, he answered in the affirmative but the next day his office tried to claim he hadn't actually admitted to being a Zionist. In the interview he denies that there is anything wrong with being both leader of the British Labor Party and a Zionist but somehow manages to avoid actually saying the Z-word. "I see Israel as the homeland for the Jewish people and that's really important to me."
He feels much more comfortable couching his connection with Israel to his family history, rather than in ideological terms. His father, Marxist theoretician Ralph Miliband, arrived in Britain during the World War II as a refugee from his native Belgium. His mother survived the Holocaust in hiding in Poland. In a similar way, in his speeches in Britain, he is describes his connection to his homeland as the "son of refugees," rather than as a British Jew.
He is however very sincere and warm when he talks about his "deep affection" for Israel.
"For me it's not just theoretical, it's actually practical. It's about what this incredible sanctuary means to my family. Landing last night at the airport took me back to being seven years old, coming to visit my grandmother. To me it's a practical sense of what Israel has done for my family and the importance of it."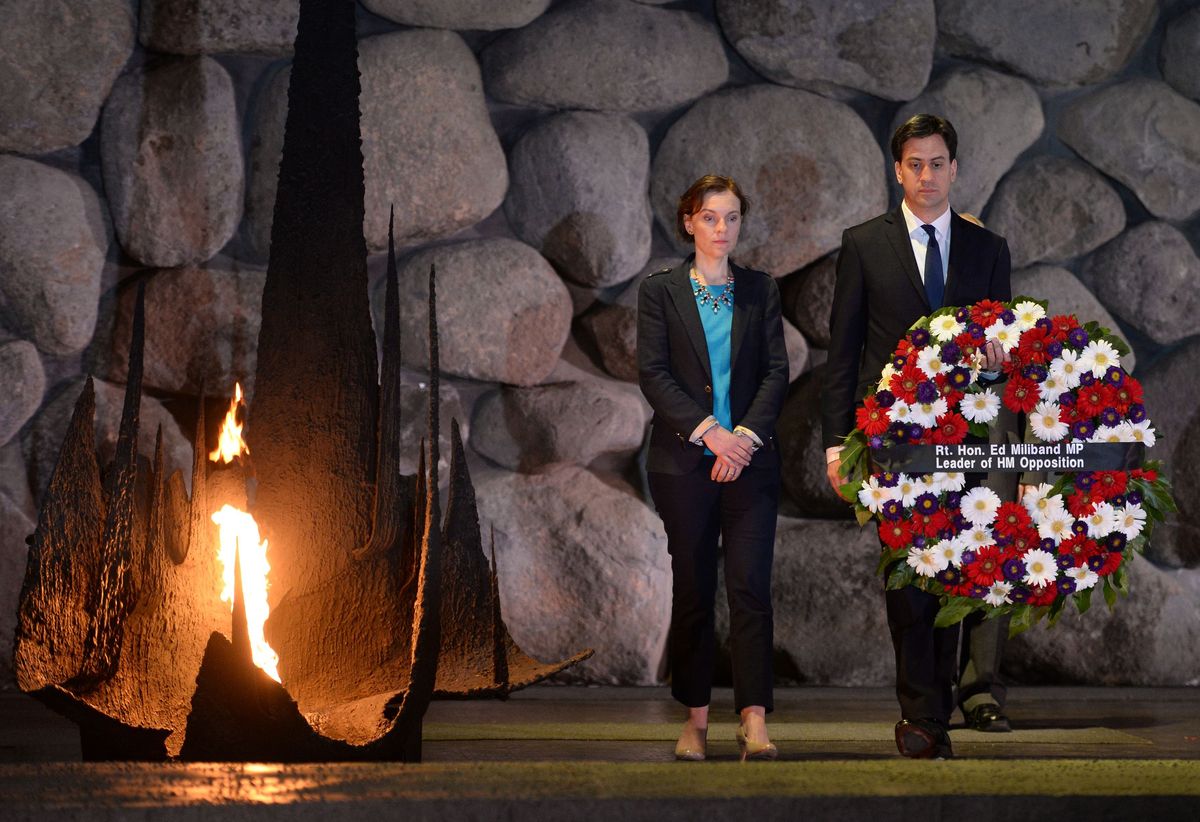 Laying a wreath at the Holocaust memorial museum, Yad Vashem

But beyond his family experiences and a general commitment to the two-state solution, Miliband isn't into offering detailed policies for Israel and the region, certainly not being critical of Israel in any way. In his public appearances, he prefers not to talk about the settlements in length, saying they are "an issue that needs to be addressed" and reminding his listeners briefly that "they're illegal by international law" – but does not offer his own view. He actually has some relatives living in Israel across the Green Line, or as he says in response to another question "I've got a lot of relatives all across Israel."
When asked about Iran, Miliband, who successfully opposed in parliament the government's plan a retaliatory strike on Syria following the Assad regime's use of chemical weapons says "We never rule out any options" and that we "have no illusions about the (Iranian) regime, we shouldn't take on trust what they say."
Even when asked about Labor support for policies that the Israeli government is less happy about, such as the recent European Union guidelines against financing any Israeli organization connected to the settlements and labeling settlement products exported to the EU, he instead prefers to emphatically say "I'm not in favor of boycotting. Not in favor of the BDS movement. The labeling issue is about giving more information to the consumers. And that's important, but there's a different issue and that's do you go down the road to boycotts and I don't think boycotts are the answer, I think dialogue is the answer."
---

On a kibbutz outside Jerusalem Ed Miliband is welcomed by 84-year-old Sara – his mother's cousin – who, like her, is a Polish Jew who survived the Holocaust. Photo by PA.
British opposition leader: I'm a 'Jewish atheist'
Ed Miliband, currently visiting Israel, says while his Jewish origin will always be a part of who he is, he does not believe in God.
By Ynetnews
April 12, 2014
British opposition and Labour leader Ed Miliband described himself on Friday as a "Jewish atheist," but noted he still believes in the importance of religion and faith, British media reported on Saturday.
While Miliband, currently on a visit to Israel, is of Jewish birth and considers his Jewish origin to be a part of who he is, he says he doesn't believe in God.
"I don't believe in God, but I think faith is a really, really important thing to a lot of people. It provides nourishment for lots of people," he said. "In terms of faith for me, it's a faith about how you change the world. And that is actually true for a lot of religious people as well."
Miliband's views of Judaism are a part of his upbringing as his parents were not practicing Jews.
His mother, a Polish Jew, survived the Holocaust thanks to being protected by Poles, and his father, of Polish-Jewish origins, fled with his parents to England during World War II.
Miliband also spoke on the impact his parents' experience escaping Nazi persecution had on his decision to go into politics and expressed his desire to be elected "the first Jewish prime minister."
"Someone asked me if I thought it was a disadvantage, that people would be less likely to vote for me because I'm Jewish, and I said absolutely not," he said. "That's one of the great things about Britain. There are elements of anti-Semitism, (and) it is really, really important to tackle those and have no truck with them. I have said I hope that I'll be the first Jewish prime minister if we win the election, but it is neither an advantage nor a disadvantage."
Despite this, he clarified, he views Britain as a "Christian country."
"We are really lucky in having the Church of England as an established Church. It is a great institution, not just in the spiritual faith and nourishment that it gives to lots of people, but also the good work it does in communities," he said.
British Prime Minister David Cameron is the only British party leader to say he believes in God. Miliband and leader of the Liberal Democrats Nick Clegg both declared themselves to be atheists.
Jewish origins
During his visit to Israel, Miliband got a tour of Jerusalem, where he met with Prime Minister Benjamin Netanyahu.
He was also taken to a hill overlooking the Gaza Strip and shown from where rockets are fired towards the Israeli south.
At a visit to Jerusalem's Yad Vashem Holocaust museum, the Labour leader was given a document about his family history, that included a shocking fact – his grandfather had not died in Auschwitz as the family always believed, but in another concentration camp.
"I feel such a long way away from that family history in a sense, because I have led such a secure upbringing from a very stable family, but both my parents were refugees. Large numbers of their relatives – including my mum's dad – lost his life in the Holocaust and so it is part of who I am, but a long way away, and then to come so close to it is incredibly painful," Miliband told the BBC.
Sixty members of Miliband's family were murdered in the Holocaust. Touching upon his family's Holocaust history, Miliband said the only positive thing that came out of it was that he received an upbringing which said "don't waste a life, don't waste a single life."
"They never said 'our family has a Holocaust history so you better work hard and do your homework', but they inculcated in me a sense of 'you have got to try and repair a broken world,'" he added.
While in Israel, he also visited his mother's cousin, Sara Ben Zvi, whom he has not seen in 37 years. Ben Zvi, like Miliband's mother, is a Polish Jew who survived the Holocaust. She lives in a kibbutz just outside Jerusalem and hosted Miliband and his wife, along with other relatives, for Shabbat dinner.
Note
*The UK's first Prime Minister with Jewish parents was Benjamin Disraeli (1804 – 1881) although his father Isaac D'Israeli (an Italian immigrant) abandoned Judaism and had all his children baptised as Christians. Benjamin was a member of the Church of England from the age of 12. He was Conservative Prime Minister from 27 February to 1 December 1868 and from 20 February 1874 to 21 April 1880.