Best of friends pledge disagreement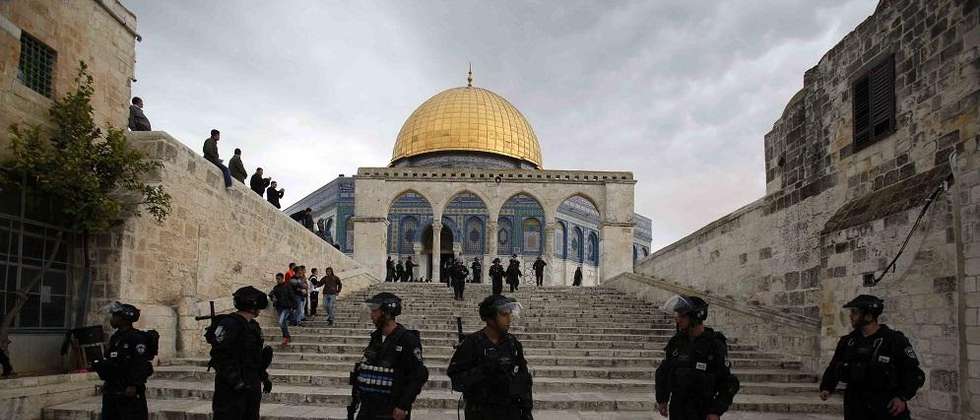 A Palestinian throws a stone during clashes with Israeli police after Friday prayers on the compound known to Muslims as Noble Sanctuary and to Jews as Temple Mount in Jerusalem's Old City February 7, 2014. Israeli police stormed the compound on Friday using stun grenades to disperse Palestinians, some of whom were masked, after they threw stones towards the Western Wall and Mugrabi Gate, no injuries were reported at the scene and 5 Palestinians were detained, a police spokesman said. Photo by Ammar Awad / Reuters
Merkel visits Israel as violence flares on Temple Mount
The violent clashes on the Temple Mount and the attack on an arms convoy on its way to Lebanon, both while German Chancellor Angela Merkel was visiting Israel, are warning signs of the current situation's fragility.

By Ben Caspit, trans. Simon Pompan, Israel Pulse / Al Monitor
February 25, 2014
On Feb. 24, just a day before German Chancellor Angela Merkel and most of her new cabinet arrived in Israel for a working visit, the oldest Holocaust survivor, Aliza (Alice) Herz-Sommer, died at the age of 110. Born in Prague in 1903, Herz-Sommer met Franz Kafka as a child. After marrying musician Leopold Sommer, she gave birth to a son, Raphael. Then, World War II broke out. The Nazis murdered her mother, Sophie, and she was taken along with her husband and son to the Theresienstadt concentration camp.
A gifted musician, Herz-Sommer survived Theresienstadt thanks to her piano performances. Her husband was later sent to Auschwitz and was ultimately murdered in Dachau, where he died of an illness. After the liberation of the camp in 1945 by the Red Army, she emigrated to Israel with her son, establishing a family. It is here in Israel that she spent "the most beautiful forty years of my life," as she put it, as a piano teacher at the Jerusalem Academy of Music & Dance. She then moved to the United Kingdom to follow the international career of her cellist son. She lost him when he was 64 years old, after a heart attack during a concert tour in Israel. A documentary about her life — "The Lady in Number 6: Music Saved My Life" — is nominated for an Oscar this year in the short film category.

Aliza (Alice) Herz-Sommer
As noted, one day after the passing away of this remarkable woman, another and no less remarkable German woman landed in Israel — Merkel. The German chancellor arrived at the head of a delegation comprising 16 senior German ministers and deputy ministers. On the menu: meetings with Prime Minister Benjamin Netanyahu, President Shimon Peres, opposition leader Isaac Herzog, a gala dinner with Foreign Minister Avigdor Liberman and one day of bilateral meetings between the German ministers and their Israeli counterparts. Germany and Israel have fostered an intimate, complex, sensitive and volatile relationship, with history playing the main protagonist. German guilt and conscience have (justifiably) been working overtime. Somehow, the parties have been able to overcome the emotions and the baggage that weighs heavily on the two peoples to create a productive bilateral relationship that will mark its 50th anniversary next year.
There are still some 200,000 Holocaust survivors living in Israel, but they are dying at a rate of a few dozen daily. Soon, none will be left. There are still Israeli public figures and politicians who refuse to set foot on German land, buy German-made products or hear the German language. Yet most Israelis regard today's Germany as an irreplaceable European ally. Though suspicion and baggage remain, Israel is a young nation with complicated problems and many enemies. It cannot afford to ignore Germany's willingness to lend a hand.
An ocean of bad blood and resentment separate Netanyahu and Merkel. In the past year, the number of confrontations between them has diminished, perhaps because both sides have come to terms with the situation. Merkel does not believe a single word that comes out of Netanyahu's mouth. He, on the other hand, is used to this situation, making do with maintaining the strategic ties between both countries.

Chancellor Angela Merkel and Benjamin Netanyahu inform a press conference in 2012 that they have 'agreed to disagree' about the Israeli decision to go ahed with building in the 'E1' area of E. Jerusalem. Photo by AP

It should be emphasized, however, that Netanyahu comes to these meetings with a better status than ever before, having made the strategic decision to go along with the initiative of US Secretary of State John Kerry and not be the one to reject it. Reviewing the situation, Netanyahu told Merkel that Israel was willing to extend the negotiations and pursue them on the basis of the principles presented by the Americans, albeit with some vague reservations. Palestinian Authority President Mahmoud Abbas faces much greater hurdles. The Palestinians are now perceived to be the problem party, refusing to recognize Israel as the Jewish state and to concede the right of return. In this regard, Netanyahu fares much better vis-à-vis the international community than he did just a few months ago.
But there are other issues. As Netanyahu and Merkel were having dinner, foreign news agencies reported another strike by the Israeli air force — the sixth one, according to foreign sources — of a weaponry convoy en route from Syria to Lebanon near the village of Nabi Sheet.
This has become a routine occurrence in Israel. The fact that Netanyahu and Defense Minister Moshe (Bogie) Ya'alon carry out such a strike at a time when nearly the entire German government is in Israel goes to show that such operations, which were once considered a red line violation, are now thought of as routine. Israel has determined its own casus belli, announcing that it will not allow the transfer of game-changing weapons from Syria to Lebanon. Whenever Israel's intelligence agencies track down such moves, the air force scuttles them.
Feeling deterred, Hezbollah is likely to think twice before launching rockets. The last thing that Syrian President Bashar al-Assad needs is Israel on his back. Feeling obligated to repay Hezbollah's Secretary-General Hassan Nasrallah for his support by offering strategic weapons, Assad keeps trying to deliver the goods. Yet Israel keeps putting a damper on the party and upsetting Nasrallah. A large regional conflagration has yet to break out over this, but in the Middle East, never say never.

And it doesn't look as though relations have improved much by this press conference, February 24 2014. Photo by Olivier Fitoussi/POOL/Flash90
On Feb. 12, Martin Schultz, the president of the European parliament and a German politician said to be supportive of Israel, arrived in the country. He also paid a visit to Ramallah, and from there, he continued to the Knesset in Jerusalem. His speech there provoked an uproar when he wondered out loud why the average Palestinian had less access to fresh drinking and bathing water as compared with the average Israeli. Knesset members from HaBayit HaYehudi — a religious nationalist right-wing party in Netanyahu's coalition — raised a commotion, hurling harsh words at Schultz and leaving the plenary in protest. We won't put up with false moral lectures — and in German, they said later. This thuggish conduct, typical of HaBayit HaYehudi, was met with an almost across-the-board criticism in Israel. However, the incident could not be undone. Minister of Economy and Trade and HaBayit HaYehudi leader Naftali Bennett rushed during a visit in Brussels to hold a reconciliation meeting with Schultz, but the bitter aftertaste lingered.
Represented by HaBayit HaYehudi and large segments from the Likud, the growing power of the settlers and their large lobby at the Knesset occasionally turns them into troublemakers. For his part, Schultz would have done well to check out the facts he cited at the Knesset before writing his speech (at which point he would have realized that since the beginning of the Israeli occupation of the West Bank, conditions for the Palestinians in all spheres has dramatically improved — which does not, of course, justify the ongoing occupation.) On the other hand, Israelis ignore the fact that while visiting Israel, Schultz has been speaking vehemently against boycotting the state.
On Feb. 25, while the Israeli and German governments held a joint session, riots broke out on the Temple Mount. Dozens of Palestinian youths went on a rampage, throwing stones and vandalizing property. The riots were a response to a planned debate in the Knesset about sovereignty over the Temple Mount. The site is a holy one over which Jews and Muslims have been fighting for hundreds of years. Israel conquered and reunited Jerusalem in 1967, yet left religious sovereignty over the mosques to the Muslim waqf. Israeli police prevent Jews from getting to the mosques on the Temple Mount, trying to restrict radicals who want to raise the Israeli flag there. The problem is that the growing boldness of the settlers goads them to increase demands to allow Jews to hold prayers there. At the same time, the radicals on the other side are also getting stronger. Members of radical Islamist groups poison the air, reacting violently and brutally against any sign of Israeli sovereignty in the area. Should the Middle East blow up in near future, this is where the fire will ignite.
The Temple Mount is a global powder keg, evoking many emotions, religious sentiments, extremism and messianic violence. In recent years, radical fly-by-night groups, once considered marginal, have grown very powerful. All eyes are fixed on the mountain, where Israel police and Shin Bet invest immense energy to maintain the status quo and quiet. All residents of the Middle East should pray for their success.
Below: A Palestinian man stands behind Israeli security forces standing guard at an alleyway leading to the al-Aqsa Mosque compound on February 25, 2014 in the Old City of Jerusalem. Photo by Ahmad Gharabli / AFP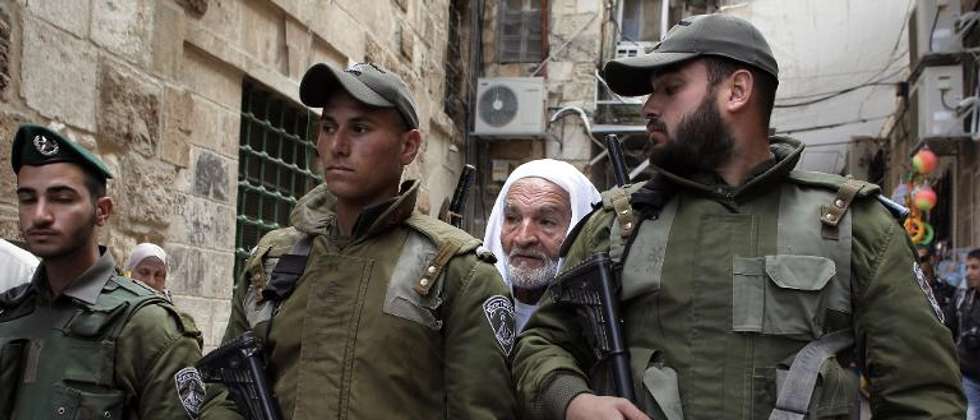 ---
Germany's Merkel backs main Israeli stances in peace talks
Though slamming settlements, chancellor supports Jerusalem's demands for security guarantees, recognition as Jewish state
By Raphael Ahren, Times of Israel
February 25, 2014
German Chancellor Angela Merkel expressed public support Tuesday for Israel's security requirements and its demand to be recognized by the Palestinians as a Jewish state, giving a boost to Prime Minister Benjamin Netanyahu's flagship positions while also backing ongoing peace talks.
Merkel, in the country for an intergovernmental meeting, also reiterated her opposition to Israeli expansion of West Bank settlements, saying they make a positive outcome of the talks less likely.
"We in the federal government support a two-state solution – a Palestinian state and a Jewish state of Israel," the German leader said at a press conference in Jerusalem's King David Hotel. "We also support Israel's security requirements to be able to finally live in secure borders."
Germans are unfamiliar with the constant fear of terror attacks Israelis live with daily, the chancellor said, and especially considering the country's small size it was important to guarantee that its citizens feel secure.
"But for a two-state solution we need territorial integrity," she said, referring to Israeli settlements in the West Bank, which according to much of the international community sit on land needed for a Palestinian state. "Thus we treat the settlement question with concern, in which we are not always of one opinion," she told reporters, speaking in German. "We hope that we can overcome the problems and that the two-state solution can be implemented with an agreement."
Speaking in German, Merkel told reporters that she did not support a boycott or labeling of settlement goods, a position Netanyahu thanked her for, saying that boycotts would move the sides further from peace.
Such sanctions against the Middle East's only true democracy are "neither moral nor correct nor productive" but only serve to strengthen Palestinian intransigence, he said.
"There can be criticism of Israel — that's legitimate," Netanyahu said. "But it's hard not to notice that those who call for boycott of Israel do not call for boycott of any other state… A boycott on the Jewish people, and the country of the Jewish people?"
Earlier during the crowded press conference, Netanyahu had reiterated his key demands for peace with the Palestinians. He called for a "demilitarized Palestinian state that recognizes the Jewish state. Without Palestinian recognition of Israel as a nation-state of the Jewish people there cannot be real reconciliation," he said.
He also called for "ironclad security arrangements… There can be no real peace without security," he said.
Netanyahu also reiterated his hard-line position on the Iranian nuclear program, calling for the six powers that are currently negotiating with Tehran – including Germany – to prevent the regime from attaining the capability to produce a nuclear weapon.
"Iran continues its relentless pursuit of nuclear weapons," Netanyahu said, calling the regime the "equivalent of 50 North Koreas." Tehran continues to develop intercontinental ballistic missiles, which "are not directed at us, they're intended for Europe," he said.
Iran continues to call for the annihilation of Jewish state, Netanyahu said, telling Merkel that it was important not only to prevent Iran from getting a nuclear weapon but to prevent it from having the ability to do so. "Zero enrichment, zero centrifuge, zero plutonium, none of this is necessary" for civilian use of nuclear energy, he said.
Netanyahu acknowledged that Germany and the other countries "probably" don't share his demands that Iran be left with no uranium enrichment. "But I think it's a mistake," he said, pointing out that "just about anybody in the Middle East" agrees with his position, "whether they say so publicly or not."
It doesn't happen often that Israelis and Arabs agree, he pointed out.
Merkel suggested that the so-called P5+1 powers negotiating with Iran are currently inclined to allow Iran a low-level enrichment capacity, stressing that this situation was preferable to a situation in which the regime continued to enrich and install further advanced centrifuges, as was the case before an interim agreement with Iran went into effect a few weeks ago.
"We disagree on that," Merkel said, adding that she does take Netanyahu's concerns seriously.
Merkel arrived Monday night with 15 ministers — nearly her entire cabinet – for consultations with their Israeli counterparts and to celebrate 50 years of ties between Israel and Germany.
On Monday night, the she and Netanyahu touted the countries' strong friendship.
"We have come here with almost the whole of our new government and we wanted to show you in this way that this is indeed a very strong friendship," Merkel said.