Forecast that OECD will investigate G4S for breaking law
Articles from 1) Huffington Post, 2) The Independent, 3) Guardian. Plus Notes and links

Protest outside the G4S AGM,London, June 2013. Photo from London NoBorders
G4S Security Contracts Face Probe Over Israeli Occupation 'Complicity'
By Asa Bennett, Huffington Post UK
January 07, 2014
G4S could be investigated by international authorities amid allegations that it supplies Israel with security equipment for use at military checkpoints in occupied Palestinian territories.
The British security giant is likely to face questions on how it can justify the contracts that arguably aid the Israeli occupation that is deemed illegal under international law.
According to the Independent, sources at the Organisation for Economic Cooperation and Development's UK office have indicated that it will probe G4S' dealings with Israeli security services.
The exact sort of equipment supplied by G4S is not known. However the security giant's deals could be investigated over whether they break the OECD's government-backed guidelines for responsible conduct.
In a blog on the Huffington Post UK, Ruth Tanner, campaigns director at War on Want, attacked the firm's "complicity in Israel's occupation of Palestine through the supply of security equipment and services for use at checkpoints, illegal settlements in the occupied West Bank, and Israeli prisons."
If G4S is found to have acted improperly, this could mark the latest in a string of scandals after the firm was found to have overcharged British taxpayers for the electronic tagging of prisoners and infamously botching the provision of security for the London 2012 Olympic Games.
The global security giant, which employs 6,000 people in Israel, reportedly provides and maintains screening equipment for some military checkpoints on the West Bank, as well as managing security systems at the Ofer Prison and the Israeli police department in the occupied territories.
The business has said it will end those contracts by 2015, but will continue providing security systems at commercial and government sites in Israel.
The OECD's UK contact point, operating under the umbrella of the Department for Business, declined to comment on the investigation.
A Department for Business spokesperson told the Huffington Post UK: "The UK National Contact Point does not generally confirm or deny receipt of complaints, but aims to make an initial assessment within three months of whether a complaint merits further examination and publishes these assessments on Gov.uk."
Writing to the Business and Human Rights Resource centre in 2012, G4S said that its review of its operations on the West Bank by University of Cambridge professor Hjalte Rasmussen had concluded "that G4S did not violate any national or international law."
---

From the Palestine Solidarity Campaign against G4S.
G4S contracts in Israeli occupied territories face major investigation

OECD to examine the controversial firm's alleged supply of surveillance kit
By Jim Armitage, The Independent
January 07, 2014
G4S, the security company which has lurched from crisis to crisis over the past two years, is facing an investigation by international authorities into its alleged activities in Israel and the occupied Palestinian territories.
Sources said the Organisation for Economic Cooperation and Development's (OECD) UK staff have indicated that it will be investigating the company's work supplying Israeli security services.
It is alleged that G4S provides Israel with surveillance equipment at its checkpoints in the occupied territories, although the precise nature of the equipment is not known.
The OECD, which operates under the umbrella of the Department of Business in the UK, is expected to investigate whether the supply of such kit is in contravention of its guidelines for multinational enterprises – a set of Government-backed recommendations for "responsible business conduct" overseas.
Given the illegality of the settlements under international law, the OECD is expected to question G4S on how it can justify, as a company from an OECD-member country, supplying or servicing kit that aids the occupation.
If the organisation finds G4S has acted improperly, it will create another major raft of bad publicity for the company which has already been pilloried for overcharging British taxpayers for its electronic tagging of prisoners and, perhaps most famously, its bungling of the Olympics security contract and its operation of prisons such as Oakwood, where there was a five-hour period of disorder at the weekend.
Only last month, the British Government warned UK citizens of the risks of doing business with Jewish settlements in the occupied territories. The UK Trade and Investment website was updated to warn the settlements are illegal and that operating there was risky.
The website warned against carrying out financial transactions, investments, purchases or procurements from businesses there, and tourism. It said EU citizens and businesses should "be aware of the potential reputational implications of getting involved in economic and financial activities in settlements, as well as possible rights abuses of individuals", and added: "Those contemplating any economic or financial involvement in settlements should seek appropriate legal advice."
That update marked a severe ratcheting up of the British criticism of Israel's activities in the West Bank and East Jerusalem. In a move that enraged Israel, last July the European Union banned grants to Israeli companies or projects with links to the settlements.
The OECD's national contact point in the UK declined to comment on the investigation, which is likely to take about three months for its first stage. Its decision to press ahead is seen as a victory for campaigners like Lawyers for Palestinian Human Rights and War on Want.
Under rules signed up to by the British Government last year, G4S and other companies will have to include a section on their protection of human rights.
---
LPHR complaint against conduct of the security group G4S in Israel and the Occupied Palestinian Territory
Public Statement, LPHR
19 November 2013
On 18 November 2013, Lawyers for Palestinian Human Rights (LPHR) submitted a complaint to the UK National Contact Point (UK NCP) for the Organisation for Economic Co-operation and Development (OECD) Guidelines for Multinational Enterprises (Guidelines). The UK NCP is based at the Department for Business, Innovation and Skills (BIS). LPHR's complaint concerns certain activities of the security group G4S in Israel and the Occupied Palestinian Territory. LPHR anticipates that the UK NCP will immediately assess the alleged violations of the Guidelines by G4S.
LPHR will not make any comment on the complaint at this stage.
[NOTE from LPHR: "We did not provide information to either of the journalists [in the first two articles], and the information on the substance of our complaint is incomplete."]
---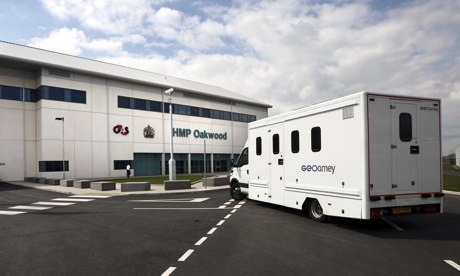 Oakwood prison (1,600 inmates), where a serious disturbance lasted nine hours on Sunday. Planning permission has been given for an even larger (2,000 inmates) prison on the site of a former Firestone tyre factory at Wrexham, N.Wales despite fears about prisoner safety at the low-cost "supersize prisons". Photo by David Jones/PA
Oakwood prison: G4S 'must shape up or ship out'
Labour calls on justice secretary to give private firm six months to improve situation at prison facing series of disturbances
By Alan Travis, home affairs editor, theguardian.com,
January 07, 2014
Labour has called on the justice secretary, Chris Grayling, to abandon his use of the G4S-run Oakwood prison as a model for the rest of the penal system after a serious disturbance at the Wolverhampton jail.
The shadow justice secretary, Sadiq Khan, said ministers needed to come clean on the true scale of Sunday's nine-hour incident and acknowledge there were some serious underlying problems at Oakwood. He said the private security company G4S should be given six months to "shape up or ship out".
Grayling announced a year ago that the average cost per prisoner at the 1,600-place "supersized prison" was £13,200, less than half the average cost of existing jail places. He claimed it set the benchmark for future costs across the prison system in England and Wales, and has called Oakwood his model for other jails.
But in the 18 months since it opened in April 2012, Oakwood has repeatedly faced serious problems, including rooftop protests and other disturbances.
The chief inspector of prisons, Nick Hardwick, reported in October that it was easier for inmates to get hold of drugs than a bar of soap and said a "retrieval plan" was urgently needed. He said the inexperience of staff was evident throughout the prison with clear evidence that they were failing to tackle delinquency and abusive behaviour. He reported that inmates referred to the jail as "Jokewood".
G4S said between 15 and 20 inmates were involved in the trouble on Sunday during which prison staff were threatened and a number of cells on one wing were so badly damaged that inmates had to be moved to other houseblocks at Oakwood or other prisons.
A Ministry of Justice statement denied that the inmates were drunk on hooch – homebrewed alcohol – and had held prison officers hostage, demanding Mcdonald's burgers.
Details of further violent incidents at the privately run prison emerged on Monday. BBC reporters said they had seen documents showing that there had been a series of assaults and an outbreak of violence in the last two months.
The National Offender Management Service documents show that staff in riot gear were used in November to quell an incident in which a group of about 18 prisoners, most of whom were said to be drunk and armed with pool cues, threatened staff and lit small fires. The following week there were five further incidents in which staff or prisoners were assaulted.
Khan said more information was coming to light that suggested the MoJ and G4S were "trying to cover up the true scale of disturbances in the justice secretary's flagship Oakwood prison" on Sunday.
He said the government needed to come clean on what had happened as it wasn't an isolated incident. "Yet instead of getting a grip, Chris Grayling praises Oakwood as his model for the rest of the prisons system.
"Labour wouldn't tolerate the current situation at Oakwood. G4S would get six months to shape up or ship out. The government should demand much, much more of G4S," he said.
G4S has said that Oakwood was still in its start-up phase. Ministers have said that experience has demonstrated that it takes up to two years for a new prison to develop and embed good working practices.
In a joint statement the MoJ and G4S said established procedures had been correctly followed on Sunday and had worked as they were meant to.
---
Notes and links
G4S and the Privatisation of War by Ruth Tanner, Huff Post, July 2012

OECD Guidelines for multinational enterprises: responsible business conduct matters

The OECD Guidelines for Multinational Enterprises are the most comprehensive set of government-backed recommendations on responsible business conduct in existence today. The governments adhering to the Guidelines aim to encourage and maximise the positive impact MNEs can make to sustainable development and enduring social progress.