Mandela: "The South African revolution will not have achieved its goals as long as the Palestinians are not free."
This posting has these items:
1) The National: Palestinians remember Mandela as 'most courageous who supported us';
2) Times of Israel: Nelson Mandela was close to Jews, resolutely loyal to Palestinians, the Jews who were, and weren't, on his side;
3) Informed Comment: United States, Israel opposed Mandela, supported Apartheid, Juan Cole on the hypocrisy of some eulogisers;
4) JPost: Mandela and Israel, Mandela had 'an ambivalent relationship with Israel';
5) PBB: Marwan Barghouti to Nelson Mandela: "Our Freedom Seems Possible Because You Reached Yours", letter from prison;
6) Al Ray: 'The Elders' strongly oppose Israel's new settlement plans, November 2013;

Yasser Arafat and Nelson Mandela, Cape Town 1998. Mandela praised Arafat as 'a fellow freedom fighter'. Photo by AP.
Palestinians remember Mandela as 'most courageous who supported us'
By Hugh Naylor, The National
December 06, 2013
RAMALLAH–To Palestinians, he was nothing short of a beloved icon.
Nelson Mandela was an outspoken critic of Israeli policies who notably proclaimed in a 1997 speech that his people's "freedom is incomplete without the freedom of the Palestinians".
In their struggle to end Israeli occupation, Palestinians draw inspiration from Mandela's efforts to bring down the apartheid regime that ruthlessly repressed black South Africans for 46 years.
He spent 27 years in white-run jails, as hundreds of thousands of Palestinians have been subjected to Israeli ones. His example has encouraged a growing Palestinian embrace of boycotts and sanctions against Israel that also were used to end white-rule rule in South Africa.
To many here, Mandela's message will endure long after his death.
The Palestinian Authority president, Mahmoud Abbas, yesterday praised Mandela as a "symbol of freedom from colonialism and occupation".
Calling him the "most courageous and important of those who supported us", Mr Abbas said the Palestinian people would never forget his "historic statement that the South African revolution will not have achieved its goals as long as the Palestinians are not free."
"His name means so much to us on so many levels, as a man who led a successful revolution against Apartheid and as someone who spent many, many years in jail for his beliefs — just as Palestinians have," said Khalida Jarrar, a Palestinian Legislative Council representative and member of the Popular Front for the Liberation of Palestine, which is part of the Palestine Liberation Organisation (PLO).
"Every Palestinian knows who Nelson Mandela is."
Like the other national liberation movements that emerged in the post-colonial era, the PLO leadership under the late Yasser Arafat espoused similar ideals as Mandela's African National Congress (ANC), which waged a decades-long struggle to end white domination in South Africa.
One of the first foreign leaders Mandela met after being released from prison in 1990 was Arafat. Meeting in Zambia, the South African leader praised the PLO chairman as "a fellow freedom fighter".
When Arafat died in 2004, Mandela called him "one of the outstanding freedom fighters of this generation, one who gave his entire life to the cause of the Palestinian people".
His embrace of Arafat — and the Palestinian cause in general — did not earn him much applause in Israel.

Arthur Goldreich, 1929-2011. South African Jew, moved to Israel as a young man and back to South Africa c. 1962 where he engaged in anti anti-apartheid activism. He became an outspoken critic of Israel, whose foundation he had fought for, comparing its treatment of Palestinians to apartheid in South Africa and claiming that successive "Zionist" governments had become more interested in territory than in peace. He spoke before his death of "the abhorrent racism in Israeli society".
If anything, Israel and South Africa's apartheid leaders had found common cause against the struggles championed by Mandela and the Palestinians. As a result, those two governments developed especially close diplomatic and military relations during the Cold War.
In 1976, Israel invited the then apartheid prime minister, John Vorster, a known Nazi sympathiser, on a state visit. During that tour, Israel's then premier, Yitzhak Rabin, toasted Vorster at a banquet and praised "the ideals shared by Israel and South Africa: the hopes for justice and peaceful coexistence".
Vorster also happened to be justice minister during the infamous 1963-1964 Rivonia Trial that sentenced Mandela to life in prison.
"I think that among Israelis, there's a wilful ignorance about the depth of the ties between the apartheid regime and Israel," said Noam Sheizaf, editor of Israel's left-leaning +972 online magazine.
"These issues are not discussed."
But if he held any grudges against Israel, Mandela, who in 1994 was elected South Africa's first black president, did his best not to show them.
In the 1997 address in which he lent his people's support to the Palestinian cause, he called for their self-determination and statehood and spoke about how Palestinians experienced the sort of "injustice and gross human-rights violations" that blacks endured under apartheid rule.
But, he also praised Yitzhak Rabin — who in 1995 was assassinated by a right-wing Israeli who opposed his decision to sign the Oslo peace accords with Arafat two years earlier — as someone "who paid the supreme sacrifice in pursuit of peace".
That sort of magnanimity helped Mandela achieve the seemingly impossible task of ushering in democracy for South Africans of all creeds and colours.
But for Palestinians, his success also is a painful reminder of their inability to forge a similar path to freedom despite a peace process with Israel that has repeatedly failed over the past two decades.
Fadi Quran, a Palestinian activist in the West Bank who supports non-violent measures to end Israel's occupation, said the failure of the Oslo peace process was a failure to "stick to principles".
He credited Mandela and the ANC for refusing compromises with apartheid leaders that were anything short of equal rights for blacks and whites.
"The most intelligent thing they did was that they understood dynamics of power. They did not allow the racial apartheid system to continue in any form — that wasn't open to negotiations," he said.
The Palestinian leadership under Arafat, however, signed onto the Oslo process without any concrete agreement to end Israel's occupation. Instead, negotiations over so-called final-status issues — borders, Jerusalem, settlements, Palestinian refugees — were supposed to take places after a five-year time period.
That never happened, and Israel's settler population ballooned.
"Under Oslo, the principled stance would have been to not conclude an agreement with the occupation still standing and with the settlements still there," Mr Quran said.
Oslo's failure helped hasten the rise of militancy, such as the Hamas movement, which calls for Israel's destruction and carried out scores of suicide attacks on Israeli buses and cafes.
But perhaps the most significant legacy of the accord's demise is the rising popularity of comparing Israel's Palestinian policies to apartheid South Africa.
That has helped rally Palestinians and international activists to the non-violent tactics of internationally backed boycotts, divestment and sanctions that were brought to bear against South Africa's apartheid regime and its enablers.
"In South Africa, it was not the economic boycott that brought apartheid down. It was the fear of this movement that made white elites reflect and begin to change, and I see the same pattern developing in Israel," said Mazin Qumsiyeh, a writer and activists in Bethlehem who promotes such non-violent measures against Israel.
But missing from this equation is a unifying figure such as Mandela, said Issa Amro, a Palestinian activist from Hebron.
"There's just not the level of support internationally and inside Israel for Palestinian human-rights defenders like there was in South Africa."
hnaylor@thenational.ae
Follow us: @TheNationalUAE on Twitter | thenational.ae on Facebook
---

Israeli president Ezer Weizman shakes hands with Palestinian leader Yasser Arafat in Johannesburg, while South African president Nelson Mandela looks on, May 9, 1994. Photo by Yaacov Sa'ar/GPO.

Nelson Mandela was close to Jews, resolutely loyal to Palestinians
Late South African leader had strong friendships with many in the Jewish world, but never forgot his allegiance to the PLO — or Israel's support for the apartheid regime
By Raphael Ahren, Times of Israel
December 06, 2013
Nelson Rolihlahla Mandela had close friendships and alliances with many Jews, but his relationship with the Jewish state was complicated. While always courteous and never hate-filled, the South African icon's dealings with Israel were overshadowed by Jerusalem's staunch support for his tormentors and, even more so, his ironclad loyalty to the Palestinian cause.
In the name of reconciliation, he made no ongoing issue of Jerusalem's strong long-term partnership with the apartheid regime after he was released from a lengthy prison sentence and became South Africa's first black president in 1994. He professed the legitimacy of Zionism as Jewish nationalism and, upon receiving the 1993 Nobel Peace Prize, he said Yitzhak Rabin deserved it more (Rabin was co-honored the following year). But his primary concern in dealings with Israel's government was the advancement of the peace process and the well-being of the Palestinian people.
"Mandela always strove to be scrupulously fair to both sides, even though his inclination was very much towards the Palestinian side," said David Saks, the associate director of the South African Jewish Board of Deputies. "He was deeply supportive of the Palestinian struggle for independence, but never deviated from his view that this could only be attained through all parties recognizing Israel's legitimate right to exist within secure borders."
Jews played a crucial role in various stages of Mandela's life, especially in his early decades. Indeed, the only white person he ever called "my boss" was Lazer Sidelsky, a Jewish lawyer from Johannesburg, who in the 1940s hired him as a legal clerk.
"It was a Jewish firm, and in my experience I have found Jews to be more broadminded than most whites on issues of race and politics, perhaps because they themselves have historically been victims of prejudice," Mandela wrote in his 1994 autobiography, "Long Walk to Freedom." "The fact that Lazer Sidelsky, one of the firm's partners, would take on a young African as an articled clerk — something almost unheard-of in those days — was evidence of that liberalism."
In 1995, a year after Mandela became president, he gave a signed copy of his book to "my former boss Laz," calling him "a man who trained me to serve our country." Mandela reportedly attended the bar mitzva of Sidelsky's son Barry (Dov) Sidelsky, who now lives in Jerusalem. "When I was a boy, I met Mandela and what etched an indelible impression on me was that when he got married the wedding procession passed by our house in Johannesburg as a sign of tribute to and respect for my father," Barry recalled during a 1999 television interview he gave in honor of Mandela's first and only visit to Israel.

Joe Slovo, 1926-95, Jew, communist, anti-apartheid activist, friend of Nelson Mandela.
Countless other Jews had close relationships with Madiba, as Mandela was called by friends and supporters. People such as Isie Maisels, Harry Schwarz, Joe Slovo, Lionel Bernstein and many others helped him during various stages of his decades-long struggle against apartheid. Some of Mandela's former associates later relocated to Israel.
Arthur Goldreich, for instance, helped hide Mandela and the African National Congress in the 1960s. Born in Johannesburg, Goldreich came to Israel in the 1940s to fight in the pre-state Jewish underground, yet moved back to South Africa in 1954 to fight apartheid. In the 1960s, he pretended to operate a farm outside Johannesburg, which really served as the underground headquarters of the ANC and its leaders, including Mandela, who posed as a worker on the farm. In 1963, South African authorities raided the farm and Goldreich was imprisoned. He escaped to Britain but immediately decided to move to Israel, where he died in 2011 at an old-age home in Herzliya.
Cape Town-born journalist and social activist Benjamin Pogrund is another close associate of Mandela's who has since moved to Israel. The former deputy editor of the Rand Daily Mail, the country's leading newspaper, Pogrund was among the pioneers who reported about black politics in South Africa.
In 1961, Pogrund helped Madiba organize an illegal strike. "Mandela and I met secretly and regularly," Pogrund recalled in Saks's 2011 book "Jewish Memories of Mandela." "We had a system of sending messages to arrange to meet, which would either be at a friend's house in Fordsburg, or when I would drive to a street corner at night, pick up Mandela — his worker's overalls disguise did little to hide his tall, imposing figure — and we would sit in my car in a dark street and talk about the strike campaign."
Some 25 years later, Pogrund and his wife were the first non-family members to visit Mandela in his prison cell on Robben Island, where he was serving a life sentence for sabotage and conspiracy to violently overthrow the government.
"During the nearly two hours of the visit, we mentioned that our youngest son, Gideon, was having his bar mitzva at the end of the month," Pogrund, who today lives in Jerusalem, remembered. "A few days after our visit, Gideon received a letter from Mandela at our home in Johannesburg: It conveyed best wishes for his bar mitzva and for his future life. If getting a message like that from inside prison wasn't surreal enough, it was written neatly on a whiteboard, which Mandela must have told his warders to buy for him. From a man serving a life sentence — and at that stage with no idea when he might be released — it was a kind and thoughtful action for a youngster he had not even met."

A free Nelson Mandela gesturing to Percy Yutar, the former state prosecutor who sent him to jail for life for plotting sabotage against the apartheid state.  Yutar pressed for the death penalty. "The deceit of the accused is amazing," said Yutar as he led evidence in Pretoria's Place of Justice. "They took it on themselves to tell the world that the Africans in South Africa are suppressed, oppressed and depressed. It is a great pity the Bantu (blacks) in the country, who are peaceful, law-abiding, faithful and loyal, should have been duped by false promises." He was South Africa's first Jewish Attorney General and president of South Africa's largest Orthodox synagogue. 
But in his fight against apartheid, Mandela also had Jewish adversaries. Percy Yutar, for example, was the chief prosecutor in the 1960s Rivonia trial in which the future president was sentenced to a lifelong prison sentence. Yutar served for many years as the head of a group of Orthodox synagogues in Johannesburg.
South Africa's first Jewish attorney-general, Yutar is remembered by anti-apartheid activists for the "unnecessarily abrasive, indeed often vindictive, manner in which he carried out his duties," writes Saks. "Even Mandela, generally so ready to acknowledge the good in even his avowed enemies, cannot bring himself to recall Yutar with anything more than disdain," Saks wrote. However, Mandela later had lunch with Yutar, reportedly offering him a kosher meal.
Today's Jewish community in South Africa likes to highlight the Jews fighting side by side with Mandela to marginalize the role of those who supported the regime.
"South Africans of Jewish descent have historically been disproportionately represented among our white compatriots in the liberation struggle," Mandela said at a congress of the South African Jewish Board of Deputies in 1993.
Yet the South African Jewish community's relationship with the apartheid regime is a "very mixed picture," according to Gideon Shimoni, the former head of The Hebrew University's Institute of Contemporary Jewry, who was born and brought up in Johannesburg. While certain individuals were openly opposed to apartheid, as a collective the Jewish community adopted an "attitude of neutrality" to the racist rule in their country, he said.
"Even Mandela kind of bought the line that those individuals who were active in the opposition kind of saved the record of the Jewish community. But it's a much more complicated situation than that," said Shimoni, who examined the issue in depth in his 2003 book "Community and Conscience: The Jews in Apartheid South Africa."
The Jews fighting the racist regime were in most cases very critical of the organized Jewish community, he said. "They believed that the Jewish community has to throw its lot in with the struggle against apartheid, irrespective of what happens to the Jewish community." They also rejected the Jewish community's allegiance to the Zionist cause, according to Shimoni.
'His whole attitude — to everything — was not to look for vengeance but rather to work for a reconciliation and to look forward. The last thing he would do is raise Israel's record'.
Madiba himself was no declared enemy of Zionism. Although he was a staunch supporter of the Palestinian cause — and of Palestinian and other Islamist leaders — he believed that both Jews and Palestinians had legitimate national ambitions.
"As a movement, we recognize the legitimacy of Palestinian nationalism just as we recognize the legitimacy of Zionism as a Jewish nationalism," he said in 1993. "We insist on the right of the State of Israel to exist within secure borders, but with equal vigor support the Palestinian right to national self-determination."
As a statesman, Mandela's relationship with Israel was businesslike and at times cordial, but never truly warm. When he became president in 1994, he maintained diplomatic relations and tried to focus on the hope for a better future rather than dwell on the disagreements of the past. Yet he never forgot Jerusalem's strong alliance with the apartheid state. Israel and South Africa upheld very extensive military cooperation over decades, and Jerusalem was one of the last to join the international campaign to isolate the racist regime.
"The ANC, in common with the international community, was extremely unhappy about the military cooperation between the State of Israel and the apartheid regime in South Africa. The refusal of Israel, over many years, to honor its international obligations to isolate the apartheid regime did influence our attitude towards that government," Mandela said few months before being elected president.
"He certainly was very sympathetic to Zionism in the sense of being a movement for freedom and self-determination of the Jewish people," The Hebrew University's Shimoni said. "But at the same time he had very strong loyalties to those who assisted him, whether it was [late Libyan leader Muammar] Gaddafi on the one hand, or Arafat, on the other. And he made it clear that those who are the enemies of the Jews are not necessarily his enemies."
Indeed, one of Mandela's first acts as a free man was to visit Yasser Arafat. The photos of the two men embracing — taken at a time before the Oslo Accords, when the PLO was officially still devoted to Israel's destruction — raised concerns in Jewish communities around the globe.
"Mandela's initially dismissive response to Jewish concerns exacerbated the situation," Saks wrote. However, the future president acted quickly and, in a meeting with Jewish leaders, alleviated fears by stating that his movement recognized Israel's right to exist in secure borders.
While Mandela was very critical of Israel's support for the apartheid regime, "he didn't make a big issue of it," Shimoni said. "His whole attitude — to everything — was not to look for vengeance and not to dig up the records in the past, but rather to work for a reconciliation and to look forward. So the last thing he would do would is to raise the whole question of the record of Israel. Other people in the African National Congress have done it, up to this day. But not Mandela. It was a characteristic of Mandela to work for reconciliation, and not to dig up old hatreds and anger."
Saks, who remembers Mandela as an "extremely warm" person, said Mandela's attitude "was never to brood over past wrongs, but to acknowledge what had been done wrong and go forward." While Israel's close relationship with South Africa after 1973 did inevitably have a negative impact on his attitude towards the Jewish state, "he was not bitter about it. I think he understood, at some level at least, that the relationship had been one of convenience — realpolitik."
Alon Liel, who became Israel's ambassador in 1992, met Madiba merely a few days after taking up his new post in Pretoria. He had told Mandela's associates that Jerusalem had dramatically changed its South Africa policies in favor of the black community.
"The message [Mandela] sent us was that they will never forget what we did," Liel recalled. "The main message was this: 'We care a lot about the Palestinians. We are on the verge of achieving our freedom, it will not really be complete until our brothers the Palestinians, who fought with us and supported us, will achieve their freedom.'" If Rabin, who had just been elected prime minister, makes peace with the Palestinians, then "we will judge Israel on that merit," Madiba told Liel.
"He was extremely warm," recalled Liel about his first meeting with Mandela. "He was cold only in the parts of the conversation in which he spoke about the fact that the previous ambassador didn't invite him to visit [Israel]." Since his release, he had received invitations from every country in the world — except Israel. He was "very, very offended," Liel said. Since that first meeting, Liel spoke to Mandela on many occasions, saying he almost never brought up Israel's support for the apartheid regime, mostly talking about his desire to visit the country.
A few months later, Liel was attending an event for diplomats during which Mandela was scheduled to give an address, when a clerk told him that Madiba wanted to speak to him.
"He was sitting in a very small room, preparing his speech," the Israeli diplomat recalled. "He said: 'Mister Ambassador, I had a call this morning from Stockholm and they told me that [former South African president F.W.] de Klerk and myself won the Nobel Peace Prize. I want you to send a cable to your prime minister Rabin telling him that Mandela told you that he, Rabin, deserves the prize and not me.'"
Mandela was, of course, referring to the historic handshake between the Israeli leader and Arafat, which had taken place on September 13, 1993. If this momentous event had taken place a bit earlier, surely they would have gotten the nod, Mandela mused. Rabin, Arafat and Shimon Peres received the prize the following year.
On April 27, 1994, Mandela won South Africa's first free multiracial elections. On the first weekend following his victory, the president-elect decided to visit a church, a mosque and a synagogue. In his address to the Green and Sea Point Hebrew Congregation in Cape Town, he called on Jewish expatriates to return to South Africa, albeit with the exception of "those Jews who left for their homeland" — Israel.
In May that year, both Arafat and Israeli president Ezer Weizman were invited to Mandela's inauguration ceremony. Since the two leaders had never met, Mandela decided soon afterward to invite them to participate in his first official working meeting as president. After a short discussion, he took them to a separate room and asked them to "sit here and talk until you finalize everything," according to Liel, who accompanied Weizman to the meeting. (Arafat came with his adviser Ahmed Tibi, now a member of Knesset.)
Mandela didn't visit Israel during his presidency but agreed to receive, in South Africa, an honorary doctorate from Beersheba's Ben-Gurion University in 1997.
"The significance of Mandela's acceptance of the honor should be seen in the context of how viscerally opposed many people even within his own party were to maintaining any kinds of friendly ties with Israel," Saks wrote.
In October 1999, a few months after he concluded his presidency, Madiba finally came to Israel. He visited Rabin's grave and Yad Vashem and met with newly elected prime minister Ehud Barak. Most of the hour-long meeting was devoted to the conflict with the Palestinians, with Mandela voicing his frustration about the failure of the Oslo process, according to Liel, who was present. Mandela offered to mediate between the two parties but Barak rejected that idea, arguing that because of Madiba's close ties to Arafat, he could not serve as an honest broker.
After the meeting, Barak introduced Mandela to Barry Sidelsky — the son of his former boss — whom he had last seen decades ago. Sidelsky junior (who had since become an Israeli) and his close connection to Mandela naturally piqued the curiosity of the local media. "What do you think is Mandela's greatness?" Channel 1's anchorman asked Sidelsky during an interview. "In my opinion, the secret of his greatness is being considerate of all and remaining a humble person," Sidelsky responded.
"These attributes have accompanied him along the long road he has taken."
---

United States, Israel opposed Mandela, supported Apartheid
By Juan Cole, Informed Comment blog
December 06, 2013
The attempt to make Nelson Mandela respectable is an ongoing effort of Western government spokesmen and the Western media.
He wasn't respectable in the business circles of twentieth-century New York or Atlanta, or inside the Beltway of Washington, D.C. He wasn't respectable for many of the allies of the United States in the Cold War, including Britain and Israel.
I visited Soweto in 2012 and went to Mandela's old house. It was a moving experience. I don't want him to be reduced to a commercialized icon on this day of all days.
We should remember that for much of the West in the Cold War, South Africa's thriving capitalist economy was what was important. Its resources were important. Its government, solely staffed by Afrikaners and solely for Afrikaners, was seen as a counter-weight to Soviet and Communist influence in Africa. Washington in the 1980s obsessed about Cuba's relationship to Angola (yes).
That the Afrikaners treated black Africans like dirt and discriminated against them viciously, denying them the franchise or any hint of equality, was considered in Western capitals at most an unfortunate idiosyncrasy that could not be allowed to interfere with the West's dependence on Pretoria in fighting the international Left.
The African National Congress had attempted nonviolent protest in the 1950s, but the white Afrikaaner government outlawed all those techniques and replied with deadly force. In the early 1960s when Nelson Mandela turned to sabotage, the United States was a nakedly capitalist country engaged in an attempt to ensure that peasants and workers did not come to power. It was a deeply racist society that practiced Apartheid, a.k.a. Jim Crow in its own South.
The US considered the African National Congress to be a form of Communism, and sided with the racist Prime Ministers Hendrik Verwoerd and P.W. Botha against Mandela.
Decades later, in the 1980s, the United States was still supporting the white Apartheid government of South Africa, where a tiny minority of Afrikaaners dominated the economy and refused to allow black Africans to shop in their shops or fraternize with them, though they were happy to employ them in the mines. Ronald Reagan declared Nelson Mandela, then still in jail, a terrorist, and the US did not get around to removing him from the list until 2008! Reagan, while delivering pro forma denunciations of Apartheid or enforced black separation and subjugation, nevertheless opposed sanctions with teeth on Pretoria. Reagan let the racist authoritarian P.W. Botha come to Washington and met with him.
Likewise British PM Margaret Thatcher befriended Botha and castigated Mandela's ANC as terrorists. As if the Afrikaners weren't terrorizing the black majority! She may have suggested to Botha that he release Mandela for PR purposes, but there is not any doubt on whose side she stood.
The Israeli government had extremely warm relations with Apartheid South Africa, to the point where Tel Aviv offered the Afrikaners a nuclear weapon (presumably for brandishing at the leftist states of black Africa). That the Israelis accuse Iran of being a nuclear proliferator is actually hilarious if you know the history. Iran doesn't appear ever to have attempted to construct a nuclear weapon, whereas Israel has hundreds and seems entirely willing to share.
In the US, the vehemently anti-Palestinian Anti-Defamation League in San Francisco spied on American anti-Apartheid activists on behalf of the Apartheid state. If the ADL ever calls you a racist, you can revel in the irony.
Ronald Reagan imagined that there were "moderates" in the Botha government. There weren't. He wanted "constructive engagement" with them. It failed. The Afrikaners imposed martial law. Reagan tried to veto Congressional sanctions on Pretoria in 1986 but Congress over-rode him.
Nelson Mandela was a socialist who believed in the ideal of economic equality or at least of a decent life for everyone in society. He was also a believer in parliamentary government. So, he was a democratic socialist.
The current Republican Party is implementing Apartheid policies of making it difficult for minorities to exercise their right to vote. And they are changing tax laws to throw ever more of society's wealth to the top 1%. And they just threw millions of Americans off food stamps, including children and Veterans. The US House of Representatives still stands against everything Mandela stood for.
President Obama first became interested in politics at Occidental College in California and attended anti-Apartheid demonstrations. It was then that fellow activists informed him that Barack would be a better name for such an activist than "Barry." In many ways Mandela's cause started Obama on his path to the White House.
In the meantime the UK also has a right wing government that is punishing students and the poor on behalf of the rich. And the Likud Foreign Minister in Israel, Avigdor Lieberman, wants to take away the citizenship of Palestinian-Israelis (20% of the population) just as the Afrikaners took citizenship away from blacks and pushed them into Bantustans. Mandela said, ""We know too well that our freedom is incomplete without the freedom of the Palestinians."
The world will celebrate Nelson Mandela. But for most of those global leaders, it is only lip service. With the partial exception of President Obama, they don't share his actual ideals and wouldn't approve of him when he was at his most active, in the early 1960s, trying to figure out how to sabotage the Afrikaner establishment. (I say partial in Obama's case because obviously he admires the struggle against Apartheid, but on economic issues he is an Eisenhower Republican and Mandela wouldn't approve). In the 1990s on his release from prison Mandela did stand out for his belief in peace and reconciliation. But that was only because the Afrikaners had lost and he could afford to be magnanimous in victory. He was not a pacifist. He did not believe in taking lives as part of his struggle, but he was willing to resort to violence. He was not a capitalist. He wanted uplift for the workers. He could not overlook racism the way Reagan, Thatcher and Shamir did.
South Africa itself, for all its economic and social dynamism, has also not fully attained Mandela's ideals. Its poor are becoming worse off. Labor relations are roiled. And the ANC leadership is in disarray.
Mandela is not a birthday cake to be celebrated. The funeral with its hypocritical heads of state won't honor him. He is a pioneer to be emulated. We honor him by standing up for justice even in the face of enormous opposition from the rich and powerful, by taking risks for high ideals. We won't meet his standards. But if all of us tried, we'd make the world better. As he did.
---

Mandela and Israel
By Steve Linde, Op-Ed JPost
December 06, 2013
The iconic South African leader had an ambivalent relationship with the Jewish state.
As I introduced myself, feeling the strength in his large hand, he smiled and said, "Shalom!" I was dumbstruck by the powerful presence of Nelson Mandela, the legendary leader of the country in which I had grown up, the man credited with ending the brutal apartheid regime.
But there he was, his large frame cutting a regal figure, choosing his words carefully in his distinct African accent, sitting opposite me and several other journalists and photographers around a table at the Foreign Ministry in Jerusalem on October 19, 1999.
Holding hands as he walked out of a meeting with foreign minister David Levy, Mandela agreed to answer a few questions, and ­ – as a reporter for Israel Radio's English News ­- I recorded his answers.
Asked why he had finally decided to visit Israel, he replied, "To the many people who have questioned why I came, I say: Israel worked very closely with the apartheid regime. I say: I've made peace with many men who slaughtered our people like animals. Israel cooperated with the apartheid regime, but it did not participate in any atrocities."
Mandela voiced his vehement opposition to Israel's control of the territories it had "occupied" in the Six Day War, and he urged it to concede land to the Palestinians and Syrians, just as it had done with the Egyptians, for the sake of peace.
"My view is that talk of peace remains hollow if Israel continues to occupy Arab lands," he said. "I understand completely well why Israel occupies these lands. There was a war. But if there is going to be peace, there must be complete withdrawal from all of these areas."
He did, however, acknowledge Israel¹s legitimate security concerns, declaring: "I cannot conceive of Israel withdrawing if Arab states do not recognize Israel within secure borders."
One of Mandela's greatest strengths was his ability to bury but not forget ­ the bitterness of the past, and actively work for a fairer future.
He did so when, upon his release from 27 years in jail, he emerged without exhibiting any signs of anger, reconciling with president F.W. de Klerk (earning them both Nobel peace prizes) and even sipping tea with Betsie Verwoerd, the 94-year-old widow of apartheid's architect, Dr. Hendrik Verwoerd.
He did so when he became president of the new democratic South Africa in 1994 and set up the Truth and Reconciliation Commission, pitting perpetrators of apartheid crimes against its victims and their families.
He did so when he went to watch the Springbok team beat the All Blacks in the Rugby World Cup in 1995, depicted in the Clint Eastwood film, Invictus.
And he did so when, at the age of 81, he paid what was termed "a private visit" to Israel for two days after completing his five-year term as president and handing over the reins to his deputy, Thabo Mbeki, in June, and choosing to fly first to Iran, Syria and Jordan.
The peace overtures of then-prime minister Ehud Barak had paved the way for Mandela ­- a devout Christian ­- to make his first and only pilgrimage to the Holy Land. After taking a jab at the Jewish state for being the only nation not to invite him when he was appointed president, and then refusing several invitations to travel here, this trip was aimed at burying the hatchet­ or, in his words, "to heal old wounds" both with Israel and South African Jews.
Mandela had an ambivalent, almost love-hate relationship with Jews and Israel. Like Mohandas (Mahatma) Gandhi before him, his first job had been with a Jewish law firm in Johannesburg, and some of his closest friends, political advisers and business associates were Jewish. When he needed advice or money, they were the first people he called upon.
Many South African Jews had supported him, but others had openly backed or implicitly endorsed apartheid. One of his close Jewish friends, Arthur Goldreich, provided refuge to Mandela and other ANC leaders at his farm in Rivonia, later made aliya and became a professor at the Bezalel Art School.
On the other hand, Percy Yutar, the chief prosector at the infamous Rivonia treason trial at the end of which Mandela was given a life sentence, was Jewish too.
Mandela resented Israel's military relationship with apartheid South Africa, and passionately supported the PLO, which he saw as a liberation movement similar to his own ANC.
He supported Israel's right to exist as a democratic Jewish state, yet felt closer to its enemies: the PLO's Yasser Arafat, Libya's Muammar Gaddafi, Cuba's Fidel Castro, Iran¹s Mohammed Khatami and Syria's Hafez Assad. Nevertheless, he praised his Israeli hosts for their warm reception and peace-making efforts. Mandela received a red-carpet welcome at the King David Hotel, where South African chief rabbi Cyril Harris, together with leaders of the South African Jewish Board of Deputies and Israel's ambassador to South Africa, Uri Oren, greeted him.
Hugging Harris, a good friend, he quipped: "Now I feel at home ­- my rabbi is here." At a luncheon hosted by president Ezer Weizman and attended by cabinet ministers and other dignitaries, Mandela chose to thank the South African Jewish community: "One of the reasons I am so pleased to be in Israel is as a tribute to the enormous contribution of the Jewish community of South Africa. I am so proud of them."
After a guided tour of Jerusalem's Old City and Yad Vashem, he wrote in the Holocaust museum's visitors' book: "A painful but enriching experience." After an upbeat meeting at the Prime Minister's Office, he described Ehud Barak as "a man of courage and vision."
"The people of the world and Israel should support Barak. He has aroused our hopes," Mandela said. "What has emerged from all my conversations is that the yearning for peace is very intense."
During the meeting, Mandela was thrilled to see Rabbi Dov Sidelsky, a South African immigrant and the son of Lazar Sidelsky, who had given Mandela his first job as a law clerk. Whites hiring black professionals was "almost unheard of in those days," said Mandela, who remembered Dov as a young boy in Johannesburg.
"I have found Jews to be more broad-minded than most whites on issues of race and politics, perhaps because they themselves have historically been victims of prejudice," he wrote in his autobiography, Long Walk to Freedom.
In his talks with Levy at the Foreign Ministry, Mandela shared his impression during his visit to Iran that the country had become more "moderate" under then-president Khatami. He said he had received assurances that the trial of 13 Iranians Jews arrested earlier that year on charges of spying for "the Zionist regime," which was of great concern then, would be "free and fair." Levy protested politely against Mandela¹s reading of the situation, telling him that Iran, which backed terrorist groups targeting Jews and the Jewish state, was certainly not giving the 13 Jews a fair hearing.
In July 2000, after a closed trial that violated international legal norms, 10 were given harsh sentences, while three others were acquitted. Levy had been right, Mandela wrong.
Following his visit to Israel, Mandela flew to Gaza, where he enthusiastically embraced Arafat and endorsed Palestinian statehood, but made a point of urging Arab acceptance of Israel.
"The Arab leaders must make an unequivocal statement that they recognize the existence of Israel with secure borders," he stressed.
Mandela was undoubtedly one of the greatest leaders of the 20th century, and an iconic symbol of hope and freedom in his beloved South Africa.
While he supported Zionism in principle, he believed that if there was to be peace in the Middle East, Israel must negotiate a two-state solution with the Palestinians and avoid becoming a binational "apartheid state" ­ or risk becoming an international pariah like apartheid South Africa.
A humble hero, Mandela was the first to acknowledge that he wasn't always right, but as an advocate of justice for all, he was always ready to stand up and fight for what he believed was right, even when his views were not popular.
During my youth in South Africa, Mandela was portrayed by the "white media" as the enemy, the jailed leader of a terrorist insurrection against the Afrikaner government. They labelled him "the Black Pimpernel" before he was arrested. But the seemingly impossible occurred: the Black Pimpernel became the beloved leader of "the Rainbow Nation," affectionately called "Madiba" (the name of his Xhosa clan) by South Africans of all colors and creeds.
Mandela once said, "It always seems impossible until it's done."
May you rest in peace, Madiba. Shalom!
---

Fadwa Barghouti, the wife of jailed Palestinian leader Marwan Barghouti, stands in front of a big poster with her husband's portrait at the offices of the "Campaign to free Marwan Barghouti" in Ramallah. Photo by James Hill/The New York Times

Marwan Barghouti to Nelson Mandela: "Our Freedom Seems Possible Because You Reached Yours"
Letter from prisoner Marwan Barghouthi to remembered former prisoner Nelson Mandela
From PNN
December 06, 2013
Marwan Barghouthi, a Palestinian political figure convicted and imprisoned for "murder" by an Israeli court, sent a message from Hadarim Israeli jail following the announcement of Nelson Mandela's death, as follows:

"During the long years of my own struggle, I had the occasion to think many times of you, dear Nelson Mandela. Even more since my arrest in 2002. I think of a man who spent 27 years in a prison cell, only to demonstrate that freedom was within him before becoming a reality his people could enjoy. I think of his capacity to defy oppression and apartheid, but also to defy hatred and to choose justice over vengeance.
"How many times did you doubt the outcome of this struggle? How many times did you ask yourself if justice will prevail? How many times did you wonder why is the world so silent? How many times did you wonder whether your enemy could ever become your partner? At the end, your will proved unbreakable making your name one of the most shining names of freedom.
"You are much more than an inspiration. You must have known, the day you came out of prison, that you were not only writing history, but contributing to the triumph of light over darkness, and yet you remained humble. And you carried a promise far beyond the limits of your countries' borders, a promise that oppression and injustice will be vanquished, paving the way to freedom and peace. In my prison cell, I remind myself daily of this quest, and all sacrifices become bearable by the sole prospect that one day the Palestinian people will also be able to enjoy freedom, return and independence, and this land will finally enjoy peace.
"You became an icon to allow your cause to shine and to impose itself on the international stage. Universality to counter isolation. You became a symbol around which all those who believe in the universal values that found your struggle could rally, mobilise and act. Unity is the law of victory for oppressed people. The tiny cell and the hours of forced labor, the solitude and the darkness, did not prevent you from seeing the horizon and sharing your vision. Your country has become a lighthouse and we, as Palestinians, are setting sails to reach its shores.
"You said "We know too well that our freedom is incomplete without the freedom of the Palestinians". And from within my prison cell, I tell you our freedom seems possible because you reached yours. Apartheid did not prevail in South Africa, and Apartheid shall not prevail in Palestine. We had the great privilege to welcome in Palestine a few months ago, your comrade and companion in struggle Ahmed Kathrada, who launched, following this visit, the International Campaign for the freedom of Palestinian prisoners from your own cell, where an important part of universal history was shaped, demonstrating that the ties between our struggles are everlasting.
"Your capacity to be a unifying figure, and to lead from within the prison cell, and to be entrusted with the future of your people while being deprived of your ability to choose your own, are the marks of a great and exceptional leader and of a truly historical figure. I salute the freedom fighter and the peace negotiator and maker, the military commander and the inspirer of peaceful resistance, the relentless militant and the statesman.
"You have dedicated your life to ensure freedom and dignity, justice and reconciliation, peace and coexistence can prevail. Many now honour your struggle in their speeches. In Palestine, we promise to pursue the quest for our common values, and to honour your struggle not only through words, but by dedicating our lives to the same goals. Freedom dear Madiba, shall prevail, and you contributed tremendously in making this belief a certainty. Rest in Peace, and may God bless your unconquerable soul."
Marwan Barghouthi
Hadarim prison
Cell n°28
---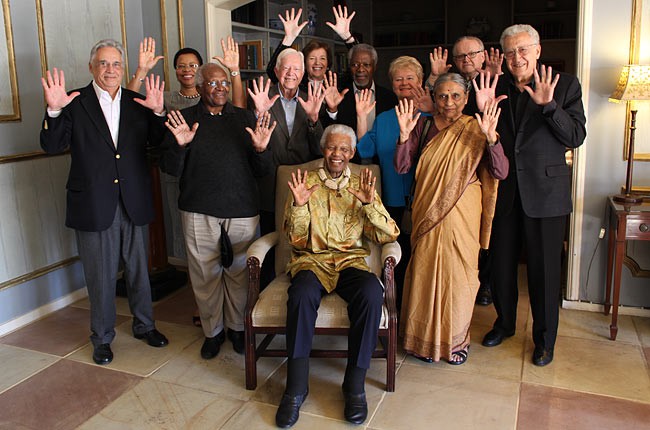 'The Elders' strongly oppose Israel's new settlement plans
By Alray news agency
November 12, 2013
Gaza, ALRAY – The Elders strongly opposed Israel's newly announced construction plans for East Jerusalem, warning that they seriously undermine the current peace negotiations.
Speaking on behalf of the group, the Chair of The Elders, Nobel Peace Laureate Kofi Annan stated:
Continued settlement building is deeply unhelpful at this critical moment in the Israeli-Palestinian peace process. Such settlements are illegal under international law and pose a serious threat to the realisation of the two-state solution to the conflict, based on a viable and contiguous Palestinian territory.
About The Elders
The Elders are independent leaders using their collective experience and influence for peace, justice and human rights worldwide. The group was founded by Nelson Mandela in 2007.
The Elders are now Martti Ahtisaari, Kofi Annan (Chair), Ela Bhatt, Lakhdar Brahimi, Gro Harlem Brundtland (Deputy Chair), Fernando Henrique Cardoso, Jimmy Carter, Hina Jilani, Graça Machel, Mary Robinson and Ernesto Zedillo.
Nelson Mandela and Desmond Tutu are honorary Elders.
Personal tributes

The Nelson Mandela I knew, Activists, politicians, friends and former foes remember South Africa's first black president; Amina Cachalia, anti-apartheid activist, Albie Sachs, South African judge and activist, Benjamin Pogrund, South African journalist, Mac Maharaj, politician, friend and fellow prisoner, Helen Suzman, veteran politician who opposed apartheid, Zackie Achmat, anti-apartheid and HIV campaigner, FW de Klerk, last president of apartheid-era South Africa, Mangosuthu Buthelezi, founder of Inkatha Freedom party, Gerry Adams, Irish republican politician, Douglas Hurd, foreign secretary 1989-1995, Jessie Duarte, anti-apartheid activist and assistant to Mandela, Gillian Slovo, novelist and daughter of Ruth First and Joe Slovo, Alan Titchmarsh, gardener and broadcaster, Justice Malala, political analyst and journalist.

My friend Mandela, by Benjamin Pogrund, Ha'aretz. Benjamin Pogrund was deputy editor of the Rand Daily Mail in Johannesburg and moved to Israel in 1997. He has just finished writing a book about Israel and apartheid.

Some of the obituaries for Arthur Goldreich
Arthur Goldreich Telegraph June 2011
Arthur Goldreich obituary South African freedom fighter, he bribed his way out of jail, Denis Herbstein, June 2011
Arthur Goldreich, a Leader of the Armed Fight to End Apartheid, Dies at 82, NY Times, May 2011

Obituaries for Joe Slovo
Joe Slovo, Anti-Apartheid Stalinist, Dies at 68, NY Times, January 1995
Joe Slovo, The Independent, January 1995

Obituaries for Percy Yutar
Percy Yutar The Telegraph, July 2002
Breaking the Palestinian people into little bits Percy Yutar, The Scotsman, July 2002

Breaking the Palestinian people into little bits
How to tell Israeli and South African apartheid apart, May 2013.
Only bantustans will realise the Greater Israel ambition