New Labour leader raises hopes of peace talks and centre-left coalition
Three articles on the impact of Buji Herzog: 1) he should create a new centre-left coalition, Tablet magazine; 2) meets President Abbas as a partner for peace – could Geneva-style talks break the impasse? i24 news;3) Labour gains in new polls, JPost.

Isaac 'Buji' Herzog, new leader of the Labour Party – better as king-maker than king? Photo by Guez/AFP/Getty Images

How Isaac Herzog Could Tilt Israeli Politics to the Left—Even If He Won't Be Prime Minister
By building a new center-left coalition, Labor's new leader has an opportunity to play kingmaker and restore his party's influence
By Ilan D. Jonas, Tablet magazine
December 4, 2013
Two weeks ago, Isaac Herzog—son of Chaim Herzog, Israel's sixth president—won an overwhelming upset victory in the Labor Party primaries, ousting the incumbent Shelly Yachimovich. It was a virtual repeat of last year's Kadima primaries, in which Shaul Mofaz took the chairmanship from Tzipi Livni; both Livni and Yachimovich not only failed to defeat Netanyahu but also aroused considerable antagonism among their party members, leaving them far more popular with the general public than within their parties. Their successors built their overwhelming victories on that very weakness.
Under Mofaz, however, Kadima—still a young party, created after Ariel Sharon split with Likud over the Gaza pullout in 2005—barely passed Israel's electoral threshold in the general elections earlier this year, leaving the party with only two seats in Knesset. Herzog—widely known as Buji—is a savvier politician, but his task is far greater: restoring the party of his father to national influence after more than a decade in second, or even third or fourth, place.
Herzog is the poster boy of the traditional Labor party. He comes from a wealthy and well-established family and lives in Tel Aviv's exclusive Tsahala neighborhood. He built his career as a partner in his father's law firm, Herzog, Fox & Neeman—one of Israel's most powerful—and is considered part of the elite of Israeli society. While he has recently become more attentive to social issues, he is regarded by the business sector as "one of us"—a politician who won't threaten the traditional order.
In many ways, he could have been the ultimate Labor candidate for prime minister. Unfortunately, he lacks both the charisma and the security credentials to be seen by his party and, more important, by the public at large as a potential head of government. His victory in the party primary can be read as a vote of no-confidence in Yachimovich, who insisted on focusing solely on social and economic issues, rather than a vote of confidence in Herzog, who promised to raise also the flag of the peace process. In a party that has booted seven chairpeople in the past 12 years, Herzog knows he risks being the next victim unless he can guarantee his party members at least 20 or more Knesset seats in the next election, which could come as late as 2017—or as soon as Netanyahu's current coalition, with its awkward marriage of Netanyahu's Likud with the upstart Yesh Atid and HaBayit HaYehudi parties, collapses.
The best way—perhaps the only way—for Herzog to do that is to create a new political alliance among the center-left parties to challenge the dominance of the right-wing parties. If he can pull it off, the move would improve Labor's standing and, consequently, Herzog's own.
Such an alliance would create the largest faction in the Knesset, with anywhere from 35 to 45 seats, which alone may be enough for the leader of the joint party list to receive the president's mandate to form a government. Herzog may even find that the ultra-Orthodox parties, resentful at being shut out of Netanyahu's current governing coalition, may well be willing to join a center-left coalition government. The sole obstacle might be Lapid's presence on a coalition list, given his agenda on state and religion issues, but it's not insurmountable, especially since joining a newly formed center-left bloc would give Shas leader Aryeh Deri a quick opportunity to exact revenge on Netanyahu.
So, it is no surprise that Avigdor Lieberman, the head of Yisrael Beiteinu (who recently returned to his post as foreign minister after being exonerated of corruption charges), has already detected the danger that a broad center-left alliance, now infinitely more feasible with Herzog in the picture, will pose to the right's dominance. Last week, speaking to his party's central committee, he raised the idea of bringing Naftali Bennett's HaBayit HaYehudi into his existing alliance with Likud to form an even wider right-wing force. "I told the prime minister that we must discuss putting Likud, Yisrael Beiteinu, and Habayit Hayehudi together in one large party," Lieberman said. The committee decided to postpone its decision on whether or not—and in what form—to continue its cooperation with Likud, with options ranging from a full merger to separate parties running together. "At this point it isn't a recommendation, just food for thought," Lieberman added, but as a man of sharp political instincts he knows that the danger a reinvigorated center-left poses is one that even a merger of Likud-Yisrael Beiteinu may not be sufficiently capable of countering.
The possibility of a joint party list comprised of Labor, Lapid's Yesh Atid, and Livni's new Hatnuah party—purpose-built after her loss to Mofaz—was raised before the 2013 general elections. The party leaders—Yachimovich, Lapid and Livni—even met to discuss this option. But the three were unable to agree on who would lead the joint list, and Lapid also strongly preferred to run independently, so as not to spoil the "freshness" of his message. Since then, each has suffered a major blow. Yachimovich is only the last of the three to fall. Livni won only six seats in the elections, though she was hoping for more than 15. Lapid, a former television host who accepted the position of finance minister in Netanyahu's government, found his popularity dropped almost immediately after he presented an austerity budget that essentially broke all his campaign promises.
But Herzog, unlike Yachimovich, has a close personal relationship with both Livni and Lapid. As soon as Herzog was elected, Lapid called him "an old friend," and Livni and her husband occasionally meet with Herzog and his wife for intimate dinners. Livni has already signaled her desire to cooperate with Herzog, calling on him to form a parliamentary alliance in support of the two-state solution, primarily to serve as a counter-weight to the Lapid-Bennett alliance.
Yet like Herzog, neither Lapid nor Livni are perceived as viable prime ministerial candidates. Lapid's approval ratings are at an all-time low, and he has even stated openly that it might be too early for him to make a pass at the prime ministership. Livni, for her part, received a mandate from the president to form a government five years ago, yet she failed to do so, and now she heads the smallest center-left faction, an inferior position from which to be elected to the head of the joint list. If Ehud Olmert, heir to the leadership of Kadima after Sharon's stroke in 2006, finds himself free of legal problems in the coming year or two, he is likely to attempt a comeback to political center-stage. In such a scenario, and depending on how warmly the public welcomes his return, Kadima would likely to join a broad center-left alliance, putting Olmert in a natural position to emerge as a national leadership candidate.
There is no question that a center-left alliance, no matter who is at the helm, could be a serious electoral force and could conceivably result in a Knesset that is Labor-powered, even if not Labor-led. The question then is whether Herzog is willing to accept the role of kingmaker, even if he himself can't be king.
Elisheva Goldberg contributed to this article.

---
New Israeli opposition leader Issac Herzog meets with Palestinian President Abbas
Palestinian negotiators call on US and Russia to hold Geneva conference to force breakthrough in peace talks
By AdamMay, i24 news
December 02, 2013

In one of his first acts in office, newly-minted Israeli opposition leader Isaac Herzog met with Palestinian authority President Mahmoud Abbas.
Sunday's meeting comes as Palestinian negotiators suggest taking advantage of the current atmosphere of international cooperation to plan a Geneva conference to address the Israeli-Palestinian peace process.
Herzog, elected last month as the new leader of the Labor Party, praised the Palestinian leader following the meeting, claiming, "we have a partner that is ready to go the distance for peace and take original, brave steps on core issues."
The Labor leader informed Abbas that security wast at the top of the Israeli priority list, and will need to be addressed in any deal to bring about a two-state solution.
"We have a historic opportunity for peace and we must do all we can to seize it," Herzog told Abbas, pledging his party's support in a potential future deal. "Labor will help in every way to make this vision come true through political and public means," added Herzog.
Herzog recently met with Prime Minister Benjamin Netanyahu, informing him that Labor would stand behind any historic peace deal.
Frozen not cancelled
Abbas expressed his concern over the fact that the Housing Ministry's tenders for the supposedly canceled 24,000 housing units planned for settlements in the West Bank, calling them "an attempt to sabotage negotiations between Israel and the Palestinians."
Abbas has also express worry that these developments indicate the housing projects are merely frozen, not canceled. Abbas added that should the tenders be carried out and planning continue for the housing units, it would "endanger the whole peace process."
Both the Palestinian Authority and the US State Department was shocked to discover that despite Netanyahu's assurances that the plans were frozen, they still appeared on the Housing Ministry's website. Following a US request, all mention of the tenders were deleted from the website. Furthermore, Netanyahu reprimanded Housing Minister Uri Ariel, saying his actions and failure to coordinate with the Prime Minister's office harmed the settlement movement rather than helped it.
Abbas told Herzog he was interested in reaching a peace treaty with Israel, adding that "I don't know what will happen after my era." Abbas emphasized urgency, saying that "now is the time. The situation in the region offers a fitting atmosphere, now more than ever before."
Another Geneva conference
Palestinian negotiator Mohammad Shtayyeh has called for the US and Russia to organize a Geneva conference dedicated to the Israeli-Palestinian peace process. Shtayyeh wants to take advantage of a growing trend of international cooperation following a successful Geneva conference, which yielded a milestone deal with Iran, and plans for a second Syria conference.
"It is possible that international conflicts require an international solution, and that what worked for Iran and might work for Syria, could also work for the Palestinians," Shtayyeh told Haaretz, adding such an initiative could provide the catalyst for a breakthrough.
Shtayyeh and chief negotiator Saeb Erekat submitted their resignations from the negotiating team as a protest to the lack of progress being made in the talks with Israel. Shtayyeh confirmed to Haaretz that he has indeed resigned and has no intention of reneging on his decision.
Shtayyeh says the repeated shows of support for settlement construction by Israeli ministers proves that there is "no serious Israeli partner" for peace. Shtayyeh said that if Netanyahu and his government wish to demonstrate their commitment to a deal, they should pass a government resolution backing the establishment of a Palestinian state based on the pre-1967 borders.
---
Labor gains in polls under new head Herzog
By Gil Hoffman, JPost
December 12, 2013
A Smith Research poll published in the Globes newspaper and a Panels poll taken for the Knesset Channel both predicted 19 seats for Labor.
The Labor Party's representation in the next Knesset would increase if a general election were held now, following the November 21 election of Isaac Herzog as head of the party, according to two surveys published over the weekend.
Labor won 15 seats in the January election under its former head Shelly Yacimovich. Polls taken in the month prior to the Labor race predicted 15 to 17 seats for the party that dominated Israeli politics for three decades.
A Smith Research poll published in the Globes newspaper and a Panels poll taken for the Knesset Channel both predicted 19 seats for Labor. Both showed Labor gained at Yesh Atid's expense. The Smith poll indicated Labor had taken seats from Meretz and the Panels poll from Kadima and Hatnua.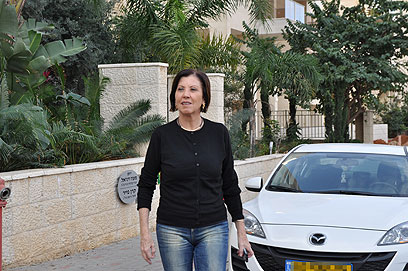 MK Zahava Gal-on, leader of Meretz
In a sign that was more room for Labor to grow in support if Herzog plays his cards right, the left-wing Meretz party did very well in both polls. Meretz, which has seven MKs now, would win nine according to the Smith poll and 13 according to Panels.
Likud Beytenu also rose in both polls, receiving a boost from the November 6 acquittal of the joint list's No. 2 man, Avigdor Liberman. The polls were taken after Liberman told the Yisrael Beytenu central committee that he wanted to maintain the partnership, at least temporarily.
While polls before the verdict predicted 30 to 34 seats for Likud Beytenu, Panels predicted 35 this weekend and Smith 37.
A Smith Research poll published in The Jerusalem Post's Hebrew sister publication Sof Hashavua immediately after the verdict on November 8 found that if Likud and Yisrael Beytenu ran separately, it would be better for Likud.
That poll found that Likud would win 36 seats running alone and Yisrael Beytenu five.
Running together, the joint list would win 32 mandates.