What most surprised me about Israel? How common and accepted the racism is.

Settler spraying a Palestinian Muslim woman with wine at Hebron old city market, southern West Bank. From Farmers Under Fire
Max Blumenthal on "Goliath: Life and Loathing in Greater Israel"
Amy Goodman and Juan Gonzales interview Max Blumenthal, Democracy Now
October 04, 2013
As Israeli Prime Minister Benjamin Netanyahu is continuing a public campaign to cast doubt on U.S. diplomatic engagement with Iran, we speak to journalist Max Blumenthal, author of the new book, "Goliath: Life and Loathing in Greater Israel." Blumenthal looks at life inside Netanyahu's Israel and the Occupied Territories. "I was most surprised at the banality of the racism and violence that I witnessed and how it's so widely tolerated because it's so common," says Blumenthal about his four years of reporting in Israel. "And I'm most surprised that it hasn't made its way to the American public … that's why I set out to do this endeavor, this journalistic endeavor, to paint this intimate portrait of Israeli society for Americans who don't see what it really is."
TRANSCRIPT
This is a rush transcript. Copy may not be in its final form [and slightly edited by JfJfP postings to omit some of the ums and you knows].
JUAN GONZÁLEZ: We end today's show with Israel. Israel Prime Minister Benjamin Netanyahu is continuing a public campaign to cast doubt on diplomatic engagement with Iran. Speaking before the U.N. General Assembly, Netanyahu accused new Iranian Prime Minister Hassan Rouhani of deceiving the world about Iran's nuclear program.
PRIME MINISTER BENJAMIN NETANYAHU: Ahmadinejad was a wolf in wolf's clothing; Rouhani is a wolf in sheep's clothing, a wolf who thinks he can pull the eyes—the wool over the eyes of the international community.
AMY GOODMAN: For more, we're joined by journalist Max Blumenthal, best-selling author of Republican Gomorrah: Inside the Movement that Shattered the Party. His new book is Goliath: Life and Loathing in Greater Israel. 
Max, welcome back to Democracy Now! Can you first respond to Netanyahu, the Israeli prime minister, and Israel, the government's response to the openings between the United States and Iran?


Max Blumenthal, 35, is an investigative and intellectual journalist who has won many awards. In 2009 he posted a "video 'Feeling the Hate in Jerusalem on the Eve of Obama's Cairo Address'. The video was a montage of footage of drunken Jewish-American youth in Jerusalem in June 2009, shortly before Obama's Cairo address. The youths used expletives and racist rhetoric about Barack Obama and Arabs, which included referring to Obama as a nigger and suggesting that he is 'like a terrorist'. According to The Jerusalem Post, the video 'garnered massive exposure and caused a firestorm in the media and the Jewish world'. Haaretz described the video as 'an overnight Internet sensation'." Wikipedia. It has been removed by Youtube "because its content violated YouTube's Terms of Service". October 6th, JfJfP postings: even this link has been removed by Youtube. Now the only references to Max's video on Youtube are videos of people attacking it.
MAX BLUMENTHAL: This is a culmination of four years of my reporting from inside Israel-Palestine, from inside Netanyahu's Israel. He came to power in 2009 at the helm of the most right-wing government in Israeli history. And he's kind of occupying the center in Israel. He appears in my book as the salesman, and he markets himself as a man who can go to the U.S. and market a lemon, who can sell a lemon to the American public, because he speaks English perfectly, he was educated at MIT, he worked at Boston Consulting with Mitt Romney.
And here he's returned to the U.S. to sell the Israeli position to an American public that wants diplomacy, that welcomed Barack Obama's historic phone call with Hassan Rouhani. And Obama has been forced to sit with Netanyahu for 2.5 hours in the White House, during a government shutdown, to hear Netanyahu's complaints and lecturing. He's effectively become the Bibi-sitter, meeting with Netanyahu more times than any foreign leader, the head of this country the size of New Jersey. And so, Netanyahu really looks kind of desperate and diminished at the U.N., and he's … concocted this very belligerent and stentorian speech that really would maybe appeal to elderly evangelicals or an AIPAC crowd, but it's not resonating with the American public.
JG: Well, in an interview on Tuesday with CBS News's Charlie Rose, Netanyahu diminished the significance of Jewish settlements that many see as an obstacle to peace between Israelis and the Palestinians.
CHARLIE ROSE: I don't understand why you think building settlements in—
PRIME MINISTER BENJAMIN NETANYAHU: Now let me talk to you.
CHARLIE ROSE: —East Jerusalem is necessary—
PRIME MINISTER BENJAMIN NETANYAHU: Now let me tell you something. First of all, what—
CHARLIE ROSE: —to find a solution—
PRIME MINISTER BENJAMIN NETANYAHU: Let me—let me tell you something.
CHARLIE ROSE: —when the world believes it stands in the way of a solution.
PRIME MINISTER BENJAMIN NETANYAHU: Yeah, well, the world believes a lot of things, but the world doesn't get it. And here's what they don't get.
CHARLIE ROSE: I think the American president believes that.
PRIME MINISTER BENJAMIN NETANYAHU: Well, let me—let me tell you what I think is the issue, and then you can judge whether you agree with me or not, and the same thing I say to everyone in the world. The settlements in the territories are not the cause of the conflict. They're—they're—
CHARLIE ROSE: Nobody says that. But they are—
PRIME MINISTER BENJAMIN NETANYAHU: It's the result.
CHARLIE ROSE: —stand in the way of a solution.
PRIME MINISTER BENJAMIN NETANYAHU: But—but here's the way you get a solution. They don't stand in the way, either. Ninety percent of the Jewish population is clustered in the—in Judea, Samaria, the West Bank, is clustered in a tiny fraction of that land. It's not an issue. It's a bogus issue.
JG: Max Blumenthal, a "bogus issue"? "The world doesn't get it"?
Well, a lot of Jewish Israelis believe that, and they might cheer Netanyahu for saying that. A majority of Jewish Israelis are against massive pullouts from the West Bank, and so this is also part of Netanyahu's appeal. And we also have to recognize—you know, I went into the Knesset, and in my book I interviewed a lot of the rising stars in Netanyahu's party.
AG: How did you get this exclusive access?
I called. It's not particularly difficult. Israeli politicians want PR. And this younger generation feels like the more pro-settlement they can be, the more extreme they can be, the more votes they get. And so, the younger generation in Netanyahu's party, the future of Likud, favors annexing 60 percent of the West Bank. So does his economy minister, Naftali Bennett. This is the future of Israeli politics. And that's what is really appearing in the pages of my book, Goliath.
AG: How important is U.S. aid to Israel? What is the state of Israel's economy right now?
Israel's strategic deterrence is completely contingent on its direct line to Washington. That's partly why Netanyahu is there. As I said, he's the salesman. And I went into Netanyahu's early writings, when he was just emerging on the world stage, in my book and I dissect them, and I talk about how he says that,  "It doesn't matter if your position is just; you have to depict your position as just." He actually understands that Israel is committing human rights crimes in the West Bank, but he is completely focused on the West, and the world does matter to him.
So, it's interesting to see him come here and actually face a little bit of tough questioning and …you can see the desperation on his face. I don't think this is helping Netanyahu. But ultimately, it does help the right-wingers in his party, who are to Netanyahu's right, like Danny Danon or like Naftali Bennett, who have said, "We don't need the peace process. It's over. It's a failed—we don't even need to talk to the Palestinians. Let's annex 60 percent of the West Bank and give them Jordanian citizenship." And that's getting more and more popularity in Israeli society.
JG: You spend a lot of time in your book talking about the transformation of Israeli society and the growth of intolerance among the young—the young people, their attitudes towards—not only to the Palestinians in the Occupied Territories, but Arabs within their own country and Africans, as well. Could you elaborate?
I devote a lot of my book—actually, most of my book—to what's happening behind the Green Line, to the area of Israel that will be legitimized under a two-state solution. And there is an active process in Israel of actually kind of moving the occupation back into Israeli society. I talk about how I lived in Jaffa, which is  [a] remnant of the Palestinian community before 1948, which has now been incorporated into the Tel Aviv municipality. And a religious nationalist settlement has been built in the center of this Palestinian-Israeli area, creating an enormous amount of friction. My favorite restaurant in my neighborhood was firebombed by hoodlums from the West Bank. Homes have been attacked by hoodlums from the West Bank.
AG: What do you mean, "hoodlums"?
I mean religious nationalist settler youth who stage marches through this neighborhood, provocative marches, chanting "Jaffa for Jews!" And when I was there, they were doing so almost on a weekly basis. This is occurring in Jerusalem, not just weekly, but even daily. And then you look at the polls, you look at the attitudes of Israeli youth. According to a poll by Camille Fuchs, who's one of the most reputable pollsters in Israeli society, a majority of secular Israeli youth, high-schoolers, say that they would refuse to have an Arab neighbor. A majority of Tel Aviv residents favor the total expulsion of African migrants from Tel Aviv. Forty-eight percent of Israelis, according to a Ynet poll, which is a poll conducted by Israel's most popular newspaper, are in support of settler price tag attacks—in other words, settler terrorism. A majority of Israelis—
AG: What do you mean, "price tag attacks"?
Price tag attacks are basically vigilante attacks carried out by settlers against the Palestinian population in the West Bank. And whenever a settler outpost is demolished, there will be a retaliatory attack with graffiti on the Palestinian home that says "price tag." Only 33 percent of Israelis in this poll oppose that. A majority of Israelis in another poll agreed with the statement by Miri Regev, who's a rising star in the Likud party, that Africans are a cancer in Israel's body. So this is the kind of racism coursing through the heart of Israeli society, and it's encouraged by the central institutions of Israeli society.
JG: You've also talked about the ethnic cleansing policies of Netanyahu with the Bedouins...Could you talk about that, as well?
There are 80,000 Bedouins living in the Negev desert who are Israeli citizens, who serve in the Israeli army. They live in unrecognized communities. Because they're not Jewish, they can't hook up to the electricity grid, they can't get public services, they can't have health clinics. And now, under a new plan called the Prawer Plan, which was just approved in the Israeli Knesset, 40,000 of them will be removed from their homes, ethnically cleansed, and forced into communities where they'll be "concentrated" — this is the government's language, to "concentrate the Bedouin" — in these Indian reservation-style communities.
I just visited one of them, called Umm al-Hieran , when I was in the Negev two weeks ago. Almost every building in this community has been marked for demolition. It is a real town. I mean, when you think of Bedouins, you think of nomadic people. No, these are people who have been there before the state of Israel was established, and they will be replaced by a Jewish community that had gone in the night before I was there to stake out plots and decide where they would live. And they're living in an artificial forest created by the Jewish National Fund in a barb-wire compound, preparing to take over. This is the plan for the Negev desert under Netanyahu, and it's been approved across the political spectrum in Israel.

Umm al-Hieran on April 2nd 2013 (photo from bedouinsolidarity.com


…and after demolition in May this year. Photo by Oren Ziv / Active Stills.

AG: You've spent a lot of time also talking to Palestinian leaders and youth, both in the Occupied Territories but also within Israel. Talk about that.
The situation for them is incredibly complicated, because they sit atop the totem pole of Palestinian society, but at the same time there is a program of official discrimination within Israeli society. Their schools are monitored by the Shin Bet. They can't be taught the Palestinian narrative of 1948—a new law passed in the Knesset. I interviewed its author. He's a 28-year-old immigrant from Moscow who doesn't even speak Hebrew very well named Alex Miller. The Nakba law actually penalizes Palestinian NGOs who participate in observation—in observances of the Palestinian dispossession in 1948.
And so, throughout my book, I'm interviewing young Palestinian citizens of Israel, who are just as educated as I am and who are really feeling like they don't have a place in Israel. I interviewed two young tech workers. You always hear about Israel as the startup nation. And they work in Haifa in the tech sector, and they've both been interrogated by the Shin Bet, and they don't know why. And one of them made a really depressing comment to me. He said, "I wish sometimes I could stop being an Arab and start just being a guy." And that's an attitude I hear a lot.
AG: We have less than a minute. What were you most surprised by in your research for your book Goliath?
I was most surprised at the banality of the racism and violence that I witnessed and how it's so—it's so widely tolerated, because it's so common. And I'm most surprised that in my reporting on this, it hasn't made its way to the American public. And so, that's why I did this book. When we hear about this kind of daily violence, you don't read about it on the pages of the New York Times. And I really asked myself why, and that's why I set out to do this endeavor, this journalistic endeavor, to paint this intimate portrait of Israeli society for Americans who don't see what it really is.

The Palestinian-Israeli protest camp at Mas'ha; they were jointly trying to prevent the erection of the wall. See Part 2 below.
Part 2
AMY GOODMAN: I'm Amy Goodman, with Juan González. Our guest is Max Blumenthal. his latest book is Goliath: Life and Loathing in Greater Israel. The book before that, Max, was Republican Gomorrah. And as the Republicans shut down the government in Washington, I'm just wondering your thoughts, before we go back to Israel and the Occupied Territories.
My book, Republican Gomorrah, really painted a picture of a minority party that was in deep decline. And we see, since I've written this book, the thesis of the book has been validated, that an extremist movement has taken over a party that previously had a liberal wing, that was a big-tent party, and absolutely shattered it. And so they're engaged in a fighting retreat right now. Shutting down the government was kind of politically a disastrous move, but it's really the only course for a party that's in deep decline. That's why they're trying to strip voters of their right to vote across the country. That's why they've gone to the states on the issue—on the culture war, on the issues like abortion, because they really have no national base. And so, in a lot of senses, the Republican Party, which is becoming the base of pro-Israel support, has shared values with Israel, because it also faces a demographic crisis.
JG: Well, but you mention the Republican Party is the base of pro-Israel support and President Obama's tense relationship with Netanyahu, but Netanyahu depends on Congress—not only the Republicans, but the Democrats, as well—to continue to validate unequivocal support of the United States for Israel's policies.

Yeah, that's why I was dying to see the Syria vote take place, because Obama had compelled AIPAC, the central arm of the Israel lobby, to actually come out in favor of this war that was overwhelmingly unpopular with Americans. And it exposed the Israel lobby as acting sort of on behalf of Netanyahu against the will of the American public. And, of course, the vote was canceled, so this rift wasn't exposed. But we can see the Republicanization of pro-Israel support in the recent Pew poll of Jewish attitudes, where 82 percent of evangelicals believe that Israel is the promised land, that it was given to the Jews by God. Only 16 percent of secular Jews believe this. And so the future base of Israel, as long as it's under the control of people like Netanyahu and those to his right, like Naftali Bennett, is the Bible Belt. That's Israel's safety belt, Christian Zionism. And so, this is a dynamic that's really going to develop in American foreign policy and play out in the next presidential campaign.
JG: One of the things that struck me about Netanyahu's speech at the United Nations—and I think you've mentioned it—is how much time he spent on Iran and how little time he spent dealing with the Israeli-Palestinian conflict, and this insistence that Israel will not permit Iran to have nuclear weapons, while not talking at all about Israel's own nuclear arsenal.

Well, first of all, Israel has 250 nuclear warheads that are produced in Dimona at a place they officially refer to as a textile factory. Israel has several—
AG: Which is a nuclear weapons factory?
They enrich uranium there. Israel has several Dolphin-class submarines given them by Germany as part of Holocaust reparations. The launching tubes have been retro-fitted to launch nuclear weapons that can reach Iran from the Red Sea. Israel has a massive stock of weapons of mass destruction, chemical weapons. It's used bizarre experimental weapons, like dense inert metal explosives, on Palestinians in the Gaza Strip. And this is really the secret of the Israel arms industry, is that they market their weapons, including these bizarre weapons, as field-tested. They're one of the few countries that can do that. So, this is hypocrisy on Netanyahu's part.
But then there's the Iran issue, which you mentioned, Juan. He mentioned Iran 50 times in his speech [at the UN]. He mentioned Palestinians maybe five or six times and the word "peace" three times. He doesn't want to talk about Palestinians. And over 2,000 new settlement units have been authorized, in religious nationalist settlements, outside the major settlement blocs in the West Bank since negotiations began, along with thousands of arrests of Palestinians. So Netanyahu is using Iran to whitewash what's actually happening in Israeli-controlled territory. It's what he's always done. Actually, at AIPAC, in his speech at AIPAC in 2011, he didn't mention Palestinians once, and this was an enormous PR coup for him. So, the question is, how can he be forced to talk about this issue? Clearly, the U.S., which has set this nine-month timetable for negotiations, is not forcing him to do it.
AG: What about the Israeli progressive forces, the Peace Camp?
The Peace Camp has faded. Their moment has gone, and they're hanging on to a two-state delusion. And they are being exposed. The problem is they are well paid. They're part of this peace process industry that never seems to go away. And as long as the two-state solution is—the hope of the two-state solution remains, they keep their paychecks.
But what I tried to do in my book, Goliath, is to talk about the Jewish Israelis who are engaging in acts of civil disobedience; [as] the Israeli philosopher Yeshayahu Leibowitz, who tried to organize a movement of mass army refusal in Israel said, "to organize mass insubordination." So I talk about the group Anarchists Against the Wall. I spent lots of time with them going in and out of the West Bank, watching how they operate at protests, using human-shielding tactics, visiting Palestinian children who had been arrested at night in the military courts, and just—
AG: These are Israeli Jews.
—and just bearing witness. And these are a small handful of Israeli Jews who have basically dedicated their lives to bearing witness and exposing the occupation and fighting it, literally with their hands. When Anarchists Against the Wall was born, it was in a Palestinian town that was facing mass demolitions and expropriation because of the construction of the separation wall. It was called Mas'ha. So these Israeli Jews just came and set up camp with Palestinians—they were invited there—and the popular struggle was born, this unarmed protest movement. And the first thing they did was attempt to tear down the separation wall with their bare hands. And Israeli Jews had their legs shot out, with live ammunition, standing beside Palestinians.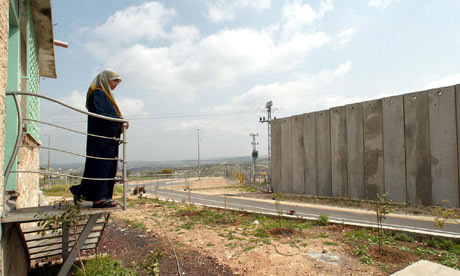 Staring at the Mas'ha wall – Israel has enclosed itself, West Bank Palestinians and Gaza in uncounted kilometres of wall.Photograph: Jamal Aruri/AFP
AG: And explain what the wall is.
The wall is the separation wall, which is the—which has expropriated over 100,000 acres of Palestinian land and really serves as sort of a demographic wall. It actually has no real security value. And so, the point of it is to prevent what Netanyahu warned would be demographic spillover. It's an incredibly racist and bizarre concept that is sort of unfamiliar, I think, to real democracies.
AG: How tall is it?
It's enormously tall, and it extends for hundreds of kilometers across the West Bank. I think anyone who visits Israel-Palestine has to see it. But there's not just that wall. The entire Gaza Strip is surrounded by walls and electric fencing. Netanyahu has authorized $360 million, cutting social spending, to build a wall against the border of Jordan. The entire border between Israeli-occupied Golan Heights and Syria is mined. Netanyahu has just built a wall against the Sinai desert to prevent African migrants and asylum seekers, who are fleeing genocide, from getting to Israel. So almost all of the state of Israel, the Jewish state, is surrounded by walls. And one of Netanyahu's advisers, Arnon Soffer, has proposed sea walls. They are covered by an iron dome, an anti-missile system provided by the U.S., by U.S. taxpayers. It sounds—it's an absolute dystopian situation that fulfills the prophecy in the Book of Numbers, that the people of Israel will stand alone and not be reckoned among the nations.
JG: I'm interested what kind of reception your book has gotten in the American media and whether there's been much receptivity to the stuff that you've uncovered during your research in Israel.
My book came out on October 1st, and so I'm going to do a book tour, and we're going to see. It's going to be pretty interesting. I'm doing a lot of cities. Actually starts right now in Philadelphia at alma mater UPenn with Ian Lustick, who's a political science professor at Penn who wrote a really fascinating piece calling for the end of the two-state delusion and having a binational state. This is someone who doesn't come out of the left. And so, I think it's going to be an interesting tour.
But right now I think that what the Jewish establishment wants to do and what pro-Israel groups want to do is ignore me. They want to ignore this narrative, and they want to ignore the real Israel. They want to ignore the facts on the ground and not talk about it, and keep focusing on this dream castle Israel, because it not only harms their political efforts, it harms them on a personal psychological level, because this goes to the very heart of their identity.
AG: Talk about the Oslo Accord—this is, what, the 20th anniversary—and what that means.

The 20th anniversary of the Oslo Accords, I was there weeks after the 20th anniversary, in Ramallah, which is going to be, if there is a Palestinian state, the de facto capital. East Jerusalem is now off-limits to most Palestinians, which was supposed to be the capital. Sixty percent of the West Bank, it belongs to the Israeli military. There are massive demolitions being carried out in that part of the West Bank. The West Bank and Gaza are separated. Over 150,000 settlers, Jewish settlers, have been moved into the West Bank since the Oslo Accords, I think over 80,000 arrests of Palestinians.
And, you know, I hang out in Ramallah with friends that I made here in New York City, who are just like me, just as educated as me, come from the same background, just the same identity, except for one crucial fact: They're not Jewish, they're Palestinian. And so, when I'm in Ramallah, they're asking me, "Can you sneak me in so I can see Tel Aviv, so I can see Jaffa, so I can see Haifa?" That's the legacy of the Oslo Accords. And the Oslo Accords was born under the slogan of the Zionist left: "Us over here, them over there." It's a segregationist slogan that recalls the Jim Crow era of the United States. And it came from the left of the Israeli spectrum, not the right.
AG: In Goliath, the title, how did you choose it?
I chose it because of the biblical tale of David and Goliath, and also because my editors forced me to choose it. And I think it's a good title, especially because my last book, Republican Gomorrah, has biblical resonances and begins with the letter G. But there's an interesting quote in my book. There's a person I quote in my book who is the first Jewish ambassador of the United Kingdom to Israel, Matthew Gould. And he went on Israeli TV, and he said, "You're obsessed with these hasbara, or propaganda, efforts to explain your position to the world and to cover everything up. You have to recognize that Israel is now seen as the Goliath, and Palestinians are seen as the David. Cut the hasbara, the propaganda, out, and end the occupation. Maybe then you won't be seen that way." And that's the problem. That's the problem with Netanyahu. It's the problem in Israeli society. This occupation will not end as long as this current system is intact. And so, I think Goliath is the perfect title.
JG: And what do you think has been the impact of the convulsions sweeping the Arab world in the last couple of years on Israel?
To some extent, I think they've benefited Israel, at least in their PR efforts, because, as I said, Netanyahu loves to change the subject to Iran, and now he can change the subject to Syria. And he can say, "How can we give the Palestinians any level of freedom when you see what the Arabs are doing to each other and you see the level of violence?" I mean, it's a very Orientalist, racist perspective, but it has a lot of cachet, not just in Israel but throughout the West—in Europe and the United States. And also, Netanyahu has really sought to shift the strategic relationship with the U.S., which always has been based on kind of shared values, from two liberal democracies to two Fort Apaches on the front lines of civilization fighting the brown hordes. This is the post-9/11 U.S. and Netanyahu's Israel. He warns about the "insatiable crocodile of militant Islam." And you see that, you see Islamism rearing its head in Egypt and Syria. And so, this works perfectly into Netanyahu's hands.
Another way it works is the strategy of Lebanonization. Israel depends on a weak Arab world, and Syria is being fragmented. It's being Lebanonized. And so, Israel would love to see Bashar Assad remain in power. They've always counted on him as kind of a backdoor ally, but weakened and constantly under attack.
AG: I wanted to end with Netanyahu on NPR today, talking about nuclear weapons. NPR's Steve Inskeep interviewed the Israeli prime minister on Morning Edition.

STEVE INSKEEP: People will ask, "Why can't we have nuclear weapons, since Israel has them?" What is a reasonable answer to that question?

PRIME MINISTER BENJAMIN NETANYAHU: Well, I'm not going to say what Israel has or doesn't have, but I will say Israel has no designs to destroy anyone. We have not called for the destruction of a people, the annihilation of Iran or any other country. But that's exactly what Iran's doctrinaire, messianic, apocalyptic regime—it's a terrorist regime. A terrorist regime bent on world domination, seeking to navigate their way cleverly to the point where they have awesome power, should not be allowed to achieve it.

STEVE INSKEEP: What's the answer to that question about what people see as a double standard?

PRIME MINISTER BENJAMIN NETANYAHU: Well, Israel—I think Israel is not the issue. And in general in the Middle East, the issue is not those who have signed the NPT, the Non-Proliferation Treaty—

STEVE INSKEEP: People also ask why Israel hasn't signed the Non-Proliferation Treaty.

PRIME MINISTER BENJAMIN NETANYAHU: Well, you should look at those who signed it. See, the signing of it is meaningless, because Syria signed it. It was developing, you know, facilities for nuclear weapons. Iraq, under Saddam Hussein, signed it. It was developing nuclear weapons—twice, actually—from the 1970s on. And Iran signed it, and it's developing these nuclear weapons, developing ICBMs.
AG: That was Israeli Prime Minister Benjamin Netanyahu on Morning Edition. Final comment?

Final comment is that in my book I try to get past the geopolitics and talk about Netanyahu's Israel, and it reveals the projections in his statement. He talks about wiping a country off the map. Well, where I lived in Jaffa, a nation had been wiped off the map where I jogged—it was to Tel Aviv- where these grassy dunes called Charles Clore Park, which used to be the Palestinian neighborhood of Manshia. So, the state of Israel has already done this. Netanyahu talks about militant, theocratic medievalists in Iran, but in his own country he has state-funded rabbis, like Dov Lior, who have urged human experimentation on Palestinian prisoners, or like Shmuel Eliyahu, the state-funded chief rabbi of Safed, who has called for a genocide against Palestinians in Gaza. He has people like Yitzhak Shapira, the state-funded rabbi of the yeshiva in Yitzhar near Nablus on the West Bank, who published what is literally a manual for how and when to kill non-Jews. And when he was summoned to an interrogation by the Shin Bet, he didn't show up, nothing happened, and Netanyahu said nothing.
So this book is really about what's happening in Netanyahu's backyard. I don't doubt a lot of things that are said about Iran, but let's talk about what's really happening inside Netanyahu's country, because we're funding it, $30 billion every 10 years. And Israel is the issue.
AG: We have to end the conversation now. Max Blumenthal, award-winning journalist, best-selling author, his latest book is Goliath: Life and Loathing in Greater Israel.
Video of Part 2
See also Introducing American Jews to the real Israel by Akiva Eldar.