Don't tell us what to do – right wing draws its line against Miliband

Paul Dacre, editor in chief of the Daily Mail, giving evidence at the Leveson inquiry, February 2012.
Gove defends newspapers' 'right to offend' in Miliband row
Michael Gove says a free press could be upsetting but "that's the price we pay for liberty"
BBC news
October 02, 2013
Education Secretary Michael Gove has defended newspapers' "right to offend" and said the Daily Mail should not apologise to Labour leader Ed Miliband for a story criticising his father.
The newspaper has said using a photo of Ralph Miliband's grave had been an "error of judgement" but stood by its story claiming he had "hated Britain".
Mr Gove, whose wife writes a column for the Mail, said politicians should not "tell editors how to do their job".
A free press was "raucous", he said.
But former Deputy Prime Minister Lord Heseltine said the Mail article that caused the row was "demeaning".
In Saturday's article, journalist Geoffrey Levy suggested the beliefs of the late Marxist academic Ralph Miliband, who died in 1994, had influenced his son's politics.
There is no sure-fire way of knowing, though, how many voters share his outrage.
The party says a webpage inviting comments in support of Miliband's position has garnered some 16,000 messages.
The number of complaints to the PCC though is, so far, dwarfed by some previous rows about press conduct.
The sight of a clearly upset Miliband may have grabbed voters' attention in a way few speeches could mange.
Not for the first time, Labour's leader is defining himself by opposing powerful papers, and debating their ethics.
But the Daily Mail stands by its report, its headline, and its view that Ralph Miliband's politics are relevant and important.
And the Mail matters because it is so popular: the second best read paper in Britain, with a successful website.
However many voters sympathise with a son defending their father, this row is highly unlikely to affect the newspaper's success, or its influence.
Ed Miliband has said he does not share his father's ideology but the Daily Mail has maintained it was fair to scrutinise the beliefs of his father as the Labour leader has talked of him being an influence.
In a right of reply in Tuesday's Mail, Mr Miliband said his father, a Jewish refugee who fled Belgium aged 16 to escape the Nazis, "loved" Britain and had served in the Royal Navy.
The Labour leader said he was "appalled" that having allowed him to respond, the paper then repeated its original article and wrote an editorial saying his father had had an "evil legacy".
'Furious'
Labour is seeking an apology from the newspaper for its decision to publish a photo on its website of Mr Miliband's grave, accompanied by the caption "grave socialist", a move the Labour leader said had left him "furious".
The newspaper said the picture had been removed from its website after Mr Miliband had complained.
But it has insisted the original article's headline – "The man who hated Britain… The answer should disturb everyone who loves this country" – was "justified" when read in conjunction with the whole article .
Mr Gove, who was a journalist before entering politics, said the Mail should not apologise for the original story since it was newspapers' job to hold politicians to account and, on occasion, to "upset" them.
"Newspapers should not apologise to politicians for being robust. We need a free press that is robust, raucous and, by definition, will sometimes offend," he told BBC Two's Daily Politics programme.
The education secretary, one of the strongest opponents of statutory regulation of the press following the Leveson inquiry, said a free press was "precious" and he would continue to make the case for it.
"I don't think politicians should tell newspaper editors how to do their job.
"I think it is a bad thing is politicians try to cajole, coerce or try to influence editors."
'Hatchet job'
But Lord Heseltine said the article was effectively a "hatchet job" and the newspaper had gone too far.
"I personally thought the article was carrying politics to an extent which is demeaning frankly," he said.
"As everybody knows, the guy [Ralph Miliband] fought for the country and we now live in a totally different world to the clash between fascism and communism."
Former Conservative cabinet minister Lord Moore, who studied under Ralph Miliband at the London School of Economics, said it "beggared belief" that he could be accused of a lack of patriotism.
"I never heard him ever say one word which was negative about Britain – our country," he said in a statement.
"The people of this country are good and decent too. They do not want the Daily Mail attacking the dead relatives of politicians to make political points."
Labour peer Lord Sugar said shareholders of the Mail's owner, Daily Mail and General Trust, should "demand the resignation" of editor Paul Dacre.
Speaking on Channel 4 News, he urged companies "as a punishment, to pull temporarily" their advertisements from the paper.
The Labour leader's office said it had received 10,000 emails supporting Mr Miliband's decision to speak out against the Mail, more than on any other issue.
The Press Complaints Commission said it had received 384 complaints regarding the article, compared with 5,000 for a story in the Sun last year about England manager Roy Hodgson. Labour has not made an official complaint.
The BBC's political editor Nick Robinson said this was a hugely personal matter for the Labour leader.
But he said Mr Miliband's reaction also had a political spin-off in him being seen to stand up to sections of the press expected to attack him ahead of the next election.
Wednesday's edition of the Daily Mail devotes four pages to the ongoing row and includes an abridged version of its editorial from the previous day.
It also highlights the support given to Mr Miliband from the prime minister and deputy prime minister on Tuesday for defending his father, as well as reflecting views from both sides of the debate by other political figures and its readers.
---
Why The Daily Mail is not antisemitic
These pieces add up to a vicious slur on a dead man, but they are not antisemitic, and in these darkening times, we should not be too quick to cry wolf.
By David Herman, Prospect magazine
October 04, 2013

What The Daily Mail wrote about Ralph Miliband was not antisemitic. Reading and re-reading Geoffrey Levy's original article, the Mail's editorial ("An evil legacy and why we won't apologise") and Michael Burleigh's attack on "Stalin's gulags and his Left-wing British apologists", there is no overt antisemitism in any of them.
This is not to give The Daily Mail a clean pass. These articles are all offensive, sometimes misleading, even incorrect. There is no evidence that Ralph Miliband "hated Britain." Like many on the Left in the 1940s, including his contemporary, George Orwell, he was critical of aspects of British life and society. Britain was a very different country in 1940 and The Daily Mail made no attempt to put any of Miliband's ideas or words in context, indiscriminately throwing together comments from 1940, 1955 and the time of the Falklands War, as if there is no difference between a 16-year-old refugee and a political thinker in his sixties.
Michael Burleigh, once an esteemed historian, resorts to guilt by association of the crudest kind: quoting Harold Laski ("the mentor of Ralph Miliband") and Eric Hobsbawm ("Ralph Miliband's friend") but never Miliband himself, knowing full well that Miliband was not an apologist for Stalinism and therefore didn't belong in his article at all.
Yes, there is something odd about the reference to Deuteronomy in the paper's editorial. What did they think they were doing when they wrote, "We do not maintain, like the jealous God of Deuteronomy, that the iniquity of the fathers should be visited on the sons"? It is like one of those strange whistles that only dogs can hear. Except when the tabloids use it, it's not aimed at dogs. There is an undertone of something from the undergrowth in the Mail's nasty attack on a dead Jewish socialist refugee.
I understand what Jonathan Freedland means when he writes in The Jewish Chronicle, of "a whiff" of antisemitism, something "latent and hinted at, rather than overt." Freedland and others are right to remind us of "a long and unhappy history" of the Jewish outsider being charged with disloyalty, a lack of patriotism. This was what was always so deadly about the argument of patriotism in terms of blood and soil that replaced Christian antisemitism in the 19th century. After all, you can't change your blood. If you were not born in a particular country, you were not born on that soil, however much you contributed to that country in later years. The Daily Mail is covertly referring to a whole history of antisemitic slanders against the Jewish Left which go back to the Zinoviev Letter and to the 1930s, when the newspaper was speaking so effusively about Nazism.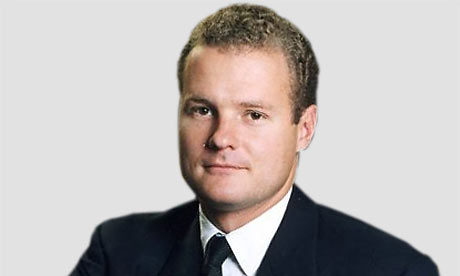 L., today's Viscount Rothermere (2010), R., Alex Brummer who has moved from the Guardian to Daily Mail and Jewish Chronicle

Linda Grant, writing on the same page of this week's Jewish Chronicle, is also right to see how the attack on Miliband is part of an attack on intellectuals and ideas. Contrast The Mail's deeply philistine hatchet job on the Milibands with John Gray's article on Ralph Miliband and his sons for The Guardian in 2010. Gray showed that far from being a Cold War dinosaur, who should be cast into the trashcan of history, Ralph Miliband understood that there was something uncontrollable about capitalism, now as then, something the parliamentary state could not deal with. It was social democrats, apparently so much more modern and sophisticated in their thinking than old-time Marxists, who from Crosland (David Miliband's hero) to New Labour, had underrated the contradictions of capitalism. There is no attempt at such a thoughtful analysis in the pieces in The Mail, no attempt to deal with complicated ideas, just innuendo and abuse.
So yes, these pieces add up to a vicious slur on a dead man. They are journalism at its worst. They draw on nasty traditions which have a long history in British and European culture. But they are not antisemitic and in these darkening times, when real antisemitism is to be found in many parts of Europe and the Middle East, we should not be too quick to cry wolf. We should acknowledge that Alex Brummer, The Daily Mail's Jewish city editor, is right when he said on the Today programme; "there have been vicious accusations in the last couple days from Neil Kinnock among others that somehow this was an antisemitic attack by The Daily Mail and I think that is untrue." He went on, "The Daily Mail is filled with Jewish journalists, it is one of the most pro-Israel newspapers on Fleet Street."
---
City editor Alex Brummer says it is the Daily Mail which is owed an apology in Miliband row
Press Gazette
04 October 2013
The Daily Mail has made clear it is not backing down in its battle with Ed Miliband over its denunciation of his late father, the Marxist academic Ralph Miliband.
And Alex Brummer, the Mail's City editor, said it was the paper that was entitled to an apology after some Labour Party figures suggested its actions were motivated by anti-semitism.
The Labour leader sought to distance himself from the claims of anti-semitism.
But he stepped up his demand for the paper's owner, Lord Rothermere, to mount a full inquiry into his organisation's culture and practices after the Mail's sister title, The Mail on Sunday, sent a reporter to accost his relatives at a private memorial service.
Lord Rothermere apologised to Mr Miliband for that incident yesterday but has refused his demands for a wider inquiry into the way his newspapers operate.
Appearing on BBC Radio 4's Today programme, Brummer strongly defended the Daily Mail's original article about Ralph Miliband, which questioned how far his hard-line left wing views had influenced his son.
"I don't think we need to apologise for anything. This was a piece which examined somebody's views very carefully," he said.
"I think there are people out there who need to apologise to us because there have been vicious accusations in the last couple of days, from (former Labour leader) Neil Kinnock among others, that somehow this was an anti-semitic attack."
Speaking to BBC Radio Five Live, Mr Miliband made clear that he was not suggesting the paper was anti-semitic.
"I'm always incredibly careful about throwing around the idea that the paper or somebody is anti-semitic or racist unless there is real evidence for that," he said.
"I don't believe that of the Mail, that's not been my issue."
He said that while the newspaper was entitled to hold him to account for his views, the way it had attacked his father was unacceptable.
"They'll criticise me, they'll say my policies are wrong, that's absolutely fine. But when it comes to my dad, and saying my dad hated Britain, I'm afraid they're crossing a line," he said.
"In all of this, they've never apologised for the fact they said my dad hated Britain – an idea without any foundation.
"I'm not picking a fight with the Daily Mail. I don't want to be talking about my family but I felt I had to, given what happened with my dad and what happened at my uncle's memorial service."
He added: "What I would hope Lord Rothermere would do … is look at the wider culture and practices of the Mail and the Mail on Sunday because I don't think this is an isolated incident that has just happened to my family."
Brummer insisted that the Mail did have a rigorous culture and practices.
"I hear the editor, I hear the department heads being asked every day 'are you doing this the right way?', 'Was that picture taken in the right place?', and so on," he said.
While he acknowledged that the headline on the article about Miliband senior had been "quite robust", he said that it had to be read in conjunction with the whole piece.
"Headlines in newspapers are often quite robust, often more robust than the articles themselves," he said.
He said the article had been an attempt to understand the Labour leader's policies in the wake of his party conference speech last week in Brighton.
"It came right out of the Labour Party conference, out of his speech, where we felt … there was quite a lot of rhetoric that was anti-free enterprise," he said.
He said the newspaper had a right to explore views which "were rampant in the house in which Ed Miliband was brought up, and was heard at the breakfast table every morning … it tells you why he has such a low regard for free enterprise".