Small prisoner release prompts small Israeli protest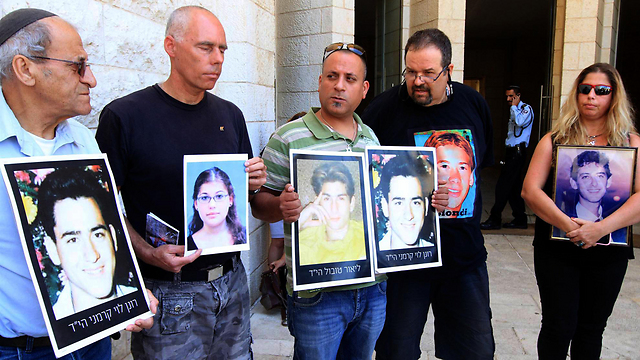 Families outside Supreme Court on Sunday 11 August, 2013. Photo by Gil Yohanan
Israel names 26 Palestinian prisoners for release
Victims' relatives protested outside Israel's Supreme Court on Sunday

BBC news
August 12, 2013
Israel's government has given details of 26 long-term Palestinian prisoners to be freed as part of a deal which will see peace talks resume this week.
A list of names chosen by a ministerial committee was published overnight.
The prisoners will be freed on Tuesday. The delay allows time for last-minute legal challenges by victims' families.
The announcement came after Palestinian officials accused Israel of trying to sabotage the peace talks by approving nearly 1,200 new settlement homes.
Direct negotiations between Israeli and Palestinian negotiators are scheduled to take place in Jerusalem on Wednesday, two weeks after a preparatory round in Washington.
An Israeli government spokesman rejected Palestinian criticism of the housing announcement, saying every peace initiative so far had proposed that the settlements in question become Israeli territory.
The Palestinians have previously agreed in principle to minor land swaps.
About 500,000 Jews live in more than 100 settlements built since Israel's 1967 occupation of the West Bank and East Jerusalem. The settlements are considered illegal under international law, though Israel disputes this.
Protest
On Sunday evening, a statement from the office of Israeli Prime Minister Benjamin Netanyahu announced that 26 prisoners would be released.
It said they would be freed at least 48 hours after their names were published by the Israeli Prison Service.
The list was made public early on Monday, once the families of their victims had been informed.
Fourteen of the prisoners will be returned to the Gaza Strip and 12 to the West Bank. Eight were already due to be released in the next three years, two of them in the next six months.
Palestinian officials said that 20 of them belonged to President Mahmoud Abbas's Fatah movement while the others were from rival groups including Hamas and Islamic Jihad.
The decision was made after a meeting chaired by Defence Minister Moshe Yaalon and including Justice Minister Tzipi Livni and Science Minister Yaakov Perry, as well as the heads of the Israeli Prison Service and the Shin Bet security service.
The committee was due to be chaired by Mr Netanyahu, but he was recovering from overnight emergency surgery to repair a hernia.
The statement stressed that "if one of those released will return to engage in hostile activity against Israel, he will be returned to complete his sentence".

Israelis hold pictures of their family members who were killed by Palestinians during a protest against the release of Palestinian prisoners, at Israel's Supreme Court in Jerusalem August 11, 2013. Photo by Baz Ratner/ Reuters

A small group of victims' relatives had protested against the releases outside the Israeli Supreme Court in Jerusalem.
"These are not political prisoners, they are terrorists and murderers who will be returning home to a hero's welcome," said Gila Molcho, whose brother Ian Feinberg was murdered by gunmen while working in a European Union-funded aid office in Gaza in 1993.
"My brother was a lawyer, a man of justice, and we also deserve justice," she said.
Also approved for release are two men jailed for carrying out a knife-attack on a crowded bus in Ramat Gan in 1990, killing one man and wounding three other passengers. Husseini Sawalha and Mohamed Abdel Majid Sawalha were both arrested in December 1990.
A total of 104 Palestinians jailed for attacks carried out before 1993 are due to be freed in four stages over the next few months, as part of the agreement to restart US-brokered direct peace talks after a three-year hiatus.
The victims' families can appeal to the Supreme Court, but it rarely intervenes in such cases.
Health Minister Yael German told Israeli public radio that the prisoner release was painful but appropriate for the sake of peace. She was quoted as saying the dialogue with the Palestinians was like a baby, which could die at any moment given the wrong care.
Prisoner affairs minister Issa Qaraqa described the decision as a strategic step towards the release of all Palestinian detainees.
'Dangerous policy'
The Israeli announcements on prisoner releases and settlement construction were reportedly co-ordinated with US officials as part of the pre-talks framework agreed by Israeli and Palestinian negotiators in Washington in late July.
Palestinians condemned the Israeli ministry of housing's decision to issue tenders for building 793 housing units in East Jerusalem and 394 elsewhere in the West Bank, but stopped short of threatening to abandon the talks.
Palestinians reacted angrily to Israel's approval of plans for nearly 1,200 new Jewish settlement homes
Hanan Ashrawi, a member of the Palestine Liberation Organisation (PLO) executive committee, told the BBC that Israel was deliberately sending a message to the US that it would press ahead with "stealing more land" regardless of any attempt at launching negotiations.
Chief negotiator Saeb Erekat told the Reuters news agency: "If the Israeli government believes that every week they're going to cross a red line by settlement activity, if they go with this behaviour, what they're advertising is the unsustainability of the negotiations."
Israeli government spokesman Mark Regev said the construction "in no way changes the final map of peace".
"The construction decided upon in Jerusalem and in the settlement blocs is in areas that will remain part of Israel in any possible peace agreement," he told the BBC.
However, Finance Minister Yair Lapid, whose centrist Yesh Atid party is the second largest in Israel's coalition government, said the decision to call for tenders was "unhelpful to the peace process".
---
Middle East peace talks: prisoner release and new settlement push raises temperature
First substantive negotiations with Palestinians for five years to begin amid announcements on settlements and prisoners
By Harriet Sherwood, Guardian
August 12, 2013
In highly contentious moves heralding the renewal of Middle East peace talks this week, Israel on Sunday identified 26 long-term Palestinian prisoners to be released on Tuesday after authorising 1,200 new homes to be built in settlements in the West Bank and East Jerusalem.
The apparently choreographed steps came three days before the first substantive negotiations for five years, aimed at reaching a historic settlement of the decades-old Israeli-Palestinian conflict by next May. The outcome of intense shuttle diplomacy by US secretary of state John Kerry, the talks will resume amid widespread scepticism on both sides.
The list of names was published late on Sunday night to allow time for last-minute legal challenges from the families of victims. The group is among a total of 104 prisoners whose crimes date back more than 20 years who will be freed in stages over the next nine months. Those convicted of the most serious crimes are expected to be the last to be released.
A statement from the office of Israel's prime minister, Binyamin Netanyahu, said, of the 26 initially released, 14 would be deported or moved to the Gaza Strip and 12 repatriated to the occupied West Bank. All were convicted of murder or being an accessory to murder; one has been in prison for 28 years.
For most Israelis, the prisoner release is a controversial and painful price for the renewal of the peace process. Victims' relatives and their supporters have protested against the move over recent weeks and told of their anguish and opposition in interviews and articles in the Israel media.
But the issue is of visceral importance to Palestinians. Emotional family reunions will take place across the West Bank and Gaza, where the freed men will be feted as heroes. Their release is likely to result – at least temporarily – in a more favourable atmosphere towards the talks on the Palestinian side, a key reason why Palestinian president Mahmoud Abbas insisted on the move before returning to the negotiating table.
The announcement of a new settlement construction push, made by the ultra-rightwing housing minister, Uri Ariel, appeared to a be a quid pro quo for the release. The move was reportedly co-ordinated with US officials as part of the pre-talks framework. "The Americans agreed to resign themselves to moderate construction in exchange for a prisoner release," the Israeli newspaper Ma'ariv reported.
Eight hundred of the new homes will be built in colonies across the pre-1967 Green Line in Jerusalem – the part of the city the Palestinians want as the capital of their future state. Construction could take two years. All settlements in the Israeli-occupied West Bank and East Jerusalem are illegal under international law.
"No country receives orders about where it can and cannot build from other countries," said Ariel, a former head of the settlers' council, Yesha, But in an indication of bitter divisions within the Israeli cabinet, finance minister Yair Lapid described the move as a "big mistake" and said it was "not conducive for the peace process".
Palestinian leaders warned that continued settlement expansion could scupper the talks. Negotiator Mohammad Shtayyeh said it was "clear that the Israeli government is deliberately attempting to sabotage US and international efforts to resume negotiations by approving more settlement units three days before the first Palestinian-Israeli meeting". He added: "Israel continues to use peace negotiations as a smokescreen for more settlement construction."
The settlement announcement came hours before a special ministerial committee convened to approve the names of the first 26 prisoners to be released, from a list submitted by the security agency Shin Bet. The committee was due to be chaired by Netanyahu, who was instead recovering from overnight emergency surgery to repair a hernia. He left hospital early on Sunday evening.
A small group of Israelis, members of whose families were killed in attacks more than two decades ago, protested in Jerusalem at the release, some smeared with red paint to symbolise blood on the prisoners' hands.
"For 23 years I haven't been able to sleep trying to recreate what happened to my son in those moments," Yaakov Tobel, whose son Lior was killed in 1990, told the news site Ynet. "The investigators told us he managed to run for 80 metres before his blood flow stopped. Let the ministers think about that before they sign off [on the release]."
Ron Kerman, whose 17-year-old daughter, Tal, was killed in a bus bombing in Haifa in 2003, said: "The government promised not to enter into negotiations with preconditions, but they gave in and did so with the toughest precondition of all – freeing traitor terrorists. We've never sunk this low."
The peace talks will open in West Jerusalem on Wednesday and later move to the desert city of Jericho in the West Bank. The interlinked issues of borders, territory and settlements are the priority for Palestinian negotiators, who insist that the pre-1967 Green Line should be the basis of their future state. The US shares this position but Israel refused to sign up to it in pre-talks discussions.
Israel will be represented by justice minister Tzipi Livni and prime ministerial aide Isaac Molcho; the Palestinians will field veteran negotiator Saeb Erekat and Shtayyeh. Martin Indyk, a former US ambassador to Israel, and Frank Lowenstein, Kerry's foreign policy adviser, are the secretary of state's envoys.
---
Palestinian prisoner release stirs controversy in Israel
By John Reed, Financial Times
August 12, 2013
JERUSALEM– Israel published the names of 26 long-serving Palestinian prisoners it will release ahead of peace talks due to begin later this week, bringing an angry response from victims' groups and rightwing members of parliament on Monday.
A list of the men and their victims was published on the Israel Prisons Service website overnight after a ministerial committee, based on advice from the Shin Bet intelligence agency, decided on Sunday on the 26 to be released. Israel is allowing a 48-period for legal appeals to be heard before the release, which is expected to take place on Tuesday night.
Of the prisoners, 15 are expected to be released to the Gaza Strip and 11 to the West Bank. The release meets a critical demand of the Palestinians, who say they have 5,500 prisoners in Israeli jails, and is expected to give a popular boost to President Mahmoud Abbas ahead of the relaunch of peace talks in Jerusalem on Wednesday.
As a confidence-building measure, Israel agreed to release 104 Palestinian detainees, including all prisoners who have been serving sentences since before the Oslo Accords two decades ago, in four instalments. The talks, under the sponsorship of US Secretary of State John Kerry, were officially inaugurated in Washington last month.
Ahead of Wednesday's talks, emotions are running high on both sides. The release of the men, most of whom were convicted of murdering Israelis or were suspected Palestinian collaborators and are described as terrorists, has been unpopular with the public and victims' groups.
"It's a victory for the Palestinians who are identified with the terrorists, and it's a sad day for society in Israel and it's a sad day for free society in the world," Meir Indor, chairman of Almagor, a Jerusalem-based advocacy group for victims of terrorist attacks, told the Financial Times. The group has petitioned Israel's Supreme Court to stop the release.
Uri Ariel, Israel's housing minister and a member of the rightwing Jewish Home party in Benjamin Netanyahu's coalition, said on Monday that the release made a "mockery of the judiciary".
Mr Ariel's ministry on Sunday angered the Palestinians by publishing tenders for nearly 1,200 new housing units in East Jerusalem and the West Bank, where they want to form a new state. Negotiators have accused Israel's government of torpedoing talks, or using them as a smokescreen for continued expansion of Jewish settlements on Palestinian land.
"People are not happy with what happened and there is a lot of talk that we should not go," a Palestinian official said on Monday of Wednesday's planned talks. "So far there is no decision on this issue, so the status that we have now is that we are going."
Palestinians said that the prisoner release was overdue, as it makes good on an agreement with Israel to release pre-Oslo prisoners at talks in Sharm el-Sheikh in 1999. Of the men to be released, all but one were imprisoned before or in 1994, when the second Oslo Accord was signed.
---
Bereaved parents protest prisoners' release in Jerusalem
Some 20 Israelis who lost loved ones in terror attacks march to Supreme Court to protest government's decision to release Palestinian terrorists. 'Why are we here alone,' cries one mother
By Aviel Magnezi, Ynet news
August 11, 2013
Some 20 Israelis whose loved ones' killers are set to be released as part of renewed peace talks between Israel and the Palestinians marched from the Mount Herzl cemetery to the Supreme Court in Jerusalem on Sunday in protest of intended prisoners' release.
The High Court of Justice held a hearing on a petition filed against the move by bereaved families. On Sunday evening, a ministerial committee will convene to discuss which 26 prisoners will be the first to be released. Prime Minister Benjamin Netanyahu, who is recovering from a hernia operation, will not be present. Defense Minister Moshe Ya'alon will serve as committee chair.
At the end of the hearing, from which it could be inferred that the panel will not overturn past rulings, some family members ran up to the judges to express their protest. "I'm not just a number on a list," said Gila Molcho. "You can't keep treating this as a purely legal proceeding."
During the hearing, Attorney Naftali Vertzberg from the Almagor organization argued that the release in question is entirely different from past gestures. "This time there's no one holding a gun against our head like in the Shalit deal. It's just a gesture and in all the past gestures we released terrorists who served time for much lesser charges."
Families outside Supreme Court (Photo: Gil Yohanan)
Families outside Supreme Court (Photo: Gil Yohanan)
Attorney Michal Tzuck-Shefer representing the State said that the decision is one for the government but noted that if negotiations fail the release can be halted.
The bereaved families marched holding pictures of their loved ones and white flags. Miriam and Yaakov Tobol, who lost their son Lior in a terror attack in 1990 said that on Thursday they got a call from the National Insurance Institute informing them that their son's killer will be released this week.
"We phoned the Defense Ministry, the Prime Minister's Office and were told we'll get a call back, but we never did," said a tearful Yaakov. "No one there feels this pain in our hearts. For 23 years I haven't been able to sleep trying to recreate what happened to my son in those moments. The investigators told us he managed to run for 80 meters before his blood flow stopped. Let the ministers think about that before they sign off (on the release)."
Established two weeks ago, the ministerial committee will convene for the first time on Sunday evening to determine which 26 prisoners will be released on Tuesday – a day before Israeli and Palestinian negotiators meet in Jerusalem.
An official list has yet to be released but some bereaved families claim to have already been informed that their loved ones' killers are about to be freed.
Gila Molcho lost her brother Ian Feinberg while on a European Union mission in Gaza. "Where are the people of Israel? Why am I here alone," she cried. "We are selling ourselves cheap. Every person I've met told me how right I was and how wrong this (the release) is, but no one looks me in the eyes.
"We cannot fight this irrational step alone. I beg of you, come here and say this is unacceptable."
Ron Kerman lost his daughter Tal in a terror attack on a bus in Haifa. "The government promised not to enter into negotiations with preconditions but they gave in and did so with the toughest precondition of all – freeing traitor terrorists," he said. "We've never sunk this low."
Yossi Dor, father of Asaf Dor who was also murdered in the terrorist bombing in Haifa, said: "We're not that naïve to think the Supreme Court will outlay the move. But the court has to send a message today, like in the Zvi Bar case. Let them say that it's 'Kosher but smells of something bad', let them say that it makes no sense that negotiations haven't even started yet and already we are releasing lowlife murderers."
Oded Karmani, who lost his brother Ronen, said that one of his brother's murderers was released in the Shalit deal. "We consented then to the release of murderer for a live soldier, which has so much value. But we've come here today to cry out against the release of criminal murders, among them my brother's murderer, for nothing.
"How can we believe them, when Abu Mazen keeps declaring that terror is his way. How can we believe them, when 40% of prisoners who are freed go back to terror. We are crying here in the face of those who killed, murdered, bombed and slaughtered and are now being released as heroes with no reward.
The criteria by which the ministers will determine the prisoners' identities were set by the Shin Bet, which categorized prisoners based on different parameters. The aim is that the identity of those released will bolster Palestinian President Mahmoud Abbas' while also being reasonably accepted by the Israeli public.
The Shin Bet's lists will be presented to the ministers Sunday, and the names will be released to the public after the meeting. The law stipulates that prisoners' names must be published in the Shin Bet website 48 hours prior to the release. President Shimon Peres will probably not have to sign paroles, since most of the prisoners released in the first round are Palestinian citizens—in which case the military grants their release.