The unique power of music-making for Palestinians
This posting has these items:
1) Maya Jaggi: The Palestine Strings at the Proms;
2) Electronic Intifada: Palestinian children unite in song ;
3) Daily Star, Lebanon: Music program unites Palestinian children across region ;
4) Notes and links, includes audio links to some of the music groups and concerts mentioned;

Singing in the choir of hundreds of refugee children in the Gaza strip, organised by al-Sununu Children's Choirs. See 2nd item. Photo by Ashraf Amra / APA images

The Palestine Strings at the Proms
The artistry of the Palestine Strings, set to debut at the BBC Proms, flows from a disciplined system of music education

By Maya Jaggi, Financial Times
August 2, 2013
The Palestine Strings, whose players are aged between 12 and 22, at home before their visit to London this week
Strains of Vivaldi's Summer concerto escape through the stained-glass windows of a graceful mansion near Jerusalem's Damascus Gate. Members of the Palestine Strings are rehearsing for their debut at the BBC Proms in London. They are to perform The Four Seasons with Britain's maverick violinist Nigel Kennedy, whom Ezzat Qupty, 14, a violin student since he was four, admires as "crazy – in a good way". Qupty's teenage cool barely masks his awe that tickets to the Albert Hall sold out in a day.
Kennedy, who first performed with this string orchestra at a festival in East Jerusalem last summer after being struck by their "fantastic talent" on YouTube, will direct 17 string players, aged 12 to 22. This time he plans "interludes of Arabic music", drawing on the dual musical heritage the ensemble displayed on a US tour in 2011, when the violinists played with a Palestinian dubka troupe – the stamping line dancers seen at weddings. The young musicians' artistry flows from a disciplined system of music education, seeded 20 years ago in the Israeli-occupied West Bank, that is now bearing fruit.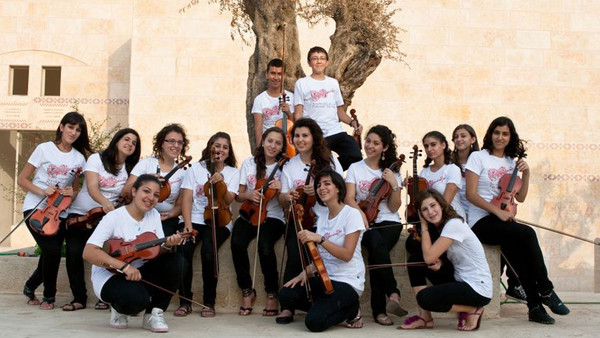 The Palestine Strings, whose players are aged between 12 and 22, at home before their visit to London this week. Photo by Fares Mansour
The Palestine Strings, formed in 2009, is an orchestra of the Edward Said National Conservatory of Music, the first and largest of the institutions driving a Palestinian musical renaissance. Founded by five musicians in 1993 and linked to Birzeit University near Ramallah, the conservatory has grown from 40 students to 1,150 (with 700 more in children's choirs), and from three teachers to 64. Despite checkpoints obstructing the movement of students and tutors, what began humbly in Ramallah now has four other branches across Palestine – Bethlehem, Nablus, Gaza and Jerusalem – as well as outreach programmes in poorer, more conservative communities from Jericho to Hebron.
As Rima Nasir Tarazi, 80, a co-founder, classical pianist and composer of Lieder-like national songs, reflects in her Ramallah garden: "Music has become part of the landscape. Playing in an orchestra teaches people to listen and harmonise. This is just as important as bread."
The Palestine Youth Orchestra, [above] created in 2004, has performed under guest conductor Sian Edwards in Italy and Greece, with music ranging from Beethoven and Dvorak to the Lebanese composer Marcel Khalife. The Palestine National Orchestra, a flagship symphony orchestra started in 2010 to embrace professional musicians from the diaspora, performed in Ramallah and Amman last year, interspersing Beethoven and Mozart with a composition by Syrian virtuoso clarinettist Kinan Azmeh. Such concerts are helping to build the local audience for classical music. A concert in April featuring Bizet's Carmen filled a 1,300-seat hall in Bethlehem.

Ramzi Aburedwan, a professional viola player, plays the oud to Palestinian children. See Notes and links
According to Suhail Khoury, the conservatory's general director, all repertoires affirm Palestinian culture. "Even when we play Mozart or Beethoven, it shows what we can achieve. It doesn't come easily under occupation. I want people to feel proud and make changes in their lives through music."
Khoury, a clarinettist and ney (Arab flute) player, says the idea took hold during the first intifada, the uprising of 1987, when "people felt powerful and creative". Taking charge in 1995, he insisted that the Arab classical tradition have an equal place alongside western music, and his Oriental Music Ensemble specialises in instruments such as the fretless oud and the zither-like qanun. The aim is to compensate for the attrition of talent in Palestine which began at the foundation of Israel in 1948, when many musicians fled abroad. Ibrahim Atari, director of the conservatory's Ramallah branch, says that, after the 1967 Israeli-Arab war, "everything closed. There was just folk music and intifada protest songs. In the beginning of the occupation, it was very hard to make music. Anyone making a song for Palestine they put in prison."
Thanks to international donors (the Palestinian Authority gives next to nothing), students in Gaza and the outreach programmes pay no fees. Scholarships abroad are conditional on students' returning for a spell as teachers. Ramadan Khattab, a car mechanic with a gift for the double bass, returned from accolades in France to start a kindergarten string orchestra. "It's not the contract that takes me back to Palestine," he says, "but the children who have nothing."
Students from various branches unite at summer camp in sleepy Birzeit, in a former women's dormitory where the air of neglect is offset by colourful murals and the sound of scales. This is only the second year that Gaza students have been granted permits to come. In spite of a pin-up of Hugo Chávez, it is worlds away from Venezuela's Sistema – which Francis Biggi, a lutenist visiting from Geneva's Haute Ecole de Musique, describes as bigger, richer and publicly funded. "Here, you don't know if the teachers will be there tomorrow," he says.
Although the conservatory has its difficulties, there is progress. After years in shoddy rented premises, the Bethlehem branch has moved into a radiant glass building by local architect Elias Anastas, entirely donor-funded. A $2m, four-storey home for the Ramallah branch is being built, with its own recording studio.

Section of the Palestine National Orchestra, 2010 debut. It is the first Palestinian orchestra of professional classical musicians since 1948 and plays a mix of Palestinian classical compositions and western classics.Photo by AFP.

The conservatory was renamed in 2004 after the late scholar and pianist Edward Said. Yet early co-operation with the West-Eastern Divan Orchestra, formed by Said and Daniel Barenboim, was curtailed by a divergent ethos. Rather than placing Israeli and Arab musicians side by side as Wedo does – which some spurn as a pretence of harmony that cloaks inequality – the focus is on vaulting the Israeli obstacles faced by Palestinian musicians.
These include the elusive permits without which West Bankers may not enter Jerusalem, and air travel that first requires an arduous journey to Jordan. Many expatriate Palestinians require Israeli permission to enter the West Bank, while hardly anyone can get in or out of Gaza. The conservatory often resorts to video links, as it did for the biennial Palestine National Music Competition, which won audiences long before Gaza's Mohammed Assaf won the TV show Arab Idol in June. High quality global journalism requires investment.
The 23 Sununu (swallow) children's folk song choirs in refugee camps, run jointly with Elena Rostropovich, daughter of the cellist, have joint concerts streamed by satellite.
Although musicians cherish the purity and freedom of their art, overcoming barriers makes their coming together a potent political statement too. For Khoury, the formula is simple: "Today an orchestra, tomorrow a state." Mohamed Najem, a solo clarinettist and composer in the Naqsh fusion ensemble, says music offers a path out of isolation: "You close your eyes – and you travel."
---

Palestinian children unite in song

Palestinian children perform in the Al-Sununu Choir at Hamra's Babel Theatre, Lebanon, see 3rd item. Photo by Mahmoud Kheir.
By Joe Catron, Electronic Intifada
April 26, 2013
Gaza City–The largest hall in Gaza City's plush al-Mashtal hotel felt almost as packed as the cinderblock alleys of the nearby al-Shati (Beach) refugee camp on Tuesday.
A choir of hundreds of refugee children, from the camp and elsewhere in the Gaza Strip, had assembled, along with a much larger audience.
Connected by satellite to similar gatherings across Palestine and its Middle Eastern diaspora — Bethlehem, Amman, Beirut and Damascus — the event brought the voices of refugee children separated by walls and borders together in a unique concert.
"It was about unity: all Palestinians, everywhere, coming together," said Mais Salfiti, a volunteer who welcomed observers outside the hall.
Salfiti, an interior designer and recent graduate in architecture from the Islamic University of Gaza, is a children's Sunday school teacher and youth worker at Gaza City's Greek Orthodox Church of Saint Porphyrius, which joined many other local organizations for the event.
"We have a kid's choir," she said of her church's role. "Thirty-five of them participated in the event," out of approximately 300 in the Gaza choir and the total of more than 700 across the five locations.
"Our other participation was through the volunteers. Six of our youth worked today."
"Unite them all"
The event drew broadly from the Gaza Strip's refugees, Salfiti said. "We had choirs from the church and different schools: government, UN and special ones like the American school. We had volunteers from the schools, the church and political associations."
It was coordinated by the al-Sununu Children's Choirs, a project launched by the Association Elena Rostropovich that "aims to give access to basic music education to refugee children and unite them via traditional music," according to the concert program.
It also drew support from regional musical institutions: the Edward Said National Conservatory of Music, the Lebanese National Higher Conservatory of Music, the Solhi Al-Wadi Institute of Music in Syria and the National Music Conservatory in Jordan.
Displacement
The Gaza Strip has the highest proportion of refugees of any territory in the world. By the end of 2012, the UN Agency for Palestine refugees, UNRWA, had registered more than 1.2 million refugees in the besieged enclave, out of a total population of approximately 1.6 million.
UNRWA registrants, like Salfiti's family, were forced from their homes in present-day Israel by Zionist militias or Israeli military forces in 1948. The agency's mandate restricts its services to those "who lost both their homes and means of livelihood" in the expulsion — known to Palestinians as the Nakba (catastrophe).
According to the Palestinian refugee advocacy group Badil, 7.4 million Palestinians had been forcibly displaced by Israel, compared to UNRWA's registry of 4.8 million. Only 34.2 percent of a worldwide Palestinian population of 11.2 million had never been displaced ("Survey of Palestinian refugees and internally displaced persons 2010-2012," Badil, November 2012 [PDF].)
"Beautiful"
"I know that we have to go back to our homes," Salfiti said after the concert, whose location, by the northern coast of Gaza City, lay within eyesight of many refugees' villages in Ashkelon and Ashdod (both in present-day Israel).
"It was beautiful," she said of the day's music. "They chose the songs well."
Each of the five choirs first sang individually. Their performances were broadcast to the other four, projected onto screens and sounded through speakers. Selections ranged from "Thob Sitti" ("My Grandmother's Dress"), written by Gaza's Khaled Juma and sung from the ceremony hall in Sahnaya, Damascus, to Marcel Khalife's "Asfour" ("Sparrow"), performed in Bethlehem's Dar al-Nadwa theater.
Finally the three choirs sang together, their joint performance culminating in the Palestinian folk song "Wayn a Ramallah."
"It was fun," Maryam, a 10-year-old singer from the Jabaliya refugee camp north of Gaza, said after the concert. "It felt like we were all together."
"I liked how the kids sang in the same voice, the same song," Salfiti said. "Unlike our politicians."
Joe Catron is a US activist in Gaza, Palestine. He co-edited The Prisoners' Diaries: Palestinian Voices from the Israeli Gulag, an anthology of accounts by detainees freed in the 2011 prisoner exchange, blogs at http://joecatron.wordpress.com and can be followed on Twitter @jncatron.
---

Music program unites Palestinian children across region
By Wassim Mroueh, The Daily Star, Lebanon
April 25, 2013
BEIRUT: Thirteen-year-old Ali Musa, a Palestinian refugee, declares that he plans to become a musician in the future, thanks to a new music program seeking to unite Palestinian voices.
"I will be playing the oud in the future to earn a living," he said.
Musa and another 700 Palestinian children from Lebanon, Jordan, Syria, he West Bank and Gaza Strip had the opportunity to take part in an Al-Sununu Choir, a three-year music program, organized and funded by the Association Rostropovich-Vishnevskaya.
Established in Paris by Russian musician Elena Rostropovich in 2008, the non-governmental organization seeks to help marginalized children all over the world through music education and other social programs.

Elena Rostropopvich, pianist and founder of the al-Sununu children's choirs. She is the daughter of cellist Mstislav Rostropovich.
The program wrapped up Tuesday as 700 children across the region performed simultaneously in Beirut, Amman, Damascus, Gaza and Bethlehem in a single concert via satellite, with the aim of uniting Palestinian voices.
"I'm happy because it is my second year at Al-Sununu Choir. … I performed today with my friends in Syria, Gaza and the West Bank. … I want to be a musician in the future," said another Palestinian child, who like Musa, took part in the Beirut concert that was held at Babel Theater in Hamra.
Some 70 Palestinian children took part in the Beirut concert, which was supervised by singer Umaima al-Khalil.
Souad Qabbani, whose two children Ula and Alaa took part in the three-year program, said she didn't mind if her children grew up to work in the music industry, but she had one condition: that they earn a degree in the field.
"I used to encourage them to continue the music program because it is something that they like. I used to memorize songs and sing with them as well," Qabbani said while waiting to enter the theater and watch her two children perform.
"I don't mind that they continue with music on the condition that this does not distract them from their studies," she said.
Among the project's goals is to preserve the traditional music of Palestine, and unite Palestinian children "through their traditional music to become one voice, thus creating solidarity."
The project also seeks to create a Palestinian music history book for kids.
During the concert, the children sang traditional Lebanese, Palestinian and Arab songs like "Tik Tik ya umm Sleiman" by the Rahbani brothers, "Biladu al urb Awtani," by the Fleifel brothers and "Asfour tal mnil-Shubbak," by Marcel Khalifeh.
At the end of the one-hour concert, all of the 700 kids sang the traditional Palestinian song "Wein a'Ramallah."
Addressing the participants at the concert, Rostropovich who was speaking via satellite from the Gaza concert, said the event was a "historic moment," with Palestinian children scattered throughout the region singing together.
"Today is a day of celebration and unity. It is very important that traditional music be passed from generation to generation because this is an integral part of the heritage and the place of a nation," she said.
"Since we started this project, we have discovered very talented children with beautiful voices which inspired me to create more and more choirs. I would like to encourage all the Al-Sununu children to aim for senior studies in music, to always go forward and never give up even if there are obstacles in the way."
Rostropovich said that coming from a family of musicians and being a musician herself, she believed that music should be an integral part of education because it is the only tool that develops both analytic capacities and emotional self-expression.

Notes and links

Al Kamandjati
The project

The Association was created in October 2002 by Ramzi Aburedwan, a Palestinian violist (gold medal from the Conservatoire of Angers) from the Al Amari refugee camp, Ramallah. AK aims to support the education and schooling of Palestinian children by making music more accessible to them, especially those living in refugee camps and villages throughout Palestine and Lebanon. Fees are kept very low and scholarships are provided.

AK works in many refugee camps, villages and cities of the West Bank, as well as in Lebanon. It has developed many partnerships with existing cultural institutions so as to pool resources and thus improve the Palestinian situation.

Why ?
Perhaps the least recognized effect of the violent Israeli occupation, on the lives of the Palestinian people, is the undermining of culture, art and leisure. When a regime wants to weaken a people, it uses psychological and cultural as well physical as means. It attempts to erase tangible evidence of that people's unique cultural heritage. The Palestinian resistance must operate on all levels.

The Intifada must be cultural as well as militant; artistic as well as political and economic. But on no account should we forget the primary reason behind the projects and activities led by Al Kamandjâti: to educate children, who suffer most from the unjust politico-economic situation.

The chance Ramzi was given must not remain isolated.

Concrete accomplishments
Al Kamandjâti accomplishments stem from an observation. Many activists around the world struggle to increase public awareness of the imperial aggression Palestinians have faced for more than 60 years. They refuse to let the Palestinians stand alone, for, as American civil rights leader Rev. Dr. Martin Luther King, Jr. said, a threat to justice anywhere is a threat to justice everywhere. But concrete political achievements remain scarce. Al Kamandjâti carries out projects directly in the Palestinian Territories and surrounding countries, especially with Palestinian refugees. We cannot afford to sit back and wait for the favourablepolitical decisions which would establish a Palestinian State. We must proactively work on galvanizing Palestinian cultural life.

We must act now!
We must give our children the opportunity to think beyond soldiers and tanks. They must think creatively, not about the destruction of their country, but about rebuilding their civilization.

---

Watch and listen to an al-Sununu choir performing in Gaza; delight in the infectious joy and clapping.

---

Watch and listen to Palestine Strings 

Prom 34: Vivaldi – The Four Seasons, Nigel Kennedy and Palestine Strings, 10.15-11.30pm; only returns and promming [standing up] tickets left. Royal Albert Hall, Kensington Gore, London SW7 2AP. The Box Office telephone number: 0845 401 5045.

To hear this concert click here to go to the BBC page, and then click Listen again.

---

"Al Sununu" ("Swallow") Palestinian Children's choirs 2010-2013
Palestinian children choirs in the West Bank, East Jerusalem, Gaza, Jordan, Syria and Lebanon

---

Pop Idol does what politics – and music students – can't. Pop Idol and Ramallah summer camp for young musicians run by the Edward Said National Conservatory of Music

---

Watch and listen, Al Kamandjati Music Workshop, Ramallah. Great foot-stamping

---

Musical bridges across Palestinian diaspora Palestine Youth Orchestra

---

Israel refuses permits for Palestinian musicians, concert cancelled, Ramallah Orchestra, Al Kamandjati conservatory

---

"It's Not a Gun", review of film about Ramzi Aburedwan, founder of Al Kamandjati, Electronic Intifada, 2007

---

Dal'Ouna ensemble
Ramzi created Ensemble Dal'Ouna in 2000, which is named after a festive Palestinian music genre, sing and play the daily life of Palestine. Through its music, the ensemble expresses the hopes of a people that love to live, laugh and sing.

The ensemble's repertoire extends from Egypt to Andalusia, passing through various regions and traditions of the Middle East, and adding baroque and jazz accents to a musical confluence of Orient and Occident.

On this journey, Ramzi Aburedwan and Ensemble Dal 'Ouna bring us into their world, their music, their poetics and their traditions. They combine traditional Arab instruments including the bouzouk, the oud and oriental percussion with viola and accordion.

The repertoire ranges from instrumental to traditional poetic genres that focus on love, freedom, and nature.

Ensemble Dal'Ouna is also a story of encounters, shared experiences, a sane refuge where borders don't apply, and a message of hope for its members and audiences. It is a context in which music-making is a creative act of resistance in face of the daily oppression that Palestinians suffer.

Following the release of their first album in 2000, the group began touring in all over the world.

Dal'Ouna provides a wide range of classical and folkloric Palestinian and Arabic repertoires alongside original compositions. Each member of the ensemble has been schooled in diverse regions and idioms; together the ensemble presents a new and original musical universe.

---

Barenboim-Said Foundation does not promote normalization, conflict between the Foundation and PACBI, boycott campaign