From now on EU aid workers to Palestine are 'just tourists'
News reports from AFP, Ynet and Reuters. Plus Notes and links.

One of the six East Jerusalem hospitals (EJHs, supported by the EU) which serve Palestinians in E. Jerusalem, Gaza and the West Bank. Photo by Jillian Kestler-D'Amours/Al Jazeera
Israel snubs EU aid workers in West Bank, Gaza
By AFP/Al Akhbar
July 26, 2013
Israel has halted cooperation with European delegates and aid workers in the West Bank and Gaza to protest the EU's recent ban on funding projects in illegal Jewish settlements, media reported Friday.
Defense Minister Moshe Yaalon had given instructions to Israeli officials to "freeze contacts with European Union representatives in Area C" of the West Bank, which is under full Israeli control, one official told AFP.
A western source cited by The Guardian newspaper said that Israel has also refused to grant permits to humanitarian workers affiliated with the EU who want to access the Gaza Strip.
"It's inconceivable the EU acts the way it does and we would just accept it," the Israeli official said.
The official added that Yaalon had given the orders to General Eitan Dangot, head of the Israeli military body in charge of civilian aspects of life in the Israeli controlled parts of the West Bank.
Since the West Bank is under Israeli military occupation, Yaalon – in his capacity as defense minister – is the supreme authority for the territory.
Published last Friday, the EU guidelines exclude Jewish entities in territories occupied by the Israel after the Six-Day War in 1967 – the Golan Heights, east Jerusalem and the West Bank – from financial cooperation agreements with the bloc.
The move raised a storm in Israel and was denounced by right-wing Prime Minister Benjamin Netanyahu as "an external diktat about our borders," an issue that "will be decided upon only in direct negotiations between the sides."
A spokesman for Netanyahu declined to tell AFP whether Yaalon's move reflected a broader Israeli stance on relations with the EU.
A defense ministry official told AFP that Yaalon instructed Dangot to give European officials "the cold shoulder."
"Meetings between Dangot's and EU representatives were cancelled, projects and donations frozen, and requests to renew permits granted to EU officials and Palestinians for travel in the West Bank and to Gaza were rejected," the official said.
A spokeswoman for EU foreign policy chief Catherine Ashton said they were "concerned over these reports, but we have not received any official communication from the Israeli authorities."
"What we are doing right now is, through our delegation on the ground, trying to get urgent clarification," Maja Kocijancic said.
---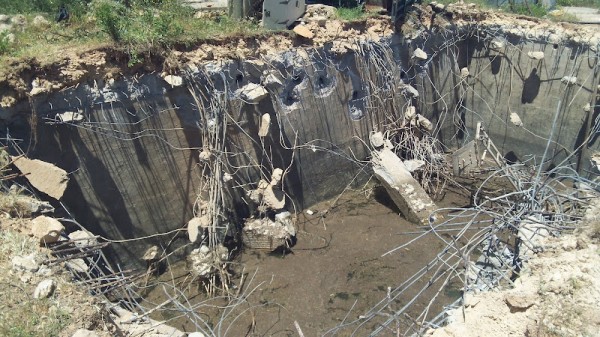 Water cisterns in Hebron smashed up by the Israeli occupation forces. A principal goal of EU aid is the provision, installation and supervision of water cisterns for Palestinians in the West Bank. While the settlers are connected to the Israeli water network and receive a constant piped flow of fresh water, Palestinians rely on collecting and storing rain water. Smashing up their cisterns is one of the commonest ways in which settlers or the IOF try to force Palestinians off their land. Photo from International Solidarity Movement.
---

Al Quds university, Jerusalem. How will Ya'alon's order affect this EU-supported institution? Photo by Rina Castelnuovo for The New York Times

Ya'alon minimizes cooperation with EU in response to ban
In response to EU decision to ban funding of Israeli activities in territories, defense minister decides to punish EU by refusing to cooperate with representatives, halts assistance to EU projects. From now on 'they're tourists,' he says
By Attila Somfalvi, Ynet news
July 25, 2013
In response to the European Union's decision to ban contracts with Israel pertaining to disputed territories, Defense Minister Moshe Ya'alon instructed the IDF and the Coordinator of Government Activities in the Territories to stop cooperating with EU representatives in the West Bank and Gaza.
The instruction came recently and included orders to halt any assistance the IDF might be granting EU representatives working in infrastructure projects in the territories.
The IDF cannot prevent EU officials from traveling in and out of Palestinian Authority-controlled territories, but it can prevent them from entering or leaving the Gaza Strip via Israel, as well as from promoting projects.
According to a defense establishment source, the decision was taken in a bid to send a clear message to the EU, stressing that any move to boycott Israeli actions beyond the green-line "turns the organization into a biased mediator in negotiations, and as such, it must accept the results."
Ya'alon decided the freeze in cooperation between Israel and the EU will include Area C as well as the crossing between Israel and Gaza.
In the rest of the area of Judea and Samaria, the cooperation will continue as usual.
A security source said: "We cannot prevent anyone from traveling freely; we cannot freeze their movement, but from now on they are tourists."
Voices from Israel's Right had already called for cutting ties with the EU after reports of the decision were confirmed. The defense minister – who is the sovereign in the Judea and Samaria – decided instead to make ties a little colder.
The new EU directives were reported last week, and according to them the EU cannot fund or participate in any Israeli project or activity beyond the green-line. The new directives deliver a harsh blow to Israeli initiatives and institutions attempting to secure funding from EU states.
---
Israel blocks EU projects in West Bank
By Allyn Fisher-Ilan, Reuters
July 26, 2013
JERUSALEM – Israel has blocked the European Union from aiding tens of thousands of Palestinians in the West Bank, in retaliation for an EU ban on financial assistance to Israeli organizations in the occupied territories.
The EU imposed its restrictions last week, citing its frustration over the continued expansion of Jewish settlements in territory captured by Israeli forces in the 1967 Middle East War. The new guidelines render Israeli entities operating there ineligible for EU grants, prizes or loans, beginning next year.
An Israeli official said on Friday the Jewish state was compelled to respond to the EU's decision "to sanction or boycott the settlements".
"From our standpoint we cannot just ignore this or treat spitting in our face as though it is rain," the official said.
Settler leaders say the aid they receive from Europe is minimal. But many in Israel worry about knock-on effects the EU steps may have on individuals or companies based in Israel that might be involved in business in the settlements, deemed illegal by the international community.
he Israeli official, speaking on condition of anonymity, said Defence Minister Moshe Yaalon had decided to suspend contacts with the EU in the West Bank.
Yaalon, a former army chief and a hardliner in Prime Minister Benjamin Netanyahu's Likud party, has "frozen projects, canceled meetings, curtailed coordination and permits for Europe's operations" for Palestinians living in what is known as Area C, a West Bank area fully administered by Israel, he said.
EU CONCERN
In Brussels, Maja Kocijancic, spokeswoman for EU foreign policy chief Catherine Ashton, said: "The EU is concerned by reports in the Israeli media that the Israeli Minister of Defence has announced a number of restrictions affecting EU activities supporting the Palestinian people.
"We have not received any official communication from the Israeli authorities. Our delegations on the spot are seeking urgent clarifications," Kocijancic added.
A Western diplomat, speaking on condition of anonymity, said that due to the Israeli measures, several European humanitarian aid staff had failed to receive permits to enter the Palestinian-ruled Gaza Strip.
Under the terms of a 1993 interim peace accord, some 150,000 Palestinians, many of them poor farmers and shepherds living in Area C, a West Bank zone where many settlements have been built, are fully under Israeli military control,
The Palestinians have limited self-rule over other parts of the West Bank, and share joint custody with Israel over yet other areas.
Some of Europe's assistance in the West Bank goes to Palestinians for building homes. But many have been designated illegal and demolished by Israel.
The Association of International Development Agencies, a coalition of 80 aid groups, said in a report in May that 600 settler houses had been built since mid-2012, while Israel demolished 535 Palestinian-owned homes and structures.
The United States, Israel's main backer, has been trying to revive peace talks that have been deadlocked for three years and are aimed at reaching an agreement for the Palestinians to establish a state alongside Israel.
After months of painstaking talks with both sides, U.S. Secretary of State John Kerry said two weeks ago they had laid the groundwork for a breakthrough.
Israeli and Palestinian negotiators may meet in Washington as soon as on Tuesday, July 30, a senior Palestinian official told Reuters on condition of anonymity, after an Israeli minister's said on Thursday that talks were likely by next week.
Additional reporting by Justyna Pawlak in Brussels, Ali Sawafta in Ramallah
---
Notes and links

€13 million to East Jerusalem Hospitals to provide specialized health services to Palestinians EU funding for E. Jerusalem hospitals, July 2013

EU denounces Israel's destruction of aid projects in West Bank Electronic Intifada report from 2012 of Israel's destruction of over 60 EU funded projects in Area C. Date 17 May 2012

NGOs highlight Israeli destruction of EU-funded projects,  EU Observer, May 2012

EU Assistance to the Palestinians
_________________________________________________
Destruction of EU development projects in Palestine by the Union's favoured partner Israel

European Parliamentary questions
26 October 2010

The last 10 years have witnessed the destruction by the Israeli authorities of some 80 development projects in Palestine that were wholly or partly funded by the EU or one of its Member States. The total monetary value of the humanitarian projects and infrastructures destroyed is estimated to be in the region of EUR 100 million.

These humanitarian projects and infrastructures destroyed by Israeli aggression include a network of greenhouses, an airport, an orphanage, several waste treatment plants, hospitals, bridges, schools and farms.

Meanwhile, Israel continues to be a favoured partner of the Union. Its agricultural exports are worth nearly EUR 800 million per annum, and it has received, over the last 10 years, aid and investment credits via the EIB to a value in excess of EUR 300 million.

Paradoxically, while the Union is now calling on its Member States to implement an economic policy of austerity and spending cuts, it is at the same time allowing a favoured partner to destroy development projects financed from its own coffers.

The projects destroyed were representative instances of the EU's external action, conceived as instruments of development cooperation.

Will the Commission implement measures to stop the Israeli state destroying or damaging infrastructures and development projects wholly or partly funded by the EU or one of its Member States?

Has the Commission forwarded a formal complaint to Israel on the matter?

Answer given by High Representative/Vice-President Ashton on behalf of the Commission

Parliamentary questions
7 January 2011
E-8655/2010

The European Commission has followed up on the damage caused to European Union and Member States'funded projects since 2001. More specifically, following Operation Cast Lead (December 2008‑January 2009), the Commission carried out a comprehensive needs and damage assessment, including an evaluation of the destruction of EU‑funded projects. According to this evaluation, during this conflict, the damage to EU‑ funded projects amounted to over EUR 12.3 million. This should be compared with an estimate of overall damage to EU‑funded projects in both the West Bank and Gaza for an amount equivalent to EUR 39.6 million since 2001 (including also the Operation Cast Lead damage).

It also has to be noted that infrastructure and any equipment supplied through grants with NGOs is almost always transferred to the beneficiary at the end of the project. As a consequence, the Commission does not currently envisage making any financial claim to Israel in respect of this amount, as in all cases ownership of the project assets had been transferred to project beneficiaries. In such cases, it would be for the beneficiaries rather than the Commission to consider whether to file a claim for compensation.

As regards the investments financed by the EIB in Israel, we would like to stress that EIB loans are made in the framework of the EIB mandate to support the EU Neighbourhood policy and focused so far on the environment/water and R & D sectors without any subsidy or budget based component.

The Commission maintains a number of bilateral contacts with Israel through which it has raised and continues to raise issues of concern such as the destruction of EU funded projects.