Arab-haters compete to be Israel's Chief Rabbi

Shlomo Amar, Israel's outgoing Sephardi co-Chief Rabbi, visits soldiers outside Gaza. "A rabbinate linked up with the state cannot be completely free." Photo, courtesy Lerner Com
Disband Israel's Chief Rabbinate, save Judaism's good name
Despite the outcry both in Israel and the U.S., it is entirely possible that an outspoken Arab-hater will be elected as an official religious representative of the State of Israel.

By Rabbi Eric H. Yoffie, Ha'aretz
July 08, 2013
Whenever I think that the elections for the Chief Rabbinate cannot get more absurd, I am proven wrong: Apparently, when control of Israel's massive religious bureaucracy is at stake, no candidate is too outrageous, no statement is too outlandish, and no political deal is too shady for Israel's religious parties. All that matters is winning – whatever the cost to Torah, tradition, and 
Judaism
's good name.
The latest development is that two leading candidates for Sephardi chief rabbi both hold ugly, racist, anti-Arab views. (More on this below.)
On some level, as an opponent of the Chief Rabbinate, I see this election campaign as a gift from heaven. The religious parties are doing far more to discredit the Chief Rabbinate than its critics could ever do.
The chief rabbis – one Ashkenazi and one Sephardi – are elected for 10-year terms by an "electing body" of 150 people, roughly half of whom are rabbis and half of whom are local and national political figures. The religious parties try to make deals with each other and with the other political parties to assure the election of their candidates. This is important to them because the chief rabbis are senior religious functionaries in a system that involves a great deal of patronage and that includes town rabbis, kashrut officials, military rabbis, etc.; no other industrialized democracy has a religious bureaucracy even approaching the size of Israel's.
Most Jews, in Israel and the Diaspora, pay no attention to the election of Israel's chief rabbis – non-observant Jews because they don't care and observant Jews because they see the chief rabbis as political hacks. But interest is higher this year.
In America, the Anglo-Jewish press has been filled with stories about the election. And in Israel, the election's fierce political wheeling and dealing has drawn more attention than usual. My friends in Israel offer a variety of explanations. First, Yair Lapid's Yesh Atid party, non-religious but the second largest in Israel, has been actively involved in the election. Second, corruption in the Chief Rabbinate has received much coverage. (Ashkenazi Chief Rabbi Yona Metzger is known to the public mostly for his arrest record.) And third, an election process that in the past has produced mostly undistinguished candidates this year has produced some deeply problematic ones.

Top, Rabbi Avraham Yosef, candidate for Sephardi Chief Rabbi: "It is forbidden to rent an apartment to non-Jews". Photo by Nir Kafri. Below, another candidate, Rabbi Shmuel Eliyahu: "Someone should tell consumers not to make use of a hotel that employs Arab workers."
Prime examples are two leading candidates for Sephardic chief rabbi, Shmuel Eliyahu and Avraham Yosef. Nahum Barnea, writing in Yediot Ahronot on July 5, provides a compendium of Eliyahu statements. Some samples: "If someone rents an apartment to Arabs, this is against halakhah" (from an Eliyahu speech in Safed, 2010). "Someone should tell consumers not to make use of a hotel that employs Arab workers. If they are as careful about the cleanliness of the food as they are about the cleanliness of their villages, then the condition of the food will be very bad" (from an Eliyahu responsum). At the same time, Barnea notes that Yosef's statements are not really any better. Yosef on non-Jews: "It is forbidden to rent an apartment to non-Jews. It is forbidden to sell them land" (from a Yosef responsum).
While I am pleased that the Jewish world is getting the facts, I am aware that the facts might make no difference. Thus, despite the outcry, it is entirely possible that Rabbi Eliyahu will be elected. I wonder what it would be like to have an outspoken Arab-hater as an official religious representative of the State of Israel. I shudder at the message that would be sent to the international community and, far more important, to Jews everywhere who look to Israel for inspiration and guidance.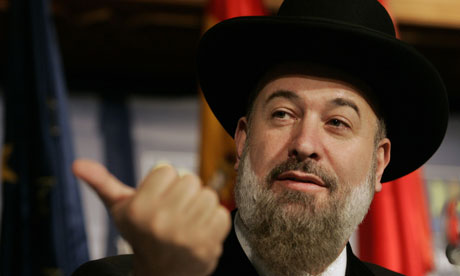 Yona Metzger, outgoing Ashkenazi chief rabbi of Israel, has been questioned by police. Photo by Javier Barbancho/AP

Of course, there are also moderate candidates, and most of Israel's rabbis – Orthodox, Conservative, and Reform – emphatically reject a racist reading of Torah. But that is beside the point. The poisonous combination of politics, religion, and money that is at the heart of the Chief Rabbinate is corrupting Judaism from within. And no matter who is elected, Israel's religious establishment will never have the standing to deal with Israel's real religious challenges – such as the collapse of the system of conversion, the treatment of women by religious authorities, and the inability of so many Israelis to marry legally in the Jewish state.
The unchallenged leader of modern Orthodoxy in the 20th century was Rabbi Joseph B. Soloveitchik. In 1959, the Rav (as Soloveitchik was known) was asked to be a candidate to succeed the Ashkenazi chief rabbi of Israel. He declined, explaining that "I was afraid to be an officer of the State. A rabbinate linked up with the state cannot be completely free." In 1972, he noted that "when I refused to accept the position of chief rabbi, I explained that one of my reasons was that the rabbinate has been institutionalized there. Willy-nilly, such a rabbinate will disintegrate. I am sorry that my prophecy was correct. It is now in a state of disintegration." (From The World of Rabbi Joseph B. Soloveitchik, by Aaron Rakeffet-Rothkoff.)
The Rav was right. In 1972, the Chief Rabbinate was in a state of disintegration. We can only imagine what he would say about it today. He clearly believed that an independent rabbinate, severed from the suffocating embrace of government, was necessary to address the problems of Jewish life. For that to happen, the Chief Rabbinate must be dismantled, and this year's government-sponsored election must be the last.
Rabbi Eric H. Yoffie served as president of the Union for Reform Judaism from 1996 to 2012. He is now a writer, lecturer, and teacher, and lives with his family in Westfield, New Jersey. 
---
Artists say no to Eliyahu as chief rabbi
Israel Prize laureates, artists and intellectuals sign petition claiming 'racist rabbi who incited against Arabs' cannot become one of State's symbols. Habayit Hayehudi party must be removed from government for backing his nomination, they add
By Kobi Nachshoni, Ynet news
July 09, 2013
Dozens of artists and intellectuals, including several Israel Prize Laureates, have issued a manifesto against the nomination of Safed's Chief Rabbi Shmuel Eliyahu as Israel's Sephardic chief rabbi, arguing that he is a racist man who incited against Arabs and contributed to acts of violence against them.
The support voiced by some members of Habayit Hayehudi party for Eliyahu's nomination is seen by the petition's signatories as a "black flag."
Referring in their statement to a series of halachic rulings and responses issued by Rabbi Eliyahu in recent years, the artist determine that "he is the rabbi of incitement from Safed, the one who ruled that apartments must not be sold or rented to Arabs, the one who has been inciting for years against Arabs and non-Jews in general – incitement which led to racist riots in Safed, the one who organized the inciting rabbis' letters, the one who incites against sexual relations with Arabs."
'They want to make him the State's symbol'
The manifesto was drafted by writer Sefi Rachlevsky and has so far been signed by 30 men and women: Sculptor Micha Ullman, Prof. Yehuda Bauer, author Hanoch Bartov, Prof. David Harel, Cinematheque founder Lia van Leer, graphic designer David Tartakover, photojournalist Alex Levac, actress Hanna Maron, contemporary dancer and choreographer Ohad Naharin, Prof. Gavriel Salomon, sculptor Dani Karavan, composer Arik Shapira and former Knesset Member Yael Dayan.
Other signatories include Prof. Rachel Erhard, Prof. Avner Ben-Amos, Prof. Helena Syna Desivilya, Prof. Daniel Bar-Tal, artist Yair Garbuz, Prof. Zvi Tauber, Prof. Danny Jacobson, Dr. Shlomo Cohen, Prof. Avner Katz, author Hadara Lazar, conductor Uri Segal, playwright Joshua Sobol, singer Achinoam Nini, artist Izhar Patkin and Prof. David Shulman.
The petition notes that Rabbi Eliyahu had been indicted in the past for incitement to racism, although according to the signatories the State Prosecutor's Office is usually "weak and paralyzed in the face of the forces of religion."
This didn't prevent Housing Minister Uri Ariel from holding a meeting with Safed's rabbi recently and expressing support for his nomination as Israel's Sephardic chief rabbi, they say.
"The housing minister, who is responsible for selling and renting apartments to citizens, supports a person who forbids selling and renting to Arabs!" they argue. "He (the rabbi) who demanded revenge against seculars. He who mocked the 'moderates' who will oppose the concentration camps we'll set up in the future – he is the person who ministers in Israel want to appoint as the State's symbol."
'Treat Habayit Hayehudi like Haider's party'
The petition also calls on Prime Minister Benjamin Netanyahu to remove Habayit Hayehudi from his government and boycott the national-religious party.
"It must be treated like we demanded Austria to treat Jörg Haider's party. It must be treated like the Knesset treated Meir Kahane's party. Complete denouncement. No contact. Walking out of the Knesset plenum when one of the members of the party supporting incitement to racism speaks.
"Every minute this is not being done is a black stain on the State of Israel. Every moment Habayit Hayehudi party sits in the government is complete contempt toward the victims of racism in Israel, in the world and in the history of the Jewish people, which is filled with victims of racial persecutions.
"Every moment that the leaders of the coalition parties – Benjamin Netanyahu, Yair Lapid and Tzipi Livni – cooperate with Minister Ariel and Habayit Hayehudi in the government, makes them responsible and stains them with serious racism. This cooperation make Netanyahu, Lapid and Livni, as well as the members of their parties, worthy of complete denouncement. They are guilty of contempt towards the victims of history's racial persecutions."
Rabbi Eliyahu invites intellectuals to meeting
The petition concludes by saying that the question whether Rabbi Eliyahu will be allowed to compete or will be elected is marginal, as "the entire Rabbinate institution is false," but that his supporters must be censured.
"This isn't a slip of the tongue, this isn't even shrapnel in the rear end, it's an essence – a horrifying essence. The Israeli government is being put to a major test. Whoever fails will be responsible for the most serious delinquency against the memory of the history which led to the State of Israel."
Rabbi Eliyahu said in response that he saw his possible election as Israel's chief rabbi with great respect, and had taken upon himself to respect every man's way – including criticism from intellectuals.
According to a statement issued on behalf of the rabbi,
Intellectuals supporting tolerance, attentiveness and respect for fellowman should be expected to accept the rabbi's invitation to meet with him and listen to his views without any mediators and distortions, but in a direct and honorable manner.

Many of the remarks attributed to the rabbi were never said, and are a radicalized and distorted interpretation. The rabbi is a Jewish and Israeli patriot, who supports the way of Torah and the sanctity of the land.
'Perhaps they should condemn Ariel boycott'
Habayit Hayehudi party offered the following statement in response: "The involvement of left-wing intellectuals in the Chief Rabbinate elections is extremely moving. Habayit Hayehudi has only announced its support for Rabbi David Stav as Israel's chief rabbi."
The national-religious party invited the petition's signatories to "draft a letter of support for Rabbi Stav in light of the harsh attack he is subject to these days. They may also take this opportunity to condemn boycotts against the residents of Ariel like the one we saw last week, and in general we would be happy to suggest some ideas for additional letters, if they're already at it."
Eliyahu's nomination for Sephardic chief rabbi (also known as the "Rishon LeZion") has been criticized due to racist remarks he allegedly made in the past, including calling on Safed residents not to rent their apartments to Arabs, as one of the initiators of the 2010 "rabbis' letter."
The police even launched a criminal investigation into those statements, but eventually decided to drop the case against the rabbi due to "lack of evidence."
About a week ago, Attorney General Yehuda Weinstein decided to summon the rabbi for a hearing before making a final decision on the matter, after receiving requests in to disqualify Eliyahu's candidacy over his past statements.
In closed forums, Weinstein voiced his opinion that Eliyahu's candidacy was inappropriate in light of the rabbi's racist statements and the national nature of the position.
Attorney General to summon chief rabbi candidate, Eliyahu called in for questioning, July 03, 2013.
Israeli police question chief rabbi on graft allegations, Reuters, June 20, 2013
Israeli police raid home of country's chief rabbi amid bribery investigation, June 20, 2013