Haunted by a woman in the attic
Reposted here are two articles from Jewish Quarterly about the Jewish Quarterly-Wingate prize, a New Statesman report of the winner (3) and a review from The Independent, 4).
Beyond Bagels and Nazis

Judging the Jewish Quartely-Wingate Prize 2013

By Sam Leith, Jewish Quarterly
January 2013
The brief for the Jewish Quarterly-Wingate Prize is wonderfully — and, you could say, appropriately — open to interpretation. What does it mean to explore "themes of Jewish concern in any of its myriad possible forms either explicitly or implicitly" — and who is the "general reader" for whom that exploration is intended to be enlightening? That is the starting point and, to mix a metaphor, the touchstone for the judging process of the award, on the judging panel of which this year I had the honour to serve as the token goy (occasioning multi-recipient emails that might end: "Shabbat shalom and g'mar v'hatima tova and, Sam — Hi!")
That openness to interpretation was part of what made the process as rich and thought-provoking as it was. Also, as fun. As judges we found ourselves asking things like: "Is a biography of a Nazi ipso facto a book that explores themes of Jewish concern?" Or: "Is this a distinctively Jewish story, or just a story with a lot of Jews in it?" Or: "This is a cookbook. Yes. But does containing bagels make the difference?" These inquiries can become — I was going to say "Jesuitical", but perhaps "Talmudic" would be the word.
Yet you can make decisions about these things. It's not meaningless to talk about topics of Jewish interest. If we sometimes differed in emphasis — hard to call, for instance, were a pair of books about the contributions of Jewish scientists to particular areas of physics; can science be Jewish? — we were more or less always able to reach agreement in substance. Our deliberations have been, you'll be disappointed to learn, amicable. No tantrums, no resignations, no cries of "Clive Lawton! May his name be blotted out!" This shortlist is one that we're all proud to own.
As the aforementioned token goy, my role, in part, was to represent that "general reader". In our deliberations we came across some books, for instance, that seemed more hermetic than others: Jew speaking, as it were, unto Jew. While none of us ruled out esoterica — contributions to complex internal debates within Judaism or Jewish identity theory — these contributions needed to provide the outsider with a way in.
Just as my fellow judges, in theory, may have been less equipped to sense when something wasn't speaking to the outside world, there were other qualities to which I will have been tone-deaf. Clive and Hephzibah, for example, were able to testify — as I could never do with authority — to the social accuracy of one of the books that came very close to being shortlisted, Francesca Segal's fine first novel The Innocents. This, said Clive, uniquely among the submissions, nailed the North London Jewish world: "I know these people," he said. I could admire Segal's coolly well-constructed sentences, but I couldn't know these people in the way my fellow judges did.
I was looking, finally, for books that would tell me something I didn't know — which is not just a matter of providing facts or ideas I hadn't come across, but of giving an entry-point to a Jewish perspective . I was grateful to be introduced, for instance, to some chewy discussions of the political theory of Zionism. I encountered a fresh line on Adorno's famous (and, to my mind, regrettably silly) remark about poetry being impossible after Auschwitz; my objection was and remains Adorno's implied ideas about poetry, but seeing it worked through from the Auschwitz end of things was enlarging. I learned from brisk books about prewar antifascism in London and the banjaxed history of Palestinian solidarity movements among Israelis.
On the face of it, it's a very diverse shortlist indeed — both in subject matter, historical reach, style of approach and genre. We have men and women, Americans and Israelis and Brits, enormous publishers and tiny ones, fat books and thin ones, funny ones and serious ones, novels and short stories and narrative histories. We're pleased with that diversity, though we didn't aim for it.
We didn't arrive at formal criteria of what it meant to be "of Jewish interest". I think that was right. As one of the books on our shortlist, Bernard Wasserstein's On The Eve, shows: defining or ringfencing Jewishness, particularly in opposition to particular ideas of non-Jewishness, is something with not only intellectual but moral hazards. It's a non-neutral move — a decisive contribution to the long, long conversation about wagon-circling versus assimilation.
Instead we took the view that — as per Jonathan Miller's gag about being "Jew-ish"— "of Jewish interest" was something we couldn't and shouldn't define, but we knew it when we saw it. And, more importantly, once you were, as it were, in the corral you competed on literary quality rather than Jewishness. A book could be called Mazel Tov! and tell the story of 400 Hasidic Jews emigrating from Temple Fortune to Jerusalem while reflecting on the Torah and eating gefiltefish, but if it was badly written, it could lose out to a well-written book about koi carp by a guy called Cohen.
The Jewishness, in other words, could enter sideways. Cynthia Ozick's Foreign Bodies, for instance — a tragicomic variation on Henry James's The Ambassadors — is set between Manhattan and postwar Paris. There the war, and what it meant, no more than lends a sinister perfume to the atmosphere of this very funny, very composed, mercilessly observed cakewalk over the edge of a cliff. One of our nonfiction titles, Stanley and Munro Price's spry and elegant The Road To Apocalypse, is actually about an evangelical Christian: yet the beguiling story of the early 19th-century Christian Zionist enthusiast Lewis Way is, as it turns out, illuminating about the modern alliance between the US Christian Right and militant Israeli nationalists.
It was interesting, though, looking back from our shortlist to see what came in by way of submission: a piecemeal portrait, if you like, not necessarily precisely of Jewish writing or writing about Jewry and Judaism, but (self-selectingly) of what publishers think the Jewish-Quarterly Wingate Prize might think that category means. Naturally, some things came not single spies: anything to do with Israel being one well-represented category; and anything — even peripherally — to do with the Holocaust being the other. The Holocaust, even a lifetime on, is still the big presence in Jewish letters — under pressure, it seems to me, from impulses that pull in different directions: to memorialise it; to resist being defined by it.
We had a handful of what I have come to think of, slightly sourly, as "cache-in-the-attic" books. That is, memoirs or family histories which proceed from a dusty bundle of letters or photographs, discovered mouldering in the loft and giving rise to the author's investigation of a grandparent's time in the camps. I talk about these as if they are a distinct genre, and I think there's a case that they are.
We've had the survivor-memoirs; now the second generation interrogates the silences of those who did or did not survive. For this generation, the Holocaust is a historical idea rather than a series of events through which people you know have lived.
The relation of genre to the Holocaust is a particularly difficult one, though. People who talk about "the Holocaust industry" are generally using the phrase sneeringly. But there is, undoubtedly, a vast and still-growing body of literature about the Holocaust; and like other bodies of literature it will tend to segment into genre. The further we come from the raw first-person testimony of the survivor, I'd suggest, the more entrenched those genres will become and the more literary their treatments.
That, I'd suggest, is a problem. Truth-to-fact (and especially the fact of particularity, the singularity of experience) and truth-to-genre do not pull the same way. Cliche — even second-order cliché — deadens and falsifies. This is a practical, a literary, problem in memoir and realist fiction. It's a bigger problem — a more than literary problem—when it comes to the Holocaust: where "bearing witness" is enjoined; where the historical particularity (indeed, the historical uniqueness) of the Shoah is central article of the way it's understood in the community.
An approach to this problem — or, in at least one case, a frontal attack on it — is to be found in more than one of the books we shortlisted, as well as in some we didn't. Both Laurent Binet's HHhH and Fabrice Humbert's The Origin of Violence, in different ways, fretted about the way that literary expectations can determine, and in some cases derail, the way we approach the historical record.
The frontal approach was taken by Shalom Auslander in Hope: A Tragedy, about a neurotic Jewish guy in upstate New York who, investigating a noise in his attic, discovers an old, smelly, foul-mouthed and foul-tempered Anne Frank living up there. This is a killingly funny book, and sometimes in gasp-makingly poor taste; but it's both funny and tasteless to a purpose. The stifling guilt and solemnity, the unimpeachable and overpowering moral mass that the Holocaust (or, rather, the idea of it) represents to writers of Auslander's generation is summoned and exorcised with the freeing spell of the blown raspberry.
Deborah Levy's spare and elliptical Swimming Home took a lateral approach. In this constantly wrongfooting novel what looks like realist social comedy gives way to passages of dream or hallucination; from broad comedy to fairytale to Pinteresque sexual menace. Rather in the way that astronomers can deduce the presence of black holes by the way in which they bend light from distant stars, you apprehend the ancient European wrongs at the heart of this novel by the gravitational pull they exert.
But the Holocaust was not the only presence that shaded the fiction we chose. The existential question of Judaism, or Jewry — as incarnated in Israeli statehood — underpinned Amos Oz's quietly masterful collection of linked short stories Scenes From Village Life. Oz's village is subject to irruptions of the irrational, to disappearances, unexpected violence, sudden fear. Tel Ilan is a "pioneer village, already a century old" — but one of uncertain foundations; where existential questions feel only provisionally settled; one that you feel could disappear.
It's customary in these articles for prize judges to end by issuing some sort of bromide about "the rude health of British fiction", or the "astonishing year for non-fiction" we've had, measured against no criterion in particular. I'll spare you an announcement that it has been "an exceptional year for Jewishness". We had lots of submissions, many good and a few lousy. These six books were, we think, the best — and we think they are very good indeed. I commend them to you. L'chaim!
---
Hope: A Tragedy by Shalom Auslander (Picador)
Swimming Home by Deborah Levy (And Other Stories)
Scenes from Village Life by Amos Oz (Chatto and Windus)
Foreign Bodies by Cynthia Ozick (Atlantic Books)
The Road to the Apocalypse by Stanley and Munro Price (Notting Hill Editions)
On the Eve by Bernard Wasserstein (Profile Books)
Chair of the judging panel Diana Reich commented, "This year, the judges of the Jewish Quarterly Wingate Literary Prize had the task of winnowing 60 plus books of international fiction and non-fiction, with a Jewish dimension, to a short list of six. In the true spirit of Jewish disputation, both passionate and open minded, we reached a final outcome that is varied in genre, style and subject matter. The list contains short stories, an extended essay, novels and a work of scholarship. What they have in common is originality, a distinctive voice and an ability both to disturb and to entertain".
Hope: A Tragedy by Shalom Auslander
Shalom Auslander's novel starts with an extraordinary premise – that Solomon Kugel, a beleaguered salesman, has moved to a small town in New York State only to discover that a living, breathing, thought-to-be-dead specimen of history (namely, Anne Frank) is hiding in his attic. With the infernal logic of this comic genius, we embark on an outrageous novel that is both "blisteringly funny" (Sunday Times) and "audaciously brilliant" (Sunday Telegraph).
Swimming Home by Deborah Levy
Swimming Home is a subversive page-turner, a merciless gaze at the insidious harm that depression can have on apparently stable, well-turned-out people. Set in a summer villa, the story is tautly structured, taking place over a single week in which a group of beautiful, flawed tourists in the French Riviera come loose at the seams. Deborah Levy's writing combines linguistic virtuosity, technical brilliance and a strong sense of what it means to be alive. Swimming Home represents a new direction for a major writer. In this book, the wildness and the danger are all the more powerful for resting just beneath the surface. With its biting humour and immediate appeal, it wears its darkness lightly.
Scenes from a Village Life by Amos Oz
Hailed by The Times as 'a powerfully bleak portrait of loneliness, confusion and cracked bonds', Scenes from a Village Life gradually pieces together a community united by hidden fears and secrets. A stranger turns up at a man's door to persuade him to evict his ageing mother and sell the house; nearby a couple sleep soundly in their bed, unaware that their teenage son has committed suicide beneath it. This is a compelling, hypnotic work in which Amos Oz peers into the darkness of our lives and offers a glimpse of what goes on below the surface of everyday existence.
Foreign Bodies by Cynthia Ozick
The grand dame of American letters continues her preoccupation with the twentieth century Jew in this masterly, intricate novel. Set in the 1950s, Ozick turns the romanticising of Paris upon its head: American Bea Nightingale is sent to Paris to retrieve an errant nephew. Instead of the Paris of literary myth, she finds a shattered world peopled by survivors of World War Two. Based upon Henry James The Ambassadors, Ozick's sixth novel is a literary sleight of hand and a tour de force in its own right. Shortlisted for the Orange Prize 2012, Foreign Bodies testifies to Ozick's growing readership and recognition in the UK.
The Road to the Apocalypse by Stanley and Munro Price
In the winter of 1811 Lewis Way had an epiphany on the road to Exmouth. From that moment the eccentric millionaire devoted himself and his fortune to only one goal – the return of the Jews to the Holy Land. To achieve this mission he undertook extraordinary journeys as far as Moscow and Mount Lebanon. Lewis Way is now a neglected figure, but his legacy still has profound religious and political influence in the Middle East and today's America.
On the Eve by Bernard Wasserstein
'This is the portrait of a world on the eve of its destruction. Bernard Wasserstein presents a disturbing interpretation of the collapse of European Jewish civilization even before the Nazi onslaught. Wasserstein shows how the harsh realities of the age devastated the lives of communities and individuals. By 1939, the Jews faced an existential crisis that was as much the result of internal decay as of external attack. Ranging from Vilna ('Jerusalem of Lithuania') to Salonica with its Judeo-Español-speaking stevedores and singers, and beyond, the book's focus is squarely on the Jews themselves rather than their persecutors. Wasserstein's aim is to 'breathe life into dry bones.' Based on vast research, written with compassion and empathy, and enlivened by dry wit, On the Eve paints a vivid and shocking picture of the European Jews in their final hour.'
JUDGES
Diana Reich is the artistic director of the Charleston Festivals and the Small Wonder Short Story Festival. She has previously judged the Frank O'Connor Short Story Award. She is a former Director of English PEN, Administrator of the Orange Prize for Fiction and programmer of the Brighton literature festival.
Hephzibah Anderson is a book columnist for Bloomberg news and regularly contributes on cultural affairs to the Observer, Prospect and BBC Five Live. A former Fiction Editor at the Daily Mail, she has also written for publications including Vogue, The Times, and the Jewish Chronicle. She is the author of Chastened.
Clive Lawton has published extensively, mainly in the field of religious, moral and holocaust education. A former headmaster and teacher of English, he is involved in a senior capacity with many diverse Jewish charities and cultural organisations. He is on the faculty of the European Centre for Leadership Development and sits on the North London Bench.
Sam Leith is a former Literary Editor of the Daily Telegraph, and contributes regularly to the Evening Standard, Guardian, Spectator and Prospect. He is the author of two non-fiction books, Dead Pets and Sod's Law and a novel, The Coincidence Engine. His latest book You Talkin' To Me? Rhetoric from Aristotle to Obama is published by Profile Books.
NOTES TO EDITORs
The Jewish Quarterly-Wingate Prize was established in 1977 by the late Harold Hyam Wingate. The Harold Hyam Wingate charitable foundation is a private grant-giving institution, established over forty years ago. In addition to supporting the Jewish Quarterly-Wingate Prize it has also organised and supported the Wingate scholarships. The Jewish Quarterly-Wingate prize is the only UK award to recognise writing by Jewish and non-Jewish writers that explore themes of Jewish concern in any of its myriad possible forms either explicitly or implicitly. From 2013, the prize will be awarded in February to enable the prize to coincide with Jewish Book Week, now housed at King's Place, where it will be able to grow both in scale and outreach.
Authors resident in the UK, British Commonwealth, Europe and Israel are eligible for the prize. Books submitted must be in English, either originally or in translation.
---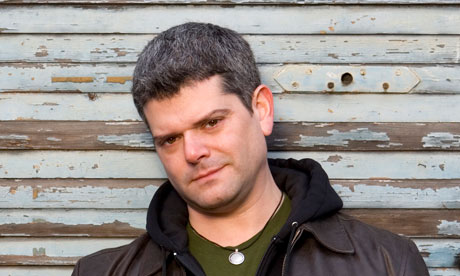 Shalom Auslander wins 2013 Wingate Prize
"God-wise, I'm kinda fucked"
By Philip Maughan, New Statesman
February 28, 2013
Last night Shalom Auslander was awarded the 2013 Jewish Quarterly-Wingate Prize for his novel Hope: A Tragedy. The £4000 prize, for "Jewish and non-Jewish writers that explore themes of Jewish concern", was awarded to Auslander as part of Jewish Book Week, which will run at King's Place until the end of the week.
During Auslander's skyped acceptance speech he expressing shock that the prize didn't go to Juno Diaz or Hilary Mantel, "since she seems to win everything". He also witheld thanks from God, his editor, the academy and anyone else involved.
Hope: A Tragedy centres on Solomon Kugel, a down-at-heel office jobber and pschotheraphy patient, attempting to protect his family from the horrors of the world, urban and historical. Kugel has bought a house in the country, as did Auslander, while preparing to write the book. "I've moved to the country but there's nowhere to walk after dinner," he told the New Statesman's culture editor Jonathan Derbyshire last year. "Your idea of nature is postcards, nice trees, but it's fucking violent. I'm on a cliff and the winds from November to March just blast at the house relentlessly. Animals, bears, even the deer, are like fucking gang members where I live. You think, 'Oh, it's deer,' and then they look at you and you think, 'This thing is going to kill me if I go near the faun.'"
To add to his woes, Kugel finds that a portion of the house is already occupied. Typing and feasting on matzos in the attic is a beleagured and catatonic Anne Frank, tirelessly struggling with the follow-up to her first and only hit: the diary. Auslander recalls visiting his agent shortly after finishing the manuscript. She asked him:
"So is this a comment on Roth?" And I just said, "What are you talking about?" She was like, "You know, in his book where Anne Frank is alive." My response was: "You have to be fucking kidding me." When my memoir Foreskin's Lament came out, it was the same: "Oh, so you're intentionally doing Portnoy's Complaint?" And in my head I was like, "If anything, it was Angela's Ashes."
Hope: A Tragedy makes a plaything of the darkest moments of the 20th century. Kugel and the house's former owner, a man of German descent, wrestle the politics of evicting the century's best-loved innocent victim. "Six million he kills," Kugel thinks, unthinkably, "and this one gets away."
---
Hope: A Tragedy, By Shalom Auslander
Review: The sad woman in the attic
By Doug Johnstone, Independent
February 26, 2013
We all know that the Holocaust is a great source of comedy, right? OK, maybe not, but in the hands of the brilliant US writer Shalom Auslander, it becomes so.
In the strong tradition of Jewish humour, his writing is incredibly sharp, hugely self-deprecating, riddled with insecurities and hang-ups, and often stupendously funny. At times, Hope: A Tragedy, his first novel, reads a little like the kind of film Woody Allen wouldn't dare make anymore – or never had the balls to make in the first place. It is outrageous, sure, and will probably be offensive to some, but beneath the sur- face humour, Auslander also makes some very serious points indeed.
The book opens with our self-hating anti-hero, Solomon Kugel, lying in bed worrying. He has recently moved his young family to a farmhouse in Stockton, a nondescript part of upstate New York, only to discover a local arsonist is burning down farmhouses.
But that concern pales into insignificance when he finds Anne Frank hiding in his attic. A very old and decrepit Anne Frank. It turns out that she didn't die in Belsen but was smuggled out of Europe by guilt-stricken Germans, and has spent the past 65 years cooped up in various lofts, working on a novel.
Of course, having sold 32 million copies of her diary, she's suffering from writers' block. On top of which, her publishers don't particularly want her alive, as her non-death could affect diary sales. And, added to this tricky situation, we have Kugel's elderly mother living in the farmhouse, a woman who claims to be a Holocaust survivor despite being born and raised in New York.
It's Kugel's mother's appropriation of the guilt and anger of Jewish history that is the sharpest angle in Auslander's tale; an intriguing psychology that he probes mercilessly. Towards the end of the book, Anne Frank repeats Kugel's own words back to him: "I'm sick of that Holocaust shit." But for all that Kugel wants to think otherwise, the Holocaust is something he can't help but return to, again and again, having been conditioned since birth to keep picking at the scabs of history.
Auslander previously wrote a fantastic story collection, Beware of God, and a jaw-dropping memoir entitled Foreskin's Lament, but the form of the novel seems to have focused his anger and humour into truly fearsome weapons.
[Shalom Auslander grew up in an Orthodox Jewish neighborhood in New York where he describes himself as having been "raised like a veal". His writing style is notable for its Jewish perspective and determinedly negative outlook.]