What's to celebrate?

Jerusalem Day 2013, largely celebrated by young white men for whom it becomes a racist carnival (see item 2) ;  it was proclaimed as a new holiday in 1968 for Israelis to celebrate the capturing of East Jerusalem in the '67 war. The Knesset passed the Jerusalem Day Law, making it a national holiday, in 1988. Photo  by Nati Shohat/Flash90
Why I must – and can't – celebrate Jerusalem Day
The Jerusalem I don't live in – but visit often, largely by dint of my work as a journalist – is not a normal city. Gardens, gelato and Gucci will not bring peace.
By Ilene Prusher, Ha'aretz
May 08, 2013
My son came home from gan (nursery school) one day this week and began singing "Yerushalayim Shel Zahav" (Jerusalem of Gold) and I felt surprisingly moved.
Moved, because the melancholy and evocative song composed by Naomi Shemer in 1967 is meant to do just that – and it was stirring to hear my 2.5-year-old boy sing this modern ode to the ancient city of his birth.
And then, moved further – to concern, frustration, and even anger – over the thought of my toddler being indoctrinated into the mythos of Jerusalem as the united, indivisible capital of Israel before he even gets out of diapers.
I feel I must – and can't – celebrate Yom Yerushalayim, Jerusalem Day.
Must? Because there is so much to celebrate in this city that I have come to call home. Culture venues are expanding. The old Ottoman-era train station, once derelict territory in a key location, has been impressively renovated and is gradually opening, offering attractions for both secular and religious residents. A new walking and biking path starts there and follows the old railroad, stretching all the way south to Beit Safafa and Malha. A new light rail winds through the city. "Mamila" is now synonymous with fancy new shops, not an old cemetery, and is frequented by Arabs and Jews alike. The Jerusalem I live in has literary festivals and wine festivals and oud festivals – and more festivals than I can possible make time for in a calendar year.
Can't? Because there is so much to censure in this city whose leaders are so desperate to be recognized by the world as a real, international capital. According to the latest statistics in Israel's population registry, 39 percent of Jerusalem's residents are Palestinian or non-Jews: They are residents who can and do have their status revoked by the Interior Ministry if they go abroad for a few years. About 90,000 of them live behind a wall, which the state tells us is called a separation fence, meaning they must pass through a checkpoint every day to go to school or work.
According to the National Insurance Institute, nearly 80 percent of them live below the poverty line. There is a massive shortage of pre-schools and classrooms. According to the Association for Civil Rights in Israel and Bimkom – Planners for Planning Rights, there is gross disparity in development and building permits. Here are some of the facts and figures ACRI released in honor of Jerusalem Day:
Planning and Building: The area designated for Palestinian housing covers only 14% of East Jerusalem, and only 7.8% of Jerusalem in total; the maximum building ratio allowed in Palestinian neighborhoods is generally between 25%-50%, while in Jewish areas it stands between 75%-125%.
Restricted Development: Since 1967, Israeli governments have expropriated one-third of Palestinian lands in Jerusalem, upon which thousands of apartments have been built for the city's Jewish population; 35% of zoned areas in Palestinian neighborhoods have been designated as "open landscape areas" on which it is forbidden to build; outline plans for Palestinian neighborhoods exclude most of the lands owned by the residents.
Housing and Crowding: Between 2005-2009, only 13% of the Jerusalem housing units granted building permits were in Palestinian neighborhoods; in Jewish neighborhoods, there is an average of 20 square meters of housing per resident, compared to 12 square meters in Palestinian neighborhoods.
The Jerusalem I don't live in – but visit often, largely by dint of my work as a journalist – is not a normal city. How could it be, when more than a third of its residents are not citizens, don't vote, and in many cases, don't even speak the language of nation under whose sovereignty they live? I am familiar with all the complexities and counter-arguments. How East Jerusalemites could have taken citizenship but didn't, how some quietly are doing so despite the social taboos. But these will remain a small minority, because the vast majority are waiting for something bigger – be it another peace or another war.
Trying to address the complications, the NGO Ir Amim (City of Peoples) on Tuesday night held an alternative Jerusalem Day event "designed to raise discussion of issues, trends and developments that test the notion of a unified Jerusalem." Yudith Oppenheimer, the organization's executive director, said Israelis were beginning to wake up to the "binational reality that exists in Jerusalem." Meron Benvenisti, who was Deputy Mayor of Jerusalem under Teddy Kollek from 1971 to 1978, said this awakening "has come 45 years too late." Menachem Klein, a professor of political science at Bar Ilan University, added "We think that the city only belongs to Jews, and not to the people who are born here and live here, and that's what we most need to fix."
A soft-spoken journalist named Ahmad Asmar, who comes from Wadi Joz and also runs the Watan (Nation) student movement at Hebrew University, noted that in the last week alone, there were three acts of violence against Arabs in Jerusalem. Most of us, myself included, missed them. Perhaps they weren't reported at all, or perhaps, unless someone is beaten into a coma as 15-year-old Jamal Julani was last year, it's no longer hot enough to grab headlines.
After the event, Asmar told me that Jerusalem Day events have become increasingly uncomfortable for residents of East Jerusalem, particularly as ultra-nationalists use the day as an opportunity to march around the Old City, paramilitary police in tow, as part of the fun. Merchants there are angry, Asmar says, because they received fliers on Tuesday suggesting they shut down their shops during the hours the march is taking place. "In the last few years, there has been a lot of tension over this issue," he explains.
I won't stop my son from singing Jerusalem of Gold. I'll keep feeling some odd mix of pride and protest when I hear it; I'll keep wanting him to love the city as I do but loathe the inequalities and injustices that cannot be masked by a new park or shopping complex. Despite what some of this city's movers and shakers seem to think, bringing people gardens, gelato and Gucci will not bring peace.
I will somehow celebrate today because it's the fifth anniversary of my first date with the man I married. We sat at the unique restaurant Te'enim, located in the historical Confederation House in Yemin Moshe, and found ourselves surprised by the fireworks in the middle of our dinner. Real fireworks, just for us, bursting with romance over the Old City walls. The pyrotechnics, it turned out, were for Jerusalem Day, though it took us a moment to figure that out.
There was something about the idea of this holiday, we agreed, that was a bit contrived – just like the idea of this being one united city. Despite ourselves, we fell in love looking over the Old City walls. We try to celebrate our small joys in this city, even if the triumphalism of the big victories leaves a bad taste in our mouths. We will try to celebrate Jerusalem for what it could be: to think outside the box, beyond the walls: the old ones and new ones, the pretty crenulated ones and the ugly cement ones.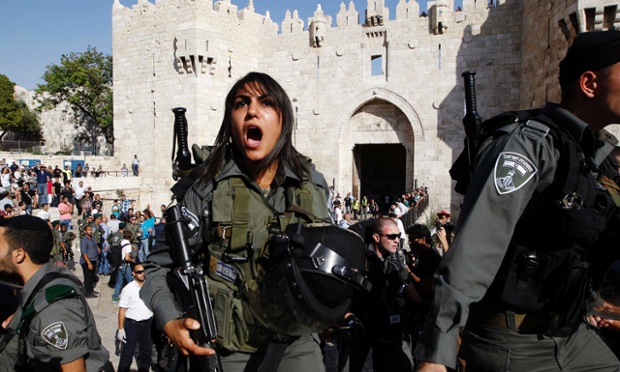 Israeli border police officers guard the pretty crenellated wall  of the Damascus Gate outside Jerusalem's Old City during a parade marking Jerusalem Day 2013. Photo by Ammar Awad/Reuters
---
On Jerusalem Day, clashes and arrests in Old City
Palestinian demonstrators confront celebrating Israelis; thousands of Israelis march to mark capital's reunification
By Gavriel Fiske, Times of Israel
May 08, 2013
Police clashed with Palestinians holding an unregistered demonstration outside Damascus Gate in Jerusalem's Old City on Wednesday afternoon, dispersing the crowd and arresting 23 Palestinians.
A large crowd gathered outside the gate, chanting Islamist and Palestinian nationalist slogans. After the group began marching toward a nearby group of Israelis, who were holding a rally marking Jerusalem Day, mounted and regular police moved to break up the demonstration.
Police also arrested 13 Jewish youths for shouting racist epithets at Arabs.
Tens of thousands of Jerusalem Day celebrants, most of them teenagers, participated in this year's annual march, which started in downtown Jerusalem, then circumnavigated the Old City before arriving at the Western Wall, via the Damascus Gate and the Arab Quarter.
Jerusalem Day, which marks Israel's capture of East Jerusalem and unification of the city during the 1967 Six Day War, is celebrated, especially by the national religious community, with a mass march and rally in and around the Old City. The event often leads to confrontations with Palestinians and a heavy security presence in area.
At the central Jerusalem Day ceremony held at Ammunition Hill, President Shimon Peres lauded the city for its multiculturalism.
"Where else can you hear the prayers going up from the sacred Western Wall intermingled with the muezzin's calls for worshippers to attend mosque and the ring of church bells?" asked the president. "Our ears are tuned to good news, the voices of peace. Even if they are distant, they are preferable to the trumpets of war… our people longs for peace and no threats will weaken our desires."
Roads were closed around the Old City and nearby neighborhoods in order to accommodate the marchers.
Merav Ceren contributed to this report.