Big powers must now act on Middle East's wars
This posting has these items, which will be updated as and if events change:
1) NY Times: Attacks Fuel Debate Over U.S.-Led Effort;
2) Daily Telegraph: Syria accuses Israel of supporting 'terrorists' in wake of air strikes;
3) Russia Today: Syria slams Israel for aligning with rebels after alleged strikes;
4) Ahram Online: Egypt condemns Israeli 'exploitation' of Syria crisis ;
5) Guardian editorial: Syria: civil war turns regional crisis;
6) Robert Fisk: The truth is that after Israel's air strikes, we are involved;
7) Huff Post: John Kerry Meets With Russian President Vladimir Putin To Push For Tougher Stance On Syria. UPDATE
8 Guardian: teve Bell, Red Lines cartoon. UPDATE
9) Daily Beast: Israel's Red Line Crossed, U.S. Tacitly Backs Ally's Strikes in Syria. UPDATE;

Israeli soldiers stand on top of tanks in the Golan Heights, Israel, near the Syrian town of Kan Arnaby. Photo by EPA

Attacks Fuel Debate Over U.S.-Led Effort
By David E. Sanger
May 05, 2013
WASHINGTON — The apparent ease with which Israel struck missile sites and, by Syrian accounts, a major military research center near Damascus in recent days has stoked debate in Washington about whether American-led airstrikes are the logical next step to cripple President Bashar al-Assad's ability to counter the rebel forces or use chemical weapons.
That option was already being debated in secret by the United States, Britain and France in the days leading to the Israeli strikes, according to American and foreign officials involved in the discussions. On Sunday, Senator John McCain, who has long advocated a much deeper American role in the Syrian civil war, argued that the Israeli attacks, at least one of which appears to have been launched from outside Syrian airspace, weakens the argument that Syria's air defense system would be a major challenge.
"The Israelis seem to be able to penetrate it fairly easily," Mr. McCain said on "Fox News Sunday." He went on to say that the United States would be capable of disabling the Syrian air defenses on the ground "with cruise missiles, cratering their runways, where all of these supplies, by the way, from Iran and Russia are coming in by air." Patriot missile batteries already installed in Turkey, he argued, could defend a safe zone to protect rebels and refugees.
The Pentagon developed such options months ago, but in recent weeks, the Joint Chiefs of Staff and Central Command, which runs military operations in the Middle East, have been asked to refine them and explore how strikes would be coordinated with allies, much as they were in the opening days of the attacks on Libya that ultimately drove Col. Muammar el-Qaddafi from power, according to several senior administration officials.
But President Obama has been reluctant to follow the course he took in that case, aides say, partly because of concerns about the strength of air defenses in Syria and partly because the opposition forces include so many jihadist elements.
So far, Mr. Obama has said he would intervene only if it turned out that Syria had used chemical weapons — the current investigation into the use of sarin gas focuses on Aleppo and Damascus, the capital, in March — or if such use was imminent. Now, one adviser to Mr. Obama said, "it's become pretty clear to everyone that Assad is calculating whether those weapons might save him."
The result is that the narrow goal of preventing the use of chemical weapons is beginning to merge with the broader goals of toppling Mr. Assad and seeking an end to a carnage that is already far greater than what took place in Libya, when Mr. Obama justified American intervention on humanitarian grounds.
"We have to work even harder with our allies and the opposition to accelerate Assad's exit while there is still a Syria to save," William J. Burns, the deputy secretary of state, said at a symposium at Princeton University on Saturday, as accounts of the Israeli strikes were beginning to emerge.
"There is a mounting urgency to this effort as both the human and strategic costs grow," he said. Mr. Obama, in Costa Rica on Friday, all but ruled out placing American forces into Syria, which seemed to eliminate the option of parachuting in Special Forces to secure the 15 to 20 major chemical weapons sites. That has led to a more intense examination of offshore strikes, similar to those conducted by Israel, but aimed at the delivery vehicles for chemical weapons: missiles and aircraft.
Laurent Fabius, the foreign minister of France, did not specifically address on Monday the possibility of military intervention in Syria, saying at a scheduled news conference in Hong Kong that, "There is only one solution, it is to get back to a political solution, and we French ask now to the secretary general of the United Nations, Mr. Ban Ki-moon, to be involved himself."
Mr. Fabius said France was in continuing discussions with Russia about Syria. "We are urging our American friends to be more involved" in diplomatic efforts to find a political solution, he said.
On Sunday, a senior administration official said that "there are many options short of American boots on the ground, and there hasn't been a lean in any particular direction to this point."
"If there's a decision to intervene, it's pretty darn easy to suggest airstrikes if U.S. troops aren't going to jump in to the conflict," he added. "But the reality is that any number of options — to include airstrikes — would probably be combined with other measures if more direct engagement is where we're heading. This isn't exactly a pick-one-from-the-menu scenario."
These issues are certain to come up on Secretary of State John Kerry's two-day visit to Moscow this week, one that Mr. Burns said would be used to argue that Russia's long allegiance to Mr. Assad is now turning against its government's interests, with a prolonged conflict only worsening the chances that the Syrian conflict will widen and promote extremism, including in the Caucasus region.
But Russia would almost certainly veto any effort to obtain United Nations Security Council authorization to take military action. So far, Mr. Obama has avoided seeking such authorization, and that is one reason that past or future use of chemical weapons could serve as a legal argument for conducting strikes, assuming they were limited to crippling Mr. Assad's ability to drop those weapons on Syrian cities.
So far among the most reluctant members of the administration to intervene heavily in Syria has been Mr. Obama himself. He declined to arm the rebels last fall, despite urging from Secretary of State Hillary Rodham Clinton and the C.I.A. director at the time, David H. Petraeus.
On Sunday, Senator Patrick J. Leahy, Democrat of Vermont, said he believed the administration was getting closer to a decision. "The idea of getting weapons in — if we know the right people to get them, my guess is we will give them to them," Mr. Leahy said on "Meet the Press." Last week, Defense Secretary Chuck Hagel said that arming the rebels was under consideration.
In fact that debate has begun to shift in favor of more action, administration officials say. Mr. Obama's legalistic parsing of whether his "red line" for intervention was crossed when evidence arose of a limited use of sarin gas has prompted many of his allies — led by Israeli officials — to question the credibility of his warnings.
One administration official acknowledged late last week that the critique had "begun to sting," but said that Mr. Obama was determined to go slowly, awaiting a definitive intelligence report on who was responsible for the presence of sarin before deciding on a next step.
Keith Bradsher contributed reporting from Hong Kong.

---

Syria accuses Israel of supporting 'terrorists' in wake of air strikes
Syria accused Israel of supporting "terrorists" including al-Qaeda, threatening retaliation for Israeli air strikes on military bases that have drawn the Jewish state deep into the civil war raging across the border.
By Phoebe Greenwood, Tel Aviv, Ruth Sherlock in Hermel and Richard Spencer, Daily Telegraph
May 06, 2013
The strikes north of Damascus, in the early hours of Sunday morning, lit up the night sky and felt "like an earthquake", according to residents.
Continuing explosions suggested weapons and ammunition facilities were hit, in line with Israel's policy of preventing heavy arms transfers to Hizbollah, Syria's ally in neighbouring Lebanon.
Israeli officials refused to comment, but the strikes went beyond the claims made for a previous major attack early Friday morning and an air raid in January that they were targeting weapons convoys.
"The blatant Israeli aggression against military sites in Syria confirms the co-ordination between Israel and terrorist groups," the Syrian government said. A cabinet meeting warned that "the aggression opens the door wide to all possibilities".
The Syrian National Coalition opposition group also condemned the strikes, saying the Jewish state had "taken advantage" of the ongoing conflict.
Witnesses reported columns of flame erupting from the Jamaraya military facility, perched on Mount Qasyoun overlooking the Syrian capital and just 10 miles from the Lebanese border, as well as a series of massive explosions in the city's northwestern suburbs.
One report said up to six sites were hit, including a missile brigade, two Republican Guard battalions and a nearby ammunition depot.
Others put it at three, saying that as well as the Jamaraya facility – officially a scientific research centre – the sites were a nearby weapons storage unit, and an anti-aircraft missile base at Sabura, west of the capital.
Western officials said both strikes were intended to take out Fateh-110 missiles from Iran bound for Hizbollah in Lebanon.
Israel has stressed repeatedly that it considers the transfer of such advanced weaponry as "game changing". The Iranian-made Fateh-110 has the same range but greater accuracy than a Scud missile.
Israeli intelligence officials believe Jamaraya may have also served as a Syrian base for Hizbollah. They estimate the Lebanese Shia militant group to have more than 7,500 fighters on the ground supporting the Syrian regime.
Faisal al-Mokdad, Syria's deputy foreign minister, told CNN the operation was a "declaration of war" by Israel.
On Sunday afternoon, both Israeli and Syrian top-level security figures were locked in meetings assessing the weekend's events and discussing possible reactions.
Iran reacted with fury, and threatened to increase its own military involvement in the Syrian war.
William Hague, the Foreign Secretary, said he "respected" Israel's right to defend itself, and said that the threats facing the Syrian people were of being "massacred" and hit by the regime's Scud missiles.
Analysts said there was no immediate danger of retaliation by either Syria or Hizbollah.
"For the moment, I don't see this escalating," Ephraim Kam, deputy head of Israel's Institute for National Security Studies, said. "War with Israel is the last thing the Syrian regime needs now."
A television station run by Lebanon's Hizbollah militant group broadcast what it claim is the site of an Israeli airstrike in Syria.
Israel did move components of its "Iron Dome" missile defence system close to the Lebanese border.
The attacks are likely to strengthen Hizbollah's determination to defend the Assad regime to the bitter end. In Hermel, a Shia town near Lebanon's border with Syria, Mustafa Taha, the Hizbollah mayor, said: "Protecting Syria is not such a big challenge because we have the support of so many allies: Iran, Russia, China, and the Arab regimes who support the resistance in Palestine."
Ordinary Israelis were divided as the country, along with other neighbours, gets sucked into Syria's conflict.
"It's not normal but it's the status quo," said Girson Werner, a retired businessman and former soldier, on a packed Tel Aviv beach. "It doesn't feel like war yet and I don't think any other Israeli would tell you otherwise."
Leo, a lifeguard with two young children, said that if unconfirmed reports that more than 500 people were killed in the strike were proven true, Mr Assad would react.
"When I woke up and saw news of the strike this morning, my first thought was to get my wife and babies out of Israel to safety," he said. "It is not safe here now and I don't want my kids to go through the trauma of war as I did when I was a kid."
Shlomo Brom, a retired Israeli Brigadier General and an expert on southern Lebanon, said that Israel had taken a calculated risk that Hizbollah would not respond.
"Israel may have miscalculated, in the sense that there is an accumulative effect," he said. "In the event of further strikes we will reach a point where we will break the patience either of Hizbollah or Assad in Syria. I think we have to expect a Hizbollah reaction in some form."
---

Syria slams Israel for aligning with rebels after alleged strikes
By Russia Today
May 06, 2013
Syria has accused Israel of supporting rebel factions following airstrikes at the weekend. Washington claimed it had no warning of the strike, while Israel stepped up the military presence on its borders without confirming their hand in the attack.
Syrian state news outlet SANA reported that the Foreign Ministry sent identical letters to the president and secretary general of the UN Security Council deploring the attacks and urging action against Israel.
"While stressing its right to defend itself , its land and sovereignty, the Syrian Arab Republic demands that the international Security Council shoulder its responsibilities to stop the Israeli aggression on Syria and prevent its recurrence and prevent the deterioration of the situation in the region so as not to go out of control," wrote SANA, quoting the letters. The Syrian government likened the strike to a declaration of war by Israel.
The letter stated that the three strikes were carried out at 1.40am on Sunday by Israeli warplanes and hit three depots of the Syrian Armed Forces near Damascus.
"This leaves no room for doubt Israel is the beneficiary, the mover and sometimes the executor of the terrorist acts which Syria is witnessing and which target it as a state and people directly or through its tools inside," the ministry stressed in its letters. The Assad government usually brands opposition factions as terrorist groups.
Meanwhile, Israel has not admitted to being behind the attacks, but a spokesperson in Washington issued a statement following the attack that "Israel is determined to prevent the transfer of chemical weapons or other game-changing weaponry by the Syrian regime to terrorists, especially to Hezbollah in Lebanon."
A handout picture released by the Syrian Arab News Agency (SANA) on May 5, 2013, allegedly shows, "the damage caused by an Israeli strike" according to SANA.
Following the strikes Israel reportedly beefed up security along its borders, deploying tanks and reinforcing troops.
The US, for its part, refrained from pointing the figure at its ally in the Middle East and emphasized that Israeli has the "right to guard against the transfer of advanced weaponry to terrorist organizations like Hezbollah."
"We coordinate closely with the Israelis, recognizing they are very close to Syria, they are very close to Lebanon," said President Obama to Telemundo on Sunday. US officials said they had not received any warning that such a strike was going to occur. However, the official did concede that it would not be unusual for Israel to execute such a strike.
"It would not be unusual for them to take aggressive steps when there was some chance that some sophisticated weapons system would fall into the hands of people like Hezbollah," a US intelligence official told Reuters, speaking on condition of anonymity.
Israeli Prime Minister Benjamin Netanyahu, who has yet to comment on the strike, is currently in China on a state visit where the government has also spoken out against the act of aggression against Syria.
"We oppose the use of military force and believe any country's sovereignty should be respected," Chinese Foreign Ministry spokeswoman Hua Chunying told a regular briefing, coinciding with the beginning of Netanyahu's five-day visit to the country. He called on the "relevant parties" to respect regional peace and stability.
A similar attack was carried out on Syrian territory back in January, striking targets that were reported to be convoys transporting weapons to Hezbollah in neighboring Lebanon.
---

Egypt condemns Israeli 'exploitation' of Syria crisis
Office of President Mohamed Morsi denounces Israeli attacks on targets near Damascus

By Ahram Online, Reuters
May 05, 2013
The Egyptian presidency has condemned an Israeli raid near Damascus on Sunday and accused it of exploiting the crisis in Syria.
"Despite Egypt's strong condemnation of the bloodshed in Syria, in which the Syrian army is firing on its own citizens, we also reject the breach of Syria's sovereignty and the exploitation of its domestic crisis," the presidency said in a statement.
The attack will "further complicate the situation [in Syria] and threaten the security and stability of the region," the statement added.
The presidency rejected any foreign military intervention in Syria, saying the country's sovereignty must be respected.
The target of Sunday's attack, according to Syrian media, was the same Jamraya military research centre that was hit by Israel in another assault in January.
Jamraya, on the northern approaches to Damascus, is just 15km (10 miles) from the Lebanese border.
A Western intelligence source said Israel carried out the attack on Iranian-supplied missiles which were en route to Hezbollah, Reuters reported.
"We condemn the Israeli aggression on Syria as it represents a violation of international laws and principles and only aims at further complicating the situation [in Syria] as well as threatening the security and stability of the region," the presidency's statement continued.
"The attacks carried out by Israel serve as a true test to the international community and the United Nations, specifically on the commitment to international law."
Sunday's attack was Israel's third strike inside Syria since late January.
Israel declined to comment, but Syria accused Tel Aviv of carrying out the attack.
The attack came soon after an Israeli official said his country had carried out an air strike earlier in the week "targeting missiles in Syria intended for the Lebanese militant group Hezbullah."
The uprising against President Al-Assad began with mainly peaceful protests that were met with force and grew into a bloody civil war in which the United Nations says at least 70,000 people have been killed.
Al-Assad has lost control of large areas of north and eastern Syria, and is battling rebels on the fringes of Damascus.
---

Syria: civil war turns regional crisis
What had been covert has been overtly declared. The regional map is suddenly crisscrossed with red lines
Editorial, Guardian
May 05, 2013
The sequence of events was unmistakable, if not its trajectory. Hassan Nasrallah confirmed for the first time that Hezbollah fighters were helping Bashar al-Assad and warned that any Sunni attack on the Sayyida Zeinab Shia shrine south of Damascus would trigger "dangerous retribution"; Shia fighters from Iraq and Lebanon flocked to the shrine after another Shia tomb to the north of the Syrian capital was desecrated; Israel carried out two airstrikes in as many days against stores of Iranian missiles purportedly in transit to Hezbollah; Iran said it was ready to train Assad's army.
It was already well established that Iran and Nasrallah's powerful Lebanese Shia militia were involved in the Syrian civil war. But in the space of one short week, and one dramatic weekend, what had been covert has been overtly declared. The regional map is suddenly crisscrossed with red lines. However one parsed the statements and the air strikes, Syria now threatens to become a much wider and more volatile regional conflagration.
Israel is clearly betting that neither Syria nor Hezbollah will react. Assad, it gambles, has more immediate concerns, and Hezbollah is not yet ready for another all-out war with Israel. But it is always easier to know how things begin in the Middle East than to know where they will end. By its actions, Israel was dangerously close to declaring that its northern front was quiet no more, and that a peace that had held for 40 years with a hostile but quiescent neighbour held no longer.
Israel says its red line is the Iranian Fateh-110 missile, the latest version of which is more accurate than the 40-50 of those surface-to-surface missiles the Pentagon believe that Hezbollah has already got. The next question is whether Syrian territory could be treated by the Israeli air force, much like Gaza and southern Lebanon. Presumably, Sunday's air strikes will not be the last. There were hard, pragmatic reasons why, up until now, Israel had been content to let the fire of Syrian revolution burn itself out on its border without applying the hose. It was not in its interest to see a weakened foe in Assad, replaced by rebel groups that may number even more radical Islamist elements. On the contrary, Israel calculated that its interest lay in Assad becoming steadily weaker, but not being overthrown. It has thrown that caution to the wind.
Iran reacted to the airstrikes on Sunday by saying it would do more than just arm Assad. Iran's ground forces commander, General Ahmad Reza Pourdastan, said it would support Syria's army with assistance in training, although he denied Iran would have active involvement in operations. Syria's deputy foreign minister said the Israeli strikes were an act of war, designed to help the "terrorists". The strikes do indeed only help Assad make the argument that the Syrian rebels are the pawns of a western-backed plot designed to undermine resistance to Israel. The Syrian rebels were split in their reaction to the air strikes. The rebel Damascus Military Council used them as a rallying call for all groups to work together, and mount focused attacks on government forces. The exiled opposition coalition made a different argument: a Syrian regime strong enough to kill tens of thousands of its own citizens was too weak to prevent attacks from "external occupying forces".
If they do nothing else, the air strikes reveal the yawning lack of direction from Barack Obama. Unlike in Libya, he cannot lead this conflict "from behind". To claim that Israel is entitled to act is to say nothing about the regional consequences of those actions. To assume that, with the lightest guidance, events on the ground can be relied on to move towards the rebels, as he desires, now looks more presumptuous than before. If anything, the rebel assault on Damascus has stalled in the face of a series of counteroffensives around the capital and Homs in the north. Could Assad be here in a year's time, after many more massacres and thousands of deaths? There is little to indicate that he will not. Nothing America is doing, or not doing, is preparing for that possibility.
---

The truth is that after Israel's air strikes, we are involved
If the EU and US say nothing about these attacks, approval is granted
By Robert Fisk, The Independent
May 05, 2013
Lights in the sky over Damascus. Another Israeli raid – "daring" of course, in the words of Israel's supporters, and the second in two days – on Bashar al-Assad's weaponry and military facilities and weapons stores. The story is already familiar: the Israelis wanted to prevent a shipment of Iranian-made Fateh-110 missiles reaching Hezbollah in Lebanon; they were being sent by the Syrian government. According, at least, to a 'Western intelligence source'. Anonymous, of course. And it opens the old question: why when the Syrian regime is fighting for its life would it send advanced missiles out of Syria?
But the Syrians themselves have officially confirmed that military installations were hit by the Israelis. And not for the first time during the rebellion. The Fateh-110 – the new version, at least – has a range of perhaps 250km. And it could indeed reach Tel Aviv from southern Lebanon. If the Hezbollah has actually acquired any. But why would the Syrians send them, as US sources were also claiming last night, when the Americans themselves claimed only last December that the Syrians had used the same ground-to-ground missiles against rebel forces in Syria.
In other words, the Syrian regime was prepared to dispense with their rockets to Lebanon when they were already using them in the brutal war in Syria… Now there are other questions to be asked. If the Syrian air force can use their MiGs so devastatingly – and at such civilian cost – against their enemies inside Syria, why couldn't they have sent their jets to protect Damascus and attack the Israeli aircraft? Isn't the Syrian air force supposed to be guarding Syria from Israel? Or are the MiGs just not technically able to take on Israel's state-of-the-art (American) hardware? Or would that just be a step too far?
Much more important, however, is the salient fact that Israel has now intervened in the Syrian war. It may say it was only aiming at weapons destined for the Hezbollah – but these were weapons also being used against rebel forces in Syria. By diminishing the regime's supply of these weapons, it is therefore helping the rebels overthrow Bashar al-Assad. And since Israel regards itself as a Western nation – best friend and best US military ally in the Middle East, etc, etc – this means that "we" are now involved in the war, directly and from the air.
Let's see if the US and the EU condemn Israel's air attacks. I doubt it. Which would mean, if we are silent, that we approve of them. Silence, to quote Sir Thomas More, gives consent.
So now the Iranians and Hizballah are accused of intervening in Syria – true, though not to quite extent we are led to believe – and Qatar and Saudi Arabia funnel weapons to the rebels – true, but not quite enough weapons, as the Syrian rebels will tell you – and the Israelis have joined in. We are now militarily involved.
---

John Kerry Meets With Russian President Vladimir Putin To Push For Tougher Stance On Syria
By Bradley Klapper, Huffington Post
May 07, 2013
MOSCOW — Secretary of State John Kerry is making his case to Russian President Vladimir Putin for Russia to take a tougher stance on Syria at a time when Israel's weekend air strikes against the beleaguered Mideast nation have added an unpredictable factor to the talks.
Kerry arrived Tuesday in Moscow for talks with the most powerful ally of Syrian President Bashar Assad's regime.
Officials said Kerry hopes to change Moscow's thinking on Syria with two new angles: American threats to arm the Syrian rebels and evidence of chemical weapon attacks by the Assad regime.
Over the weekend, Israeli warplanes targeted what Israel claimed were caches of Iranian missiles bound for Hezbollah, the Lebanon-based terror group. Such weapons would allow Hezbollah to strike Tel Aviv and as far as southern Israel from inside Lebanese territory.
Israel's willingness to hit Syrian targets it sees as threats to its own existence has complicated the Obama administration's internal debate over what to do about Syria.
Israel's actions put Damascus and Moscow on notice that the U.S. and its allies may not wait for an international green light to become more actively engaged in the Syrian conflict. The administration said last week it was rethinking its opposition to arming the Syrian rebels or taking other aggressive steps to turn the tide of the two-year-old civil war toward the rebels.
At the same time, Israeli involvement in the war carries risks. Instead of prodding Russia into calling for Assad's ouster, it could bring greater Arab sympathy for Assad and prompt deeper involvement from Iran and Hezbollah, actors committed as much to preserving Assad as to fighting the Jewish state.
Although Israel hasn't officially acknowledged it carried out the airstrikes, Syrian officials on Monday were blaming Israel, calling them a "declaration of war" that would cause the Jewish state to "suffer."
Russia, alongside China, has blocked U.S.-led efforts three times at the United Nations to pressure Assad into stepping down.
U.S. officials are hoping Syria's behavior could shift Russia's stance.
"We have consistently, in our conversations with the Russians and others, pointed clearly to Assad's behavior as proof that further support for the regime is not in the interest of the Syrian people or in the interest of the countries that have in the past supported Assad," White House spokesman Jay Carney said.
U.S. officials said the administration doesn't believe the weekend activity will force President Barack Obama's hand, noting that the main U.S. concern is the use of chemical weapons by Assad, while Israel's top concern is conventional weapons falling into the hands of its enemies.
The chemical weapons argument is now under surprising attack, with former war crimes prosecutor Carla Del Ponte saying over the weekend she and fellow members of a four-member U.N. human rights panel have indications the nerve agent sarin was used by Syrian rebel forces, not by government forces.
That theory was rejected by U.S. officials. The State Department said the administration continues to believe that Syria's large chemical weapons stockpiles remain securely in the regime's control.
The Obama administration opened the door to new military options in Syria after declaring last week it strongly believed the Assad regime used chemical weapons in two attacks in March. Two days after that announcement, Defense Secretary Chuck Hagel said arming the Syrian rebels was a policy consideration.
Until now, U.S. efforts to bolster the rebels' fighting skills and gather intelligence on the groups operating inside Syria have been limited to small training camps in Jordan, according to two U.S. officials who weren't authorized to speak about secret activities and demanded anonymity.
There are several options for escalation, ranging from arming the rebels to targeted airstrikes and no-fly zones. However, arming the rebels is the most likely escalation, officials said.
While the Israeli actions have made Kerry's Russia efforts more unpredictable, some in Congress tried to be optimistic.
Maryland Rep. Dutch Ruppersberger, the top Democrat on the House Intelligence Committee, said he hopes Kerry can persuade Russia to use its influence to convince the besieged Syrian leader that he should step down.
"Hopefully the cooperation on the (Boston) Marathon bombing will open the door there," Ruppersberger said.
After visiting Moscow for the first time since he became secretary of state, Kerry will travel to Rome for talks with members of the new Italian government, as well as meetings with Israeli Justice Minister Tzipi Livni and Jordanian Foreign Minister Nasser Judeh to discuss Middle East peace prospects.
Associated Press writer Matthew Lee contributed to this report.
---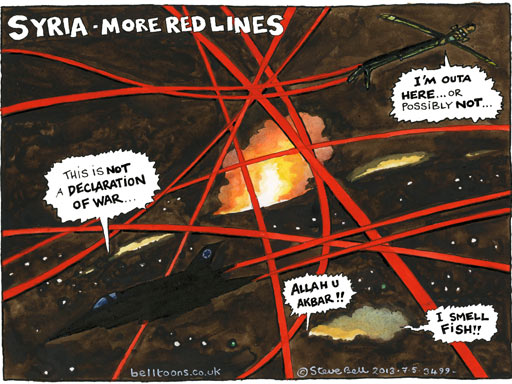 Red Lines, cartoon. Steve Bell, Guardian May 07, 2013
---

Israel's Red Line Crossed, U.S. Tacitly Backs Ally's Strikes in Syria

In a series of meetings over the past year, Israel laid out to the U.S. beforehand what would trigger a strike in Syria.
By Eli Lake, Daily Beast
May 06, 2013
Israel did not seek permission from the United States before launching two missile strikes this weekend hitting targets inside Syria—but the strikes were part of a policy that Washington had already signaled its acquiescence to, according to U.S. and Israeli officials.
In a series of high-level meetings between U.S. and Israeli officials over the last year, the Israelis explained in detail the conditions that would lead them to attack targets inside Syria. Israel's "red lines," articulated in private and public, include the shipment from Iran of advanced anti-aircraft weapons, advanced missiles, and chemical or unconventional weapons to the Lebanese militia and political party Hezbollah, according to public reports and U.S. officials.
While Iran has sent conventional arms through Syria to Hezbollah for years, Israel is concerned that the Islamic Republic may now be sending the Lebanese militia advanced weapons designed for national armed forces, including rockets with the range to put most of Israel's population at risk of attack, shore-to-ship missiles of the sort Hezbollah successfully used in its 2006 war with Israel, and advanced anti-aircraft weaponry. Another red line for Israel would be if sarin gas or other chemical weapons possessed by the Syrian government found their way to Hezbollah in the midst of Syria's bloody and chaotic civil war.
"In general they told us in every possible way that this kind of strike would be coming," said a U.S. intelligence official. Another U.S. official said, "Israel shares its intelligence on Syria with us almost in real time. These latest strikes were an example of Israel enforcing its own red lines."
This two strikes this week were the first since one in January, also apparently aimed at Hezbollah-bound weaponry. The New York Times reported Sunday that the targets this weekend included a warehouse at Damascus International Airport, with stocks of the Fateh-110 missile—a solid-fuel missile that would give Hezbollah the capacity to strike Tel Aviv. That was followed by a second strike that hit the Center for Scientific Research in Jamraya, a military facility in a suburb of Damascus. The Wall Street Journal reported that both attacks were launched from Lebanese airspace.
President Obama signaled Sunday that the U.S. had no objections to the strikes. "What I have said in the past and I continue to believe is that the Israelis justifiably have to guard against the transfer of advanced weaponry to terrorist organizations like Hezbollah," the president told Telemundo. "We coordinate closely with the Israelis, recognizing they are very close to Syria, they are very close to Lebanon."
That approach contrasts with Obama's sometimes open spats with Israeli Prime Minister Benjamin Netanyahu over the prudence of attacking Iran. While the two leaders have recently said they share the same view of intelligence on Iran's progress toward achieving a nuclear weapon, they've drawn very different red lines for when a military response would be warranted. While the U.S. has vowed to top Iran from attaining a nuclear weapon, Israel has vowed to stop the Islamic Republic from acquiring the capability to make one, a significantly lower threshold.
"In general they told us in every possible way that this kind of strike would be coming," said a U.S. intelligence official.
Dore Gold, a former Israeli ambassador to the United Nations who is the president of the Jerusalem Center for Public Affairs, said, "Iran shows no reluctance to share its most advanced conventional weapons with Hezbollah. This raises the question of whether Iran is preparing to transfer unconventional weapons capability."
Those concerns come as U.S. military commanders publicly have acknowledged that the United States no longer knows where many of the Syrian government's chemical weapons stocks are now located.
The precedent of the U.S. making allowances for Israel military actions inside Syria in some ways dates back to the Bush administration. Condoleezza Rice, the secretary of state and national-security adviser under George W. Bush, wrote in her memoir, for example, that both she and then–Defense secretary Robert Gates were skeptical of Israeli claims in 2007 that Syria was developing a nuclear-weapons program at the al-Kibar nuclear facility in Syria in 2007—and encouraged President Bush to decline Israeli Prime Minister Ehud Olmert's request that the U.S. take out the facility. After CIA director Mike Hayden said he had only low confidence that the reactor there was in fact part of a weapons program, Bush rejected the request, and Israel destroyed the facility itself, without American permission. Neither side publicly confirmed the strike. In 2008, several months after the Israeli strike, the Bush administration made public intelligence that it said confirmed the Syrian site had indeed housed a nuclear reactor. The White House also shared with Congress video of North Korean nuclear scientists at the facility.
Much has changed for Israel since 2007. In recent years, the Israel Defense Forces have quietly adopted a new doctrine to target Iran's weapons network throughout the Middle East, including through targeted killings, drone attacks, and military actions in other countries. Those actions have included the 2010 assassination of Mahmoud al-Mabhouh, a Hamas military commander, in his hotel room at Dubai, United Arab Emirates, in a somewhat botched operation in which the killers were captured on camera. That same year, Israeli drones fired on al-Mabhouh's successor, Abdel Latif al-Ashqar, in Sudan. In 2011 Israeli Mossad commandos kidnapped in Ukraine an alleged Hamas operative named Dirar Abu Sisi, who had emigrated there that year to seek citizenship.
At the end of 2011, the Israel Defense Forces created a new strategic command that placed elite military units that worked in foreign countries, often in secret, under a single command structure similar to U.S. Joint Special Operations Command, the operational command for Navy SEALs and the U.S. Army's Delta Force. "The depth command is a clear signal to Iran," an Israeli defense official told The Daily Beast in March. "We are willing to go wherever we need to go to stop you."
Lt. Gen. Benny Gantz hinted at this approach in March when he addressed the annual strategic conference at Herzliya, signaling Israel's willingness to use military force to stop weaponry originating in other countries from reaching Israel's enemies in Lebanon and Gaza.
"If we have to go into a village and under the ground, that is something we will make sure we are flexible enough to do, that we are able to adapt ourselves to the new situation. We will have to do other things as well. From dozens of places in the world we are being attacked, they are looking at us, and they are watching us," Gantz said.
Eli Lake is the senior national-security correspondent for Newsweek and the Daily Beast. He previously covered national security and intelligence for the Washington Times. Lake has also been a contributing editor at The New Republic since 2008 and covered diplomacy, intelligence, and the military for the late New York Sun. He has lived in Cairo and traveled to war zones in Sudan, Iraq, and Gaza. He is one of the few journalists to report from all three members of President Bush's axis of evil: Iraq, Iran, and North Korea.

For inquiries, please contact The Daily Beast at editorial@thedailybeast.com.