Cease-fire agreement, Israel and Hamas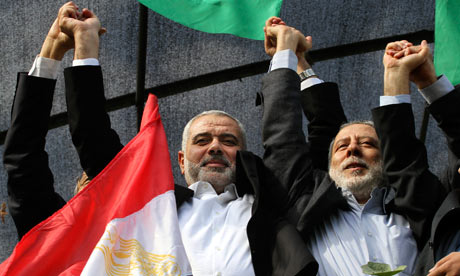 Ismail Haniyeh, centre, waves to a crowd in Gaza City after the ceasefire was announced. Photo by Ali Ali/EPA

Ceasefire appears to hold as Palestinians celebrate end of eight days of conflict
Matthew Kalman, The Independent
November 22, 2012
JERUSALEM—As a hard-won ceasefire in Gaza appeared to be holding, ending eight days of conflict in which some 150 Palestinians and six Israelis died, Israeli forces swooped on Palestinian suspects in the West Bank early today, arresting 55 people and vowing "to prevent the infiltration of terrorists into Israeli communities."
Israeli officials would not confirm whether the arrests were directly linked to Wednesday's bomb attack in Tel Aviv, which won plaudits from Hamas, although no group has yet formally admitted responsibility.
The people of Gaza and their leaders re-emerged onto the streets to observe the wreckage left by a week of ferocious bombardment as Israelis shared their relief that the ceasefire had forestalled a massive Israeli ground invasion.
Addressing a victory rally in Gaza City, Hamas Prime Minister applauded his supporters for making Israel "scream with pain."
It was "the resistance and strength of the Palestinian people that stopped Israel from sending troops into Gaza," Haniyeh said, declaring the day a national holiday. "The idea of attacking Gaza is gone and, with the help of God, will never return."
In Jerusalem, Israeli Prime Minister Benjamin Netanyahu told police chiefs that Israel was "giving the ceasefire a chance" but remained "ready to act should the quiet be violated."
"Just as we did during this operation, we will decide when and how to act, and against whom," he warned.
In snap polls, a significant majority on both sides remained sceptical that the ceasefire was a good idea, or that it would hold.
In Ramot, near Beersheba, Rafael Gana was helping clear up the debris after a rocket scored a direct hit on his neighbour's house just 20 minutes before the ceasefire on Wednesday night.
"I believe in peace, and I want peace, and I think the Palestinians deserve their own state just like any other people, but experience tells us that this ceasefire will never hold and we will be right back here under rocket fire in a few months," said Mr Gana.
That fear seemed to be confirmed by Islamic Jihad leader Muhammad al-Hindi.
"We have reached a dead end in the peace process and now we are in the trenches of jihad and resistance," Mr al-Hindi told the Gaza City rally
---
Text of cease-fire understanding

Text of Israel – Hamas ceasefire agreement
AFP
21 November, 2012
CAIRO — Israel and Hamas agreed Wednesday to an Egyptian-brokered ceasefire accord to end a week of violence in and around the Gaza Strip following days of marathon talks.
Here is the text of the ceasefire agreement which is set to take effect at 1900 GMT:
"Israel shall stop all hostilities in the Gaza Strip land sea and air, including incursions and targeting of individuals.
"All Palestinian factions shall stop all hostilities from the Gaza Strip against Israel, including rocket attacks and all attacks along the border.
"Opening the crossings and facilitating the movement of people and transfer of goods and refraining from restricting residents' free movements and targeting residents in border areas. Procedures of implementation shall be dealt with after 24 hours from the start of the ceasefire.
"Other matters as may be requested shall be addressed."
"Implementation mechanism.
"Setting up the zero hour understanding to enter into effect.
"Egypt shall receive assurances from each party that the party commits to what was agreed upon.
"Each party shall commit itself not to perform any acts that would breach this understanding. In case of any observations, Egypt as a sponsor of this understanding, shall be informed to follow up."
---
Analysis: Egypt's President Morsi feted for negotiating role
How did a hardline, anti-American Islamist who believes that the 9/11 attacks were an "inside job" become Washington's new best friend in the Middle East?

By Richard Spencer, Middle East Correspondent, Daily Telegraph
November 22, 2012
President Mohammed Morsi, the Muslim Brotherhood leader of Egypt, was today being feted across the world as the man whose intervention brought peace to Gaza.
He has spent most of the last week on the phone or in conferences with world leaders, as he drove a ceasefire deal forward with Israel, a country whose name he cannot bring himself to mention, and Hamas, a group still on numerous terror blacklists, including America's, but which is the Brotherhood's ideological grandson.
Barack Obama rang Mr Morsi to thank him personally, while White House aides said the US president found his Egytian counterpart to be an honest broker – "somebody focused on solving problems", according to reports in the US.
Hillary Clinton, standing alongside Mr Morsi's foreign minister, Mohammed Kamel Amr, as he announced the truce, also paid tribute. "I want to thank President Morsi for his personal leadership," she began her speech.
When he took office, Mr Morsi made clear that he did not intend, for the time being at least, to alter Egypt's strategic position as an ally of America that was prepared to do business with Israel at a diplomatic and security level.
He nevertheless represents a major change from his predecessor, Hosni Mubarak, who played the same role as intermediary between Israel and Hamas but from a position of ideological hostility to the Islamist group.
Mr Morsi and his advisers unashamedly took the Palestinian side in their public utterances. "This is not the Egypt of before," one told The Telegraph as negotiations continued. He blamed Israel unequivocally for the violence.
Mr Morsi furthermore has a track record of anti-western positions, including doubting the official story on 9/11 in an interview two years ago.
But change in Egypt is not so far proving the disaster for Israel, or America, that it might have been, and maybe the events of the last week should be regarded as part of Israel's testing of these new waters.
Mr Mubarak was a not very successful sub-contractor of American policy in the Middle East. True, he negotiated ceasefires, but he could not be responsible for them because Hamas and other militant groups regarded him as part of their problem, not a solution.
Meanwhile, at home, he did little to prevent Egypt being flooded with bilious anti-Israel and anti-semitic propaganda.
Because Mr Morsi is affiliated to Hamas, however loosely, he cannot avoid responsibility now for its actions. If he wants to carry on receiving western subsidies and loans, as he does, and to benefit from the wider technological advances that the West has to offer, he will have to make sure his hostility to Israel remains purely diplomatic.
Israel has made clear that it expects Egypt now to crack down on arms smuggling to Hamas through the Sinai and with the Sinai increasingly lawless, it is in Mr Morsi's interests to do so – if he can.
For Israel, Mr Morsi's ideological position has another great advantage: it means that America can no longer disengage, when it suits its domestic politics to do so. Israel delayed the ceasefire for 24 hours until it could be announced with Mrs Clinton standing in Egypt. The message was clear – that America is now as much a guarantor of Hamas's actions, via its ally Egypt, as Egypt itself.
That puts a heavy onus on America's understanding of Mr Morsi being correct, that the Muslim Brotherhood can, in time, become a like-minded player with Turkey and Qatar in the broader Middle East "soft Islamist" alliance. These are countries that pursue policies compatible with the West's, whatever their domestic ideology.
That is no done deal. Mr Morsi may just be biding his time, until Egypt is in a stronger political and economic position. Mr Obama is aware of that: in an interview after a previous phone call to Mr Morsi, when he expressed anger that more had not been done to prevent militants storming the US embassy in Cairo on 9/11 this year, he said he considered the new Egyptian regime "neither an ally nor an enemy".
But then that is the trouble with democracies – their politics can shift.
No country can ever be a totally reliable "sub-contractor", for as Palmerston* said, nations have no permanent friends or allies, only permanent interests.
[Viscount Palmerston, 1784 – 1865, British Foreign Secretary and twice Prime Minister, best-known for defining the UK's alliances and conflicts at the height of its imperial power.]