Jabari held draft of truce agreement when assassinated UPDATE
An interview with Gershon Baskin about the draft of a truce agreement is followed by an article by Mark Perry on an earlier 'assassination" of person and peace. Last, an article by Baskin on al-Jabari's role in negotiations.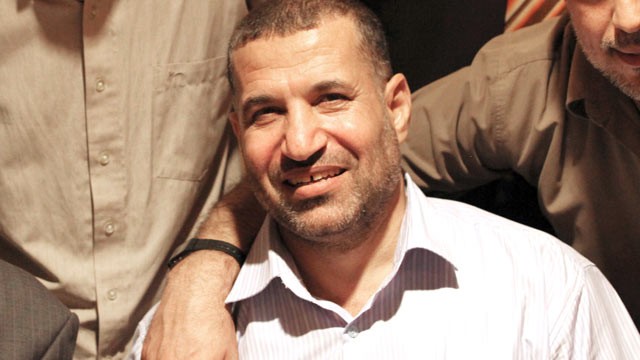 Ahmed al-Jabari in Cairo last month
Israeli peace activist: Hamas leader Jabari killed amid talks on long-term truce
Gershon Baskin, who helped mediate between Israel and Hamas in the deal to release Gilad Shalit, says Israel made a mistake that will cost the lives of 'innocent people on both sides.'
By Nir Hasson, Ha'aretz
November 15, 2012
Hours before Hamas strongman Ahmed Jabari was assassinated, he received the draft of a permanent truce agreement with Israel, which included mechanisms for maintaining the cease-fire in the case of a flare-up between Israel and the factions in the Gaza Strip. This, according to Israeli peace activist Gershon Baskin, who helped mediate between Israel and Hamas in the deal to release Gilad Shalit and has since then maintained a relationship with Hamas leaders.
Baskin told Haaretz on Thursday that senior officials in Israel knew about his contacts with Hamas and Egyptian intelligence aimed at formulating the permanent truce, but nevertheless approved the assassination.
"I think that they have made a strategic mistake," Baskin said, an error "which will cost the lives of quite a number of innocent people on both sides."
"This blood could have been spared. Those who made the decision must be judged by the voters, but to my regret they will get more votes because of this," he added.
Baskin made Jabari's acquaintance when he served as a mediator between David Meidin, Israel's representative to the Shalit negotiations, and Jabari. "Jabari was the all-powerful man in charge. He always received the messages via a third party, Razi Hamad of Hamas, who called him Mister J."
For months, Baskin sent daily messages in advance of the formulation of the deal. He kept the channel of communication with Gaza open even after the Shalit deal was completed.
According to Baskin, during the past two years Jabari internalized the realization that the rounds of hostilities with Israel were beneficial neither to Hamas nor to the inhabitants of the Gaza Strip and only caused suffering, and several times he acted to prevent firing by Hamas into Israel.
He said that even when Hamas was pulled into participating in the launching of rockets, its rockets would always land in open spaces. "And that was intentional," clarified Baskin.
In recent months Baskin was continuously in touch with Hamas officials and with Egyptian intelligence as well as with officials in Israel, whose names he refused to divulge. A few months ago Baskin showed Defense Minister Ehud Barak a draft of the agreement and on the basis of that draft an inter-ministry committee on the issue was established. The agreement was to have constituted a basis for a permanent truce between Israel and Hamas, which would prevent the repeated rounds of shooting.
"In Israel," Baskin said, "they decided not to decide, and in recent months I took the initiative to push it again." In recent weeks he renewed contact with Hamas and with Egypt and just this week he was in Egypt and met with top people in the intelligence system and with a Hamas representative. He says he formed the impression that the pressure the Egyptians applied to the Palestinians to stop shooting was serious and sincere.
"He was in line to die, not an angel and not a righteous man of peace," Baskin said of Jabari and of his feelings in the wake of the killing, "but his assassination also killed the possibility of achieving a truce and also the Egyptian mediators' ability to function. After the assassination I spoke to the people in Israel angrily and they said to me: We've heard you and we are calling to ask if you have heard anything form the Egyptians or from Gaza."
Since the assassination, Baskin has been in touch with the Egyptians but not with the Palestinians. According to him, the Egyptians are very cool-headed. They said it is necessary to let the fresh blood calm down. "The Egyptian intelligence people are doing what they are doing with the permission and authorization of the regime and apparently they very much believe in this work," he says.
"I am mainly sad. This is sad for me. I am seeing people getting killed and that is what is making me sad. I tell myself that with every person who is killed we are engendering the next generation of haters and terrorists," adds Baskin.
---
Another Ceasefire, Another Assassination
By Mark Perry, Daily Beast
November 16, 2012
Gerson Baskin's [Daily Beast article ]—"Assassinating The Chance For Calm"—has given the readers a valuable insight into the workings of the Israeli-Palestinian conflict. But as Baskin himself knows, this is not the first time that "calm" has been assassinated.
In July of 2002, I was an integral part of a small team working to end the second Intifada. I was the lone American on the team, the only one who was not an intelligence officer, and the only one with a direct line to Yasser Arafat and the senior leadership of Fatah. Our task was to gain the approval of Palestinian factions for a draft ceasefire that would end attacks on Israelis not living in the Occupied Territories. My job was to actually draft the ceasefire and serve as liaison with Arafat's envoy in the process—Hani al-Hassan.
Palestinian bulldozers clear rubble July 25, 2002 in Gaza City, Gaza Strip. Three houses were destroyed by an American-made Israeli warplane in an an attack aimed at the military leader of Hamas, Salah Shehadeh. (Abid Katib / Getty Images)
The task proved more difficult than I supposed. Hassan, whom I had forged a strong bond with over many years, disagreed with my multiple drafts of the document. And the document itself had to be approved by the eleven member "Fatah Higher Committee" in the West Bank, the several layers of the Al Aqsa Martyrs Brigades (and particularly their most intransigent cells in Nablus), as well as the head of the Hamas military wing in Gaza.
In addition, I was intent that the ceasefire be put in place precisely at one minute after midnight on July 22 and that the press be notified of its start. My reasoning was that Israel had acted with impunity in breaking a previous ceasefire, in January, by assassinating Raed Karmi. The problem then was simple: no one in the international community even knew that a ceasefire had been agreed to. I vowed that this would not be the case now, which is why the team of which I was a part kept Israeli officials informed of our progress.
It took many days of talks with Hani al-Hassan to produce a final ceasefire document, and weeks of negotiation to gain approval for it among the Fatah Higher Committee and the West Bank's myriad resistance brigades. But by July 20, all seemed in place. Only Salah Shehadeh, the head of Hamas's military wing in Gaza, needed to give his approval—and he had informed our team, through a Fatah intermediary, that he was prepared to do so. His signature on the ceasefire document was to be obtained on the evening of July 22, during a meeting between him and a senior Fatah official in Gaza City. It had taken weeks of talks with Hamas to gain his approval.
I remember sitting on the 11th floor of the David Citadel Hotel as the clock ticked off the minutes leading to midnight on the night of July 21. I was in contact with our Fatah intermediary in Gaza by cell phone, urging him to complete his visit to Shehadeh—at times, shouting at him: "You need to move, you need to see this man." He assured me that the meeting with Shehadeh had been set, and that he was on his way, just then, to meet with him.
But then, with just ten minutes to go before the ceasefire took effect, his cell phone went dead. And then, thirty minutes later, an Israeli F-16 dropped a one ton bomb on Shehadeh's home in Gaza City. The Israeli bomb killed Shahadeh and fourteen other people, including Shehadeh's wife and daughter. Seven people who lived next door, all innocent, were also killed. The then Deputy Chief of Staff of the IDF, Major General Dan Halutz later said that had he known that innocent people would be killed in the bombing, it would not have been ordered. I know otherwise. Later, he added: "What do I feel when I drop a bomb? A slight bump in the airplane."
The next morning, as I walked from my hotel near the Damascus Gate to a meeting of the ceasefire team, I was approached by an Israeli official who we'd been dealing with. He smiled at me. "Ah, the naïve American," he said, in greeting. "You had rough night." I said nothing, but he continued: "You know Mr. Perry, you don't seem to understand. We don't want a ceasefire." And he walked away.
I have thought about Salah Shehadeh in the years since, and about my own role in his death, and the death of those he loved and knew. I know now that someone on my team was working against us, and someone in Fatah—most likely the intermediary who was to meet with him that night in Gaza City. These are very painful memories, to be sure. In the end, perhaps, the Israeli was right: I was naïve.
I'm not now.
---
Massed Israeli troops poised for invasion of Gaza
Air strike assassination of Hamas military chief signals start of major operation

By Matthew Kalman, The Independent
November 15, 2012
Israeli troops massed on the Gaza border last night, poised for a possible ground invasion as Israel launched a major military operation it said was designed "to severely impair the command and control chain of the Hamas leadership, as well as its terrorist infrastructure."
Military sources told The Independent that a ground invasion was "a distinct possibility". The army has deployed extra infantry units near the Gaza border, halted major exercises, cancelled soldiers' leave and mobilised some reserve forces.
The opening salvo of Operation Pillar of Cloud was the pinpoint assassination by missile of the Hamas military commander, Ahmed al-Jabari, as he drove through Gaza City, followed by aerial attacks against targets throughout the Hamas-controlled enclave. At least 10 Palestinians, including civilians, were reported dead.
Gaza residents ran for cover as Israeli aircraft pounded targets across the Gaza Strip. It was the most extensive assault since Israel's ill-starred ground invasion ended in January 2009.
Eyewitnesses reported widespread panic as darkness fell, with people rushing to stock up with food. Israel struck 25 separate targets, including Hamas storage sites, some of them hidden in residential buildings. Israel said it bombed stockpiles of long-range rockets – including the Iranian Fajr-5, with a range of more than 25 miles, used to devastating effect by Hezbollah in the 2006 Israel-Lebanon War. Hamas warned that Israel "had opened the gates of hell upon themselves."
The Defence Minister, Ehud Barak, said last night that Operation Pillar of Defence had "taken out" most of Hamas's rockets and other infrastructure.
"Israel is not interested in engaging in war, but Hamas's provocation in the past days has made it imperative that we act sharply and decisively," he said. "The operation's goals are to deal a harsh blow to the rocket firing capabilities… It won't happen at once, but we will achieve the goals of this operation. We are at the start of the events and not at the end… In the long run, I believe this will lead to deterrence and the restoration of quiet in the south."
The IDF Spokesman, Brigadier- General Yoav Mordechai said: "Were I a Hamas operative, I would now opt to shelter underground."
Several days of tough talk by Israeli leaders and Egyptian mediation seemed to have ended a massive Palestinian rocket barrage that confined more than a million Israelis to their homes for more than three days.
Then, shortly after 3.30pm yesterday, came the Israeli strike at the heart of the shadowy Hamas armed wing.
Mr Jabari, 52, was commander of the Hamas military wing. He made a rare public appearance just over a year ago, escorting Israeli soldier Gilad Shalit – whose kidnapping he planned – to freedom, but otherwise lived like a hunted man at the top of Israel's wanted list.
He was driving with his bodyguard in Gaza City when the vehicle was torn apart by a single Israeli missile. Both men appear to have died instantly.
Hamas leaders rushed to identify Al-Jabari's body and announce his death. They threatened swift retaliation.
"The Israelis thought they could break Hamas resistance by killing al-Jabari. They are wrong. The Palestinian resistance is still strong. We will co-ordinate our reply to this crime committed by the Israelis," said Hamas spokesman Sami Abu Zuhri. "Two days ago there was a ceasefire agreement prepared through Egyptian mediation. The Israelis did not commit to it and now they will pay the price."
Palestinian officials from the rival Fatah party also denounced the killing. "We condemn in the strongest terms this new Israeli assassination which aims to initiate a bloody escalation," said Palestinian negotiator Saeb Erekat. "This exposes that Israel has an agenda for war but not for peace."
In Israel, police and home-front command officers were placed on full alert as rockets began falling. Israeli vice-premier Silvan Shalom hailed Mr Jabari's killing as a fitting end for a man who had masterminded some of Hamas's bloodiest attacks against Israel. "These guys like sending other people to martyrdom, but they don't like martyrdom for themselves," Mr Shalom said.
Israeli leaders may have satisfied recent calls for a tough response to the recent violence, but they are likely to come under diplomatic fire for launching an offensive when an Egyptian-brokered ceasefire seemed to be holding after 24 hours of relative calm. The Egyptian president Mohamed Morsi recalled his ambassador to Israel in protest, while the Arab League said it would meet to discuss the situation on Sunday.
"I am responsible for us choosing the right time to exact the heaviest price, and so be it," the Prime Minister, Benjamin Netanyahu, told residents of Beersheba, which had been targeted by Gaza rockets, just before the assassination. "Whoever thinks they can damage the daily lives of residents of the south, and that they won't pay a heavy price for this – they are mistaken."
Israel's last ground invasion of Gaza killed more than 1,000 Palestinians, including many children and other civilians, and destroyed hundreds of homes. Even though Hamas has allowed the launching of more than 750 rockets into Israel this year alone, Israeli leaders already facing the prospect of diplomatic isolation over a Palestinian bid for UN recognition on 29 November, will be hard-pressed to maintain international support for a repeat performance.
Profile
Ahmed al-Jabari was one of Hamas's leading figures and head of its military wing.
His death yesterday was the first of a senior Hamas figure at the hands of Israel since Operation Cast Lead in 2008, when Israel launched a full-scale attack on the Gaza Strip.
He had nonetheless been at the top of the Israel Defence Forces' target list for some time. The Israelis held him responsible for the Qassam rocket strikes that have almost continually hit southern Israel – attacks that have escalated in recent days.
It is believed that Mr Jabari had responsibility for overseeing the imprisonment of Gilad Shalit, the Israeli soldier captured by Hamas in 2006 and held until last year. The deal saw hundreds of Palestinians released from Israeli prisons.
Within hours of Mr Jabari's death yesterday, Israel's internal intelligence agency, Shin Bet, said that it had killed him.
Alistair Dawber
---
Israel's Shortsighted Assassination
By Gershon Baskin, NY Times
November 16, 2012

AHMED AL-JABARI — the strongman of Hamas, the head of its military wing, the man responsible for the abduction of the Israeli soldier Gilad Shalit — was assassinated on Wednesday by Israeli missiles.
Why? Israel's government has declared that the aim of the current strikes against Gaza is to rebuild deterrence so that no rockets will be fired on Israel. Israel's targeted killings of Hamas leaders in the past sent the Hamas leadership underground and prevented rocket attacks on Israel temporarily. According to Israeli leaders, deterrence will be achieved once again by targeting and killing military and political leaders in Gaza and hitting hard at Hamas's military infrastructure. But this policy has never been effective in the long term, even when the founder and spiritual leader of Hamas, Sheik Ahmed Yassin, was killed by Israel. Hamas didn't lay down its guns then, and it won't stop firing rockets at Israel now without a cease-fire agreement.
When we were negotiating with Hamas to release Mr. Shalit, members of the Israeli team believed that Mr. Jabari wouldn't make a deal because holding Mr. Shalit was a kind of "life insurance policy." As long as Mr. Jabari held Mr. Shalit, Israelis believed, the Hamas leader knew he was safe. The Israeli government had a freer hand to kill Mr. Jabari after Mr. Shalit was released in October 2011. His insurance policy was linked to their assessment of the value of keeping him alive. This week, that policy expired.
I believe that Israel made a grave and irresponsible strategic error by deciding to kill Mr. Jabari. No, Mr. Jabari was not a man of peace; he didn't believe in peace with Israel and refused to have any direct contact with Israeli leaders and even nonofficials like me. My indirect dealings with Mr. Jabari were handled through my Hamas counterpart, Ghazi Hamad, the deputy foreign minister of Hamas, who had received Mr. Jabari's authorization to deal directly with me. Since Mr. Jabari took over the military wing of Hamas, the only Israeli who spoke with him directly was Mr. Shalit, who was escorted out of Gaza by Mr. Jabari himself. (It is important to recall that Mr. Jabari not only abducted Mr. Shalit, but he also kept him alive and ensured that he was cared for during his captivity.)
Passing messages between the two sides, I was able to learn firsthand that Mr. Jabari wasn't just interested in a long-term cease-fire; he was also the person responsible for enforcing previous cease-fire understandings brokered by the Egyptian intelligence agency. Mr. Jabari enforced those cease-fires only after confirming that Israel was prepared to stop its attacks on Gaza. On the morning that he was killed, Mr. Jabari received a draft proposal for an extended cease-fire with Israel, including mechanisms that would verify intentions and ensure compliance. This draft was agreed upon by me and Hamas's deputy foreign minister, Mr. Hamad, when we met last week in Egypt.
The goal was to move beyond the patterns of the past. For years, it has been the same story: Israeli intelligence discovers information about an impending terrorist attack from Gaza. The Israeli Army takes pre-emptive action with an airstrike against the suspected terror cells, which are often made up of fighters from groups like Islamic Jihad, the Popular Resistance Committees or Salafi groups not under Hamas's control but functioning within its territory. These cells launch rockets into Israeli towns near Gaza, and they often miss their targets. The Israeli Air Force responds swiftly. The typical result is between 10 and 25 casualties in Gaza, zero casualties in Israel and huge amounts of property damage on both sides.
Other key Hamas leaders and members of the Shura Council, its senior decision-making body, supported a new cease-fire effort because they, like Mr. Jabari, understood the futility of successive rocket attacks against Israel that left no real damage on Israel and dozens of casualties in Gaza. Mr. Jabari was not prepared to give up the strategy of "resistance," meaning fighting Israel, but he saw the need for a new strategy and was prepared to agree to a long-term cease-fire.
This war is being presented in Israel, once again, as a war of "no choice." The people of Israel are rallying around the flag as would be expected anywhere in the world. The United States government has voiced its support of the Israeli operation by stating, "Israel has the full right to defend itself and protect its citizens." It certainly does, but we must ask whether there is another way to achieve the same goal without the use of force.
Israel has used targeted killings, ground invasions, drones, F-16s, economic siege and political boycott. The only thing it has not tried and tested is reaching an agreement (through third parties) for a long-term mutual cease-fire.
No government can tolerate having its civilian population attacked by rockets from a neighboring territory. And the firing of thousands of rockets from Gaza into Israel must end. There was a chance for a mutually agreed cease-fire. The difference between the proposal I drafted in cooperation with my Hamas counterpart and past proposals was that it included both a mechanism for dealing with impending terror threats and a clear definition of breaches. This draft was to be translated and shared with both Mr. Jabari and Israeli security officials, who were aware of our mediation efforts.
In the draft, which I understand Mr. Jabari saw hours before he was killed, it was proposed that Israeli intelligence information transmitted through the Egyptians would be delivered to Mr. Jabari so that he could take action aimed at preventing an attack against Israel. Mr. Jabari and his forces would have had an opportunity to prove that they were serious when they told Egyptian intelligence officials that they were not interested in escalation. If Mr. Jabari had agreed to the draft, then we could have prevented this new round of violence; if he had refused, then Israel would have likely attacked in much the same way as it is now.
The proposal was at least worth testing. Moreover, it included the understanding that if Israel were to take out a real ticking bomb — people imminently preparing to launch a rocket — such a strike would not be considered a breach of the cease-fire and would not lead to escalation.
Instead, Mr. Jabari is dead — and with him died the possibility of a long-term cease-fire. Israel may have also compromised the ability of Egyptian intelligence officials to mediate a short-term cease-fire and placed Israel's peace treaty with Egypt at risk.
This was not inevitable, and cooler heads could have prevailed. Mr. Jabari's assassination removes one of the more practical actors on the Hamas side.
Who will replace him? I am not convinced that Israel's political and military leaders have adequately answered that question.