Foreign minister berates comfortable US Jews

Orthodox Jews at the Kotel – Western Wall. The absence of Reform Jews from this ritual is noted and disparaged. Photo Getty Images.
PM pans Hotovely's comments on US Jews having 'convenient lives'
Netanyahu repudiates remarks made by his deputy foreign minister, who says US Jews don't understand 'the complexity of the region' because they don't fight in any army or experience rocket attacks; Hotovely also claims liberal Jews 'not even interested in going to the Kotel' but merely seek recognition.'
By Itamar Eichner, Ynet
November 23, 2017
Prime Minister Benjamin Netanyahu attempted on Thursday to allay the furore sparked by Deputy Foreign Minister Tzipi Hotovely who, in an interview with i24NEWS the previous day, said that Jews living in the US fail to understand "the complexity of the region" and live "quite convenient lives."
Seeking to distance himself from Hotovely's comments, Netanyahu stepped in to clarify matters, issuing a statement against what were described as "offensive remarks."
"The Jews of the Diaspora are dear to us and are an inseparable part of our people,"
Netanyahu said.
"There is no place for such attacks, and her remarks do not reflect the position of the State of Israel," he added.
The comments came after Hotovely—whose planned speech at Princeton University's Center for Jewish life was recently cancelled by a Jewish group called Alliance of Jewish Progressives accusing her of "stating her opposition to a Palestinian state"—told i24NEWS that Jews in the diaspora struggled to grasp the realities faced by Israelis.
"There is another issue and I think the other issue is not understanding the complexity of the region. People that never send their children to fight for their countries. Most of the Jews don't have children serving as soldiers, going to the Marines, going to Afghanistan or to Iraq," she said in relation to the US Jewish community.
"Most of them are having quite a convenient life. They don't feel how it feels to be attacked by rockets and I think part of it is to actually experience what Israel is dealing with on a daily basis."
Earlier in the same interview, Hotovely risked stoking further outrage among the more liberal denominations of US Jewry when she said most of the time the non-Orthodox Ezrat Yisrael plaza at the Western Wall was empty because American Jews had no interest in visiting the holy site.
She further claimed that a suggestion by the government to reserve a section for egalitarian prayer services was rejected because all the liberal streams really sought was recognition of their movements, using the Kotel as a tool to that end.
"I think it's a very important goal to bring American Jews closer to Israel, I think this is one of my goals, but we need to be open about this," Hotovely said.
Referring to the non-Orthodox section, Hotovely claimed, "Most of the time it's empty. And the reason it's empty, if you're asking me, it's not because they don't like the arrangement, it's empty because most of the time those people are not even interested in going to the Kotel."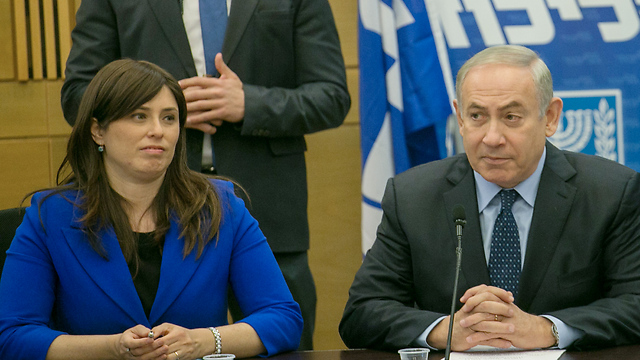 Acting foreign minister Tzipi Hotovely with  formal foreign and prime minister Netanyahu – mixing their messages about 'diaspora Jews'. Photo by Ehud Zwigenberg
She praised the Israeli government for finding a solution to the crisis that ensued after the government froze in June progress on plans to construct an egalitarian section at the Western Wall to cater for the holy site's more liberal visitors.
"The Israeli government was doing a lot in order to make sure that they can have egalitarian prayer, that women can go together with their family, that men can go together with their daughters," she said, adding that the controversy was really of a political, rather than religious character.

Contrary to Hotovely's assertion Reform Jews do go to the Kotel – but in a rather different style. Photo by AP
"Everything is set up but they are not willing to get that because if you're asking me this is a political matter. They want to get recognized through the Kotel issue and they are making a religious, holy place something for political dispute and I really think the solution that was offered was quite good," she said.
Turning to the cancelation she faced at Princeton, Hotovely said she had been the victim of a "liberal dictatorship." She went on:
"What is happened with Hillel, what is happening with freedom of speech and academic freedom, what is happening to the very basic human respect to the fact you are inviting an overseas representative of the Israeli government and you are canceling on the same day because some students don't like my opinions—this is something really bad that's happening under what I call the liberal dictatorship."
President Reuven Rivlin also sought on Thursday to mend cracks potentially left by Hotovely between Israel and US Jewry.
"I returned here from a trip to the US. I saw huge love of the Jewish diaspora for Israel. I saw the deep concern and pain from the crumbling of bridges that connect Israel with the diaspora," Rivlin said during his speech at a state memorial for Israel's first prime minister David Ben Gurion.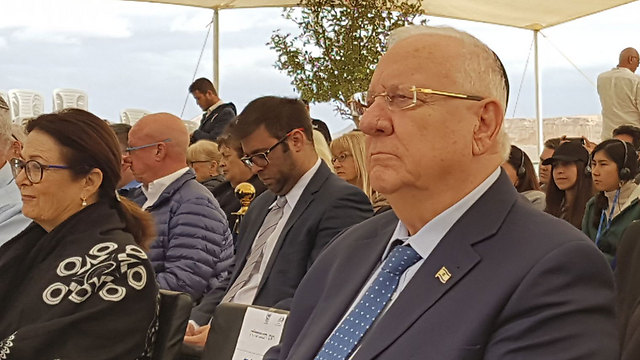 President Rivlin at the memorial ceremony. He saw 'deep pain' in the diaspora, i.e. the US, at the 'crumbling of bridges' between them and Israel. Photo by Haim Horenstein
"Ben Gurion stuck to his decision to compromise, for the foundation and preservation of the connection between Israel and the Jewish diaspora," he continued.
Referencing an agreement signed two years after Israel gained independence by Ben Gurion and the American Jewish Committee president,  Jacob Blaustein, Rivlin said the former prime minister's goal was to determine the nature of the relationship between the Jewish communities of Israel and the US.
"Israel represents its citizens only, and speaks only in their name," Rivlin said as he listed four of the agreement's main clauses.
"American Jews are citizens of the US and the US alone has their loyalty," he went on. "Israel doesn't expect from American Jews to make Aliyah. No side will intervene in the political decisions of the other."
At the conclusion of his speech, Rivlin called for Israeli and American Jews to embark on "a new path," characterized "not by mutual criticism, but by openness, courage and frankness."
---

Tzipi Hotovely speaking at the 15th IDC Herzliya conference. Photo by Erez Harodi/Osim Tsilum/IDC Herzilya
Israel's top diplomat spouts antisemitic criticism of American Jews — 'having quite convenient lives'
By Jonathan Ofir, Mondoweiss
November 23, 2017
Israel's top diplomat attacked American Jews yesterday. Deputy Foreign Minister Tzipi Hotovely said of American Jews:
"People that never send their children to fight for their country– most of the Jews don't have children serving as soldiers, going to the Marines, going to Afghanistan, or to Iraq. Most of them are having quite convenient lives. They don't feel how it feels to be attacked by rockets, and I think part of it is to actually experience what Israel is dealing with on a daily basis"
She spoke at the end of a 5-minute interview in the Israeli i24 News (in English), as noted by Haaretz today. Hotovely is top diplomat, because Benjamin Netanyahu holds the Foreign Minister portfolio himself.
Now, had these words come from a non-Jew, we would no doubt have had a riot going on in the media about antisemitic vitriol – about Jews being lazy, privileged, unpatriotic and all the rest of it. But apparently, Hotovely is allowed, because she's a Jew herself, an orthodox one no less, and she's ultra-Zionist and all, so no one is going to call her a 'self-hater'.
Hotovely was lashing out against American Jewry, on the background of her being disinvited by Princeton University Hillel a couple of weeks ago, following a petition by progressive activists on campus. Hotovely has been on a major collision course with American Jewry recently, and also said earlier this month that "American Jews are losing it big time", in that they are supposedly threatening the existence of world Jewry, given their "80 percent" assimilation rate and growing indifference to Israel.
Haaretz notes the facts regarding the presence of US Jews in the military, including their presence in the Israeli military:
"The U.S. military stopped recording the religion of recruits decades ago, but until then Jews served in slightly greater proportion than their percentage in the general population. There continues to be a Jewish presence in the military, including in the highest ranks. Gen. David Lee Goldfein is the U.S. Air Force chief of staff. There is an organized Jewish presence at military academies. A number of Jewish ex-servicemen have run for public office in recent years. Estimates say that around 200,000 U.S. Jews live in Israel, with many young people serving in its military."
In fact, Haaretz does not appear to be quite up to date on this issue. In 2006, this site did a survey regarding the representation of various religious communities in the US military, and managed to get statistics from the Pentagon. The survey showed that Jews were under-represented by about 50% in the military. Still, Hotoveli's statement about them never sending their children to the military shows that she is both uninformed and incendiary.
When asked about why Jewish Americans may not feel connected to Israel, the deputy minister said that perhaps they are "too young to remember how it feels to be a Jewish person without a Jewish state" – in a classical Hasbara diversion of the discussion from uncomfortable current issues, playing up the Holocaust card – the card that is always kept in pocket in case all else fails.
But even I don't remember what it's like to not have a Jewish state; I'm 45. And if I don't remember, Hotovely certainly doesn't – she'll be turning 39 soon. Maybe she should have used leftist leader Avi Gabbay's saying that he stole from Netanyahu – that "the left have forgotten what it means to be Jewish"– and applied it to American Jews instead.
Hotoveli has said unabashedly in the past that "this land is ours – all of it is ours." But so far, she seems to have meant it regarding the whole of historical Palestine. Now she seems to be patronizing American Jews as if the whole of USA was hers too.
What we are seeing here is an Israeli politician who has finally been challenged by a major US Jewish campus organization, and she is so angry, she cannot control herself in her rage – behind that constant smile. The question to be asked is not whether American Jews are "losing it", but whether Hotovely, as well as Israel, are losing the battle for the heart of American Jewry.