War is in the air
This posting has these items:
1) Al Arabiya: Will Iran attack Israel? asked Dr. Majid Rafizadeh in 2016. The answer is no. It's hugely outgunned by Israel;
2) Al Jazeera: How might Israel exploit Lebanon's political turmoil?, the response to the resignation of Lebanon's PM, who blames Iranian interference in Arab affairs;
3) Haaretz: Who Wants a War in the Middle East? asks Anshell Pfeffer, the answer being everyone as long as someone else does the fighting;
4) Mint Press: Israel's Latest Act of War: Another Attempt to Stop a Peace Offensive. Israel's recent attack on Gaza is subjected to the Norman Finkelstein dictum;
5) Haaretz: Mounting Tensions in Syria and Gaza Throw Israel Into a New State of Emergency, Amos Harel assesses;
6) ToI: Israel tells its envoys to back Saudis, Hariri against Hezbollah, Iran;
7) Foreign Policy: Elephants in the Room, which is not so much Iran as the desire to 'squeeze' Iran which, thanks to Obama, is destabilising the region.
8- Haaretz: Is Saudi Arabia Pushing Israel Into War With Hezbollah and Iran?, who is pushing whom? Daniel Shapiro, former US ambassador to Israel suggests US/Israel is just waiting for a plausible casus belli to attack Iran;

Supporters watch a live broadcast of Hezbollah's leader, Hassan Nasrallah, rallying support for military aid to Bashar al-Assad, May 2013. Photo by Hussein Malla/AP
By Dr. Majid Rafizadeh, Al Arabiya
August 05, 2016
Tehran appears to be heightening tensions with Israel. Hossein Salami, deputy commander of Iran's Revolutionary Guard Corps (IRGC), recently said: "Hezbollah has 100,000 missiles that are ready to hit Israel to liberate the occupied Palestinian territories if the Zionist regime repeats its past mistakes."
He added: "Today, the grounds for the annihilation and collapse of the Zionist regime are [present] more than ever." Salami warned that if Israel made the "wrong move," it would come under attack.
A few weeks ago, a senior adviser to the IRGC's elite Quds Force, Ahmad Karimpour, said Iran could destroy Israel "in less than eight minutes" if Supreme Leader Ali Khamenei gave the order.
Rhetoric
There are several reasons why Iran's repeated anti-Israel statements may be pure rhetoric. They are most likely meant as a type of psychological warfare, because Iran cannot afford direct conflict with Israel. Although Iran is larger geographically and in terms of population, its military capacity is inferior. Even regarding missile capabilities, which Iranian generals boast about, Israel's are greater in range and number.
What fundamentally changes the balance of power is Israel's nuclear capacity. It is widely believed to have some 200 nuclear warheads that can be used with intercontinental ballistic missiles, as well as nuclear-armed submarines.
Iran's policy toward Israel is to not strike first, as doing so would be suicidal for the ruling political establishment, whose main objective is to maintain power.
As such, Iran's policy toward Israel is to not strike first, as doing so would be suicidal for the ruling political establishment, whose main objective is to maintain power. It would be more effective to fight Israel via its Lebanese Shi'ite proxy Hezbollah.
Tehran's repeated boasting about IRGC capabilities is aimed at invoking nationalist sentiment among the public because Iranian leaders know that the overwhelming majority of Iranians are dissatisfied with the hardliners and the political establishment.
This method has been successful, as polls have repeatedly shown that many Iranians who oppose the political establishment still favour their country becoming a nuclear power or being more powerful than any other country in the region.
Khamenei and IRGC generals are recalibrating the domestic balance of power, making it clear that they are the final decision-makers. They are appealing to their hardline social base by showing it that they continue to prioritize the values of the 1979 revolution over other issues, including national interests.
Dr. Majid Rafizadeh is an Iranian-American U.S. foreign policy specialist. He is the president of the International American Council. He is a member of the Gulf 2000 Project at Columbia University, School of International and Public Affairs. Previously he served as ambassador to the National Iranian-American Council based in Washington DC. He can be contacted at: Dr.Rafizadeh@post.harvard.edu, or on Twitter: @Dr_Rafizadeh
---

How might Israel exploit Lebanon's political turmoil?
By Zena Tahhan, Al Jazeera
November 07, 2017
Saad Hariri waves to journalists outside Lebanon's parliament Beirut. Hussein Malla/ AP
The resignation of Lebanese Prime Minister Saad Hariri earlier this week has given Israel an opportunity to exploit the regional divide and to work on forming an Israeli-Arab alliance in the event of a military confrontation with Lebanon, political analysts say.
In his statement from the Saudi capital Riyadh, Hariri blamed his resignation on what he called Iranian meddling in Lebanese affairs through the former's backing of Hezbollah, a movement with a military wing based in southern Lebanon.
"Iran's arm [Hezbollah] … has managed to impose a fait accompli on Lebanon through the power of its weapons" in the last few decades, Hariri said in his televised speech on Saturday. "They have built a state within a state.
"I say to Iran and its allies – you have lost in your efforts to meddle in the affairs of the Arab world," he continued, adding that the region "will rise again and the hands that you have wickedly extended into it will be cut off". His language echoed Saudi rhetoric against Iran.
Shortly after the announcement, Israeli Prime Minister Benjamin Netanyahu responded, calling the resignation a "wake-up call to the international community to take action against Iranian aggression".
He also accused Iran of "trying to turn Syria into a second Lebanon," in reference to Hezbollah's expanding influence in Syria, where it is fighting alongside the forces of President Bashar al-Assad.
Netanyahu added that Hezbollah's empowerment "endangers not only Israel but the entire Middle East".
Arab-Israeli alliance
Speaking at Chatham House in London on Friday prior to Hariri's resignation, Netanyahu said that Israel was working "very hard" to establish an alliance with "the modern Sunni states" to counter Iran, according to the AFP news agency.
Hariri's move gives Israel an opportunity to exploit the Saudi-Iranian divide and to boast of an Arab-Israeli alliance in the face of Iran, political analysts say.
"Israel benefits from an escalation in any Arab conflict. Now, with Hariri's resignation, it is betting on an alliance to confront Iran," Kassem Kassir, a Beirut-based analyst with close ties to Hezbollah, told Al Jazeera.
"They are pleased with Hariri's resignation because he headed a government with Hezbollah members. They believe that his resignation strips away from Hezbollah's legitimacy in the government."
On Sunday, during an interview with the BBC network, Netanyahu jumped on the bandwagon of anti-Iranian rhetoric, saying: "When Israelis and the Arabs, all the Arabs and the Israelis, agree on one thing, people should pay attention. We should stop this Iranian takeover."
Another war?
Many observers have equated Hariri's resignation with an imminent Israeli attack on Lebanon – a fear that has become entrenched since the 2006 war between Israel and Hezbollah.
The discourse of another war has only intensified since the war in Syria began in 2011.
While fighting alongside Syrian government forces and other Iranian-backed groups, Hezbollah has gained an unprecedented level of tactical experience and weaponry, analysts note.
In response to Hezbollah's growing role, Israel has carried out systematic attacks against the group and the Syrian military. Netanyahu has accused Iran of "turning Syria into a base of military entrenchment" and wanting to use "Syria and Lebanon as war fronts against its declared goal to eradicate Israel".
Ofer Zalzburg, a senior analyst on Israel and Palestine for the International Crisis Group think-tank, said that Israel's fear of an underground missile factory built by Iran in southern Lebanon could spark an armed conflict.
"Hariri's resignation may make Hezbollah feel there are less domestic challenges to taking a risk vis-a-vis Israel in terms of taking forward the construction of such an underground factory," Zalzburg told Al Jazeera.
In addition, he said, "growing Saudi-Iranian tensions may make it more difficult for Hezbollah and Israel to constrict an Israeli strike on such construction from becoming a full-fledged war – a war both parties know will exact a dramatic toll from their societies and civic infrastructures".
In 2006, Hezbollah shocked the region when it managed to overwhelm Israel's ground invasion of southern Lebanon and strike military and civilian targets. Hezbollah's rocket attacks caused sizeable damage and resulted in the death of an estimated 159 Israelis, including 43 civilians, which undermined internal Israeli support for the war.
For Lebanon, Israel's bombing campaign devastated the south's infrastructure and led to the deaths of more than 1,100 Lebanese, the majority of whom were civilians.
But despite the intensifying discourse over the possibility of another war, some believe the prospect is far-fetched.
Khalil Shaheen, a Ramallah-based political analyst, says that Israel "cannot face Hezbollah on its own" and would need the support of other Arab states in the event of another war.
The turnout of the last war, coupled with Hezbollah's metamorphosis over the years, means that a war would be a "miscalculation on Israel's part", Shaheen said, pointing to the group's influential role in Syria, Lebanon, Yemen and Iraq.
"They cannot ensure a win."
---

Iran's Revolutionary Guards testing ballistic missiles, 2012. AP photo.
Who Wants a War in the Middle East?
Practically everyone, but no one wants to fight it themselves
Anshel Pfeffer, Haaretz premium
November 08, 2017
A tunnel explodes underneath the Gaza-Israel border, a surprise resignation throws Lebanon into turmoil, a series of upheavals in the Saudi kingdom and the battle against Islamic State in Syria and Iraq winds down – all this is winding up with a new round of saber-rattling between Israel and Iran and its proxies. Talk of war between elements of the Iran-led coalition and the unlikely anti-Iran alliance of Israel and the Saudis is rife, but a plausible scenario for one breaking out much less. Both sides would like to see someone taking on the other, but none of the parties are at present in a situation where it is their interest to do so themselves.
Here's where the parties who want war, just as long as someone else is fighting it, are right now.
Iran – For the last six-and-a-half years, the Islamic revolutionary leadership in Tehran has invested heavily in propping up the Assad regime in Syria. This support has taken a variety of forms – "military advisers" from Iran's Quds Force, the deployment of thousands of Hezbollah fighters, frequent airlifts of weapons landing in Damascus airport, the recruitment of tens of thousands of citizens (mainly Afghan refugees) to fight in Shi'ite militias, and at least a billion dollars of credit to allow Assad to remain solvent. None of this was enough to enable the Syrian president's eventual victory, but it kept him just about afloat until the Russians arrived in September 2015. Now that Assad's survival has been ensured, Iran is intent on reaping its reward in the shape of mining concessions for valuable minerals, and the rights to build an airbase on Syrian territory and a military port on its Mediterranean coast.
Israel is both exerting diplomatic pressure and threatening to use military power to prevent Iran from establishing a permanent stronghold in Syria. (This pressure is playing into a power struggle back in Tehran, where rival factions are arguing whether the additional billions that will be needed for building these bases should not go instead to strengthening Iran's economy at home).
Tehran has no interest right now in a war between its proxies and Israel in Syria and Lebanon that would endanger the gains in which it has invested so much. Instead, it would prefer seeing Israel distracted elsewhere and the most convenient place for that to happen would be along Israel's southern border with the Gaza Strip. A Hamas delegation is currently in Tehran, the second such delegation in a matter of weeks. Hamas and Iran had a falling-out during the Syrian war when Iran was helping the Assad regime butcher hundreds of thousands of Syrian Sunnis, including Hamas' allies in the Syrian Muslim Brotherhood. But now that the war is ending, the ties are being reestablished. Throughout the war, Iran's support for Hamas' rivals in Gaza, the more militant Palestinian Islamic Jihad, intensified. Now Iran would be happy for Hamas and PIJ to join forces in provoking some mayhem on the Gaza border, and deflect attention from Syria.
Gaza – Iran's entreaties notwithstanding, Gaza has its own troubles and while Hamas is happy to reestablish ties with Tehran, the movement's interests currently lie in Cairo, where its reconciliation agreement with Fatah was signed last month. Egypt wants Hamas to keep the peace in Gaza and to make sure the Strip doesn't serve the ISIS fighters in Sinai as a logistical hub.
If there was any doubt, particularly in Israel, that the reconciliation was yet another doomed-to-fail exercise, along came the demolition on October 30 by Israel of a PIJ cross-border attack tunnel, killing at least 14 PIJ and Hamas members underground. In the past, there would have been no question of such an operation ending without some form of retaliation by Hamas and PIJ. But instead, over a week later, we have yet to see any escalation. Hamas has forced PIJ to keep the unofficial truce that has been in force with Israel since the summer of 2014.

Islamic Jihad fighters at a funeral for their comrades killed in an Israeli strike in Gaza, October 31, 2017. Photo by Mahmud Hams/AFP
Hamas – The ruling movement in the Strip hasn't converted to Zionism but the continued closure of Gaza and its worsening economic situation – intensified by the sanctions put in place during the last few months by the Fatah-dominated Palestinian Authority, have led Hamas' new prime minister in Gaza, Yahya Sinwar, to the unavoidable conclusion that he must find a way for now of cooperating both with neighbouring Egypt and the PA. It was either that or lose any capability of maintaining control in the Strip.
Sinwar is a hardliner who sat for many years in Israeli prisons, but he is Gaza-born and understands local politics. Saleh al-Arouri, deputy chief of Hamas' political bureau, Sinwar's rival and the leader of the delegations to Tehran, does not have any responsibility for Gaza.
Hamas isn't giving up its rocket arsenal or tunnel network in the Strip, but it urgently needs to ease humanitarian conditions there and the only way of doing so is by means of an alliance with Egypt and an uneasy rapprochement with the PA. Another round of destructive warfare with Israel will jeopardize the agreement and Sinwar, for now, won't let that happen and is meanwhile preventing PIJ from retaliating. No matter what Iran wants.

Egyptian soldiers after clearing a protest camp near a mosque in Cairo, August 2013. Photo Reuters
Egypt – Not too long ago, Egypt would have been counted as the major Arab element in the regional anti-Iran coalition. But its ongoing political and economic weakness has forced it to curb its wider designs and focus mainly on skirmishing with ISIS in Sinai, where a few hundred of the militant organization's fighters are still tying up a large part of Egypt's huge and well-equipped army. Egypt is probably the only nation that is about to lose out due to the elimination of the ISIS strongholds in Iraq and Syria. The remnants of ISIS are now relocating to neighbouring Libya and the organization may focus more of its remaining resources on Sinai. It would have been happy to see others carrying on the wars further afield, while focusing on affairs closer to home. Like Gaza, for example.
Effectively, Egypt has abdicated its historic mission to lead the Arab Sunni camp, leaving the Saudis in charge.
Saudi Arabia – The last few days' events in Riyadh have astonished veteran watchers of the House of Saud. Multiple arrests over allegations of corruption of once-senior officials, including a number of royal princes; appointments to key positions of men close to Crown Prince Mohammed Bin Salman (aka MBS); a mysterious helicopter crash; and the summoning of Saudi clients such as Lebanese Prime Minister Saad Hariri, who chose on Saturday to announce his resignation from Riyadh, and Palestinian President Mahmoud Abbas – all this has pundits trying to work out a common motive, aside from just another move by MBS to consolidate his grip over the kingdom.
One popular theory regarding Hariri's resignation is that he fled to Riyadh, or was ordered there, so he would not be implicated in an impending military attack by Israel on Lebanon, with Saudi backing, or an attack on Iran's main proxy in Beirut, Hezbollah. The fact that Hezbollah has been accused of an assassination attempt on Hariri strengthened this theory. The Saudis would certainly love to have their Iranian rivals punished at this point, in some way or another, and Hezbollah would be a good target.
The regime in Riyadh is in no position to launch a war itself against Iran. For the last two-and-a-half years, the Saudis have been engaging in a war against the Iranian-backed Houthis in Yemen, which has been so unsuccessful that on Friday night, the Houthis were capable of taunting the Saudis by firing a ballistic missile at Riyadh airport.
The Saudis are unlikely to risk a cross-Gulf offensive with the much more powerful Iranians. Especially when MBS is so busy with internal politics. But will Hezbollah respond in any way to the accusations?

Saudi Arabian security forces march in a military parade in Mecca, August 23, 2017. Handout from Reuters
Hezbollah – After fighting for over six years in Syria as Iran's vanguard, Hezbollah can credit itself with some impressive victories and has accumulated major experience – both in the use of advanced weaponry, and in the command and control of military formations as large as brigade-size units. But they have lost at least 800 men in the fighting and thousands more have been wounded – totalling about one-quarter of Hezbollah's original force at the start of the war. Thousands of new conscripts have been trained and sent to Syria but while this has widened the ranks, it has also fed resentment back home in Lebanon where many, including some within the Shi'a community, feel that Hezbollah has long ago ceased to serve as a Lebanese "resistance" force and is now holding the country hostage, in the service of Iran.
Militarily, Hezbollah is in no condition to launch an attack on Israel. It is still fighting in a number of locations in Syria and has to rebuild its units before embarking on a new war. Eighteen months after the death of its military commander, Mustafa Badreddine – almost certainly an assassination carried out by Hezbollah leader Hassan Nasrallah, at Iran's urging – a replacement has yet to be announced.
Nasrallah has lost the standing he enjoyed in the Arab world following the Second Lebanon War in 2006. He's no longer seen as the plucky resistance fighter, but rather as the murderer of Syrian resistance fighters. Another war with Israel, with the prospect of rehabilitating his image, may seem tempting, but Nasrallah is aware that his men are not ready and that a devastating response by Israel, targeting Lebanese civilian infrastructure, may actually yield the opposite result, with him being blamed by the Lebanese for yet more suffering.
But if Hezbollah is in such a vulnerable position, could Israel be tempted to take advantage of it?

Hezbollah fighters in southern Lebanon, February 18, 2017. Mohammad Zaatari/AP
Israel – One thing is almost certain: Even if Hariri and the Saudis thought that an Israeli attack on Lebanon is imminent, it won't be happening in the next couple of weeks. Israel is currently hosting the largest international military exercise ever to take place in the country, with seven foreign air forces from three continents participating. This is a show of military diplomacy that has been over a year in the planning and the Israel Air Force has little time right now for anything else. War won't start at least until the end of the month and by then tensions may have died down elsewhere.

Israeli tanks are seen near Israel's border with the Gaza Strip, in southern Israel, Dec. 29, 2008 as Israel widened its deadliest-ever offensive against Gaza targeting homes, tunnels and government buildings. AP/Sebastian Scheiner
For now, however, Israel is interested in keeping the calm around Gaza: Its new underground defence system against Hamas and PIJ attack tunnels is still being deployed and won't be fully operational for another 12 months. Besides, Israel doesn't want to interfere with Egypt's attempts to try and pacify the Strip.
The situation with Hezbollah along Israel's northern border is more complex. Israel has been regularly attacking Syrian targets, usually Hezbollah convoys trying to smuggle advanced weapons back to Lebanon, or military research facilities. Syria has tried a number of times recently to fire rather ineffective missiles at Israeli planes, but beyond that there has been no response from the Assad regime or from Hezbollah.
There are some voices in the Israeli security establishment that are in favour of a preemptive strike against Hezbollah's rocket positions in Lebanon at the present time, but they are in a minority.
Benjamin Netanyahu, for all his anti-Iranian rhetoric, is loth to expand hostilities with Iran's main proxy, beyond surgical pinpoint attacks. The lessons of 2006 are still fresh in the minds of Israeli military planners, and anyway Netanyahu is much more risk-averse than his belligerent image and has never been a fan of wide-scale operations that necessitate mobilizing the entire army.
He would of course be more than happy to see someone else take Iran head-on – like the Americans, for example – but while there has been no lack of anti-Iran rhetoric from the Trump administration either, there doesn't seem to be an appetite for going beyond a war of words in Washington.
Former U.S. Secretary of State John Kerry said at Chatham House in London on Monday that the leaders of Israel, Saudi Arabia and Egypt had all urged President Barack Obama to bomb Iran early on in his term. But none of them tried to do it themselves. That still seems to be the situation.
---

Israel's Latest Act of War: Another Attempt to Stop a Peace Offensive
"One nation openly attacking another on the latter's territory would create a crisis anywhere else in the world. Not in Gaza though." Perhaps the bigger questions are was this necessary and why now
By Ian Berman, Mint Press, Analysis
November 04, 2017
EXTRACT
On Monday, October 30, Israel fired five missiles at a tunnel under construction in Gazan territory east of Khan Younis. Seven Palestinians were killed and nine wounded during the attack. Israel asserts that the tunnel had reached the Israeli side of the perimeter wall it has built around Gaza, but it attacked the tunnel on the Gaza side, thus resulting in the 16 casualties. Since Israel has provided no proof that the tunnel had actually reached Israeli territory, the analysis that follows looks at either possibility.
In the first case, if the tunnel did not reach Israel, the tunnel would then be a defensive battlement. While Israeli propaganda mislabelled these structures as "terror tunnels" during its assault on Gaza in 2014, the tunnels were actually a very valuable asset for a defensive response to the Israeli invasion. During Operation Protective Edge, Israel unloaded its full arsenal of airpower, tanks, artillery and naval batteries against a defenseless population. The Palestinians had no such heavy weaponry and no effective defenses against Israel's firepower.
The military wing of Hamas, the al-Qassam brigades, were able to use a tunnel network to evade the massive bombing and then attack Israeli troops and mechanized armor using close-in fighting. This negated Israel's ability to massively shell Palestinian fighters. As Max Blumenthal noted, the tunnels played a large part in the Palestinians' ability to inflict military casualties, killing 67 Israeli soldiers during Operation Protective Edge.
This would explain Israel's interest in destroying the tunnels. Such casualties, even if relatively light in comparison to the Palestinian loss of 2,251 lives, are not acceptable to the Israeli public. Further, even after the three murderous assaults on Gaza in 2008-9, 2012 and 2014, the Israeli leadership is expected to launch still another assault going forward.
Gaza Tunnel
Yet there is one rather significant problem with this week's attack. It is an act of war during a supposed ceasefire. Again, assuming the tunnel did not reach Israeli territory, the Palestinians have every right to build defensive battlements on their territory. That the tunnel may cause future Israeli casualties should there be another assault on Gaza does not justify Israel's attack during a cease-fire.
Israel's attack on a defensive position in anticipation of a future conflict is actually the first strike of such a conflict. It is an offensive attack encompassing an unprovoked act of military aggression to reduce the Palestinians' military preparedness. Therefore, Israel's action is the launch of an offensive war, which is a war crime.
To read the rest of this article, click the headline.

---

Mounting Tensions in Syria and Gaza Throw Israel Into a New State of Emergency
Israel's proactive strategy on both its southern and northern fronts runs the high risk that at some point, something may go wrong
By Amos Harel, Haaretz Analysis
November 05, 2017

Israeli soldiers walk past an Iron Dome rocket interceptor battery deployed near central Gaza Strip, southern Israel. Photo by Amir Cohen/ Reuters
While the media is busy reporting on dubious draft laws and disagreement on marking the anniversary of Yitzhak Rabin's assassination, the state is sunk in a security emergency that is barely felt by most Israelis.
On Monday, the army blew up an Islamic Jihad attack tunnel under the border with the Gaza Strip. On Wednesday, according to reports from Syria, the air force bombed a Hezbollah weapons factory in central Syria and Syrian anti-aircraft missiles were fired at the planes as they flew over Lebanon. In between, the army canceled a scheduled test of air-raid sirens in central Israel so as not to further fray people's nerves, but at 3 A.M. on Thursday it accidentally woke up half of greater Tel Aviv with a false alarm.
None of this is really normal, even if we seem to have grown accustomed to these things. The series of strikes in Syria – each one presumably tactically justified – is testing the limits of the Assad regime's patience. The Syrian ruler, whose bloody success in his country's civil war has restored his self-confidence, has already implemented a change in policy. Recent Israeli sorties over Lebanese airspace have been met with anti-aircraft fire. And while the Israel Air Force is probably skilled enough to evade the missiles, Israel seems to stretching this rope about as far as it can go.
At some point, something is bound to go wrong, either with an airstrike or with the consequent missile fire. Hence the great caution and sensitivity required in managing the two fronts, north and south. It's no wonder the top brass wasn't keen to publicly praise the killing of terrorists, as Education Minister Naftali Bennett urged.
Nor is the latest escalation vis-a-vis the Gaza Strip fully behind us. The Palestinians' resounding silence in the wake of the explosion of the tunnel, in which 14 Islamic Jihad and Hamas militants, including some senior commanders, were killed, was met with a certain amount of surprise.
Islamic Jihad may be planning a major terror attack whose prevention requires a longer-term deployment by the Israel Defence Forces, or it may be waiting to exploit a weakness in the army's defence of the Gaza border. An attempted reprisal could also take place in the West Bank. For now, the army has decided to maintain a high state of alert, although it is barely being felt by the residents of the communities near Gaza (aside from a temporary ban on farmers approaching the border fence).
It's clear, however, that Hamas has another set of priorities at the moment. At the top it is seeing through the reconciliation agreement with the Palestinian Authority and making the most of the benefits it will bring, such as an easing of the Egyptian closure of the Rafah crossing and the expectation of increased funding from Ramallah. Hamas appears to be more eager for this agreement than the PA, which is advancing cautiously. Meanwhile, the reconciliation has actually led to renewed security coordination between the PA and Israel.
In July, Palestinian President Mahmoud Abbas ordered ties downgraded over the Temple Mount crisis. But now the PA needs Israel for the daily coordination of the transit of delegations and cabinet ministers between Ramallah and Gaza City. In exchange, Israel secured the PA's tacit consent to end the crisis and restore high-level contacts.
At the same time, the crisis with Jordan, which grew out of the conflict over the Temple Mount (due to the incident in which a security guard at the Israeli Embassy in Amman killed two Jordanian civilians after he was attacked), continues to fester. Amman is still angry and refuses to take back the Israeli ambassador, who reluctantly had to take part in all the fanfare arranged by Prime Minister Benjamin Netanyahu upon the security guard's return to Israel.
For years, Islamic Jihad, the second-largest terror organization in Gaza, maintained operative coordination with Hamas. After the Gaza war in the summer of 2014, during which the scope of Hamas' tunnels project was first exposed, Islamic Jihad also began digging attack tunnels. The first one of these was the one that was blown up this week, only two kilometres from Kibbutz Kissufim. The artificial fuss stirred up by the right over the army spokesman's supposed apology for killing the terrorist commanders in the tunnel diverted the discussion from the army's impressive accomplishment.
The approach of fully bringing to bear technological, engineering and intelligence capabilities looks to be paying off, even before the barrier being built along the Gaza border is completed. The main task that Chief of Staff Lt. Gen. Gadi Eisenkot gave the head of the Southern Command, Maj. Gen. Eyal Zamir was to find an answer to the attack tunnels.
The strategy that was formulated appears to be the right one. Once completed, the barrier, which is designed to act as a "tunnel guillotine" that will cut the attack tunnels in two, will be added to this. With all of this, Israel is aiming to boost the deterrence factor in regard to the tunnels — to signal to the Gaza leadership that its strategic project is destined to fail, and to the ordinary activists and the people doing the digging that anyone who goes underground can expect to die there.
No illusions about Russia
The most recent airstrike attributed to Israel occurred at the end of the day, during an official visit by Russian President Vladimir Putin to Iran. The usual question was raised in Israel: What's the value of coordination with Moscow, if Russia partners with Tehran? Maj. Gen. (res.)
Yaakov Amidror, Netanyahu's former national security advisor, says "One day, when the archives are opened, we'll be able to see what the prime minister did to create a relationship that enables us to work with the Russians in the north. It's a very concerted effort. I'm under no illusion that we'll persuade the Russians to change their worldview, but with very hard work, we've been able to create a situation in which they understand our interests and our need to operate in the north when these interests are threatened."
Israel, says Amidror, made a conscious decision not to get dragged into the Syrian civil war. "The thought was that we don't want to get in the middle of the historic clash between Shi'ites and Sunnis, when we're the strongest military power in the region and could tilt the scales in the war in Syria."
Now that the Assad regime has restabilized, a new reality is taking shape. "Now we have to very precisely define what our red lines are and be prepared to respond with direct force if these are crossed, while being conscious of the risks." Asked if such a use of force could lead to a military conflict, Amidror says, "Yes, but the alternative is that we let the Iranians build up an offensive capability that they will use against us at will, from Syria, later on."
Amidror will be a senior researcher at the new Jerusalem Institute for Strategic Studies, which opens officially on Monday. The think tank's president is Prof. Efraim Inbar and its heads include missile expert Uzi Rubin and Col. (res.) Eran Lerman, who held senior posts in Military Intelligence.
Until recently, this group of scholars was associated with Bar-Ilan University's Begin-Sadat Center for Strategic Studies (headed by Inbar). It is known for its conservative, right-wing stance on strategic issues.
Considering that the right has been in power for much of the past four decades, it's surprising how little influence right-wing research institutes have had on the thinking in security matters. So the opening of this new institute is a welcome development, also as a counterweight to some degree to the most influential think tank, the Institute for National Security Studies, which generally expresses centrist and left-of-centre political and security positions.
Amidror says that his and his colleagues' basic outlook is that, for the foreseeable future, Israel will not be accepted in the Middle East environment. "I expect there to be an ongoing struggle in which we will have much room to manoeuvre, tactics, diplomatic relationships and also concessions if needed. This is the starting point upon which we must prepare. Will we have to live by the sword forever? I don't known, but we'll certainly have to hold onto it forever. I had arguments about this with [Israel's late President] Shimon Peres, who said to me that where hotels would be located in the Golan Heights was more important than where the IDF would be.
"Israel shouldn't just keep banging its head against the wall. There are circumstances in which it will have to consider concessions, but without losing touch with reality. Here's a classic example: In the crisis with Turkey I thought the right thing to do would be to apologize to [President Recep Tayyip] Erdogan for the Mavi Marmara episode and not keep this as an open wound. I didn't think an apology would hurt our national dignity, especially after an international committee gave us the stamp of approval to use force and to impose a naval blockade on Gaza. But peace between us and the Palestinians is not the same as Germany and France after World War II. The circumstances are totally different," Amidror said.
He remains very sceptical about the chances for a peace agreement with the Palestinians, because of the vast gaps between the two sides' positions. In the same breath, he says he would oppose expanding the area of existing settlements, so as to leave an opening for future negotiations.
---

Israel tells its envoys to back Saudis, Hariri against Hezbollah, Iran – report
By Stuart Winer and ToI staff
November 08, 2017
Saudi King Salman, R, meets outgoing Lebanese Prime Minister Saad Hariri in Riyadh, Saudi Arabia, November 6, 2017. Saudi Press Agency, via AP
The Foreign Ministry has instructed Israeli ambassadors around the world to begin in earnest a diplomatic campaign against Iran and Hezbollah that includes backing Saudi Arabian claims that the two Shiite allies were behind a missile attack on Riyadh International Airport over the weekend.
Channel 10 reported on Wednesday that the ministry sent a classified memo to Israel's envoys around the world urging them to contact government officials and plead the case for reining in Iran and its Lebanese proxy.
The missive, reportedly sent Sunday, came the day after former Lebanese prime minister Saad Hariri shocked Lebanon and the region by announcing his resignation from the premiership while on a visit to Saudi Arabia, saying he feared an assassination plot against him. He used the opportunity to lash out at the influence of Hezbollah and Iran on his country.
"The events in Lebanon, and the ballistic missile launched by [Yemen's rebel] Houthis toward the Riyadh international airport, should cause [the world] to increase the pressure on Iran and Hezbollah on a range of issues, from ballistic missile production to its efforts at regional subversion," the foreign ministry memo read.
The Houthis, a Shi'ite militia backed by Iran, took credit for the missile, which was intercepted near the Saudi capital's airport.
"At the request of the director-general you are asked to urgently contact foreign ministries and additional relevant entities at the government level and to stress that Hariri's resignation and his comments on the reasons that led him to resign illustrate yet again the destructive character of Iran and Hezbollah and their danger to Lebanon's stability and the countries in the region," the memo said, according to Channel 10, which said it saw the memo.
"Hariri's resignation proves that the claim heard abroad that Hezbollah's inclusion in [Lebanon's] government is a recipe for stability is fundamentally mistaken," the missive explains. "This artificial unity creates paralysis and prevents domestic political forces from making decisions that serve their national interests. In practice it makes them hostages subject to physical threats who are forced against their will to advance the interests of a foreign power — Iran — even if the matter is likely to endanger the security of their country."
Israel has long criticized Hezbollah's involvement in Lebanese politics, where the terror group holds some 10% of the seats in Beirut's parliament and two out of the tens seats in the cabinet. Funded and equipped by Iran, Hezbollah has fought two wars against Israel since the IDF pulled out of southern Lebanon in 2000.
Iran and Saudi Arabia have long been at odds and back feuding Shiite and Sunni forces throughout the region. Although they do not share formal diplomatic ties, Israel has reportedly forged ties with Saudi Arabia and other Gulf states over a shared distrust of Iran.
Channel 10 also reported — without citing sources — that Egypt had warned Saudi Arabia against putting too much pressure on Iran and Hezbollah as it may quickly plunge the region into violent conflict between Iran and its branches and Saudi Arabia and its allies.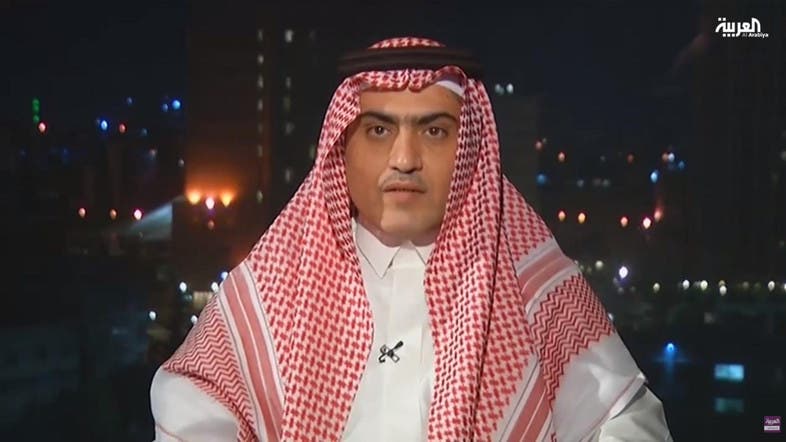 Minister of state for Gulf affairs, Thamer al-Sabhan, said that Saudi Arabia would not accept Lebanon declaring a war on Saudi Arabia. Al Arabiya -AA.Net
Separately, Saudi Arabia's foreign minister accused Iran and Hezbollah of being behind the missile launch by Yemen's Houthis.
"It was an Iranian missile, launched by Hezbollah, from territory occupied by the Houthis in Yemen," Adel al-Jubeir told CNN on Monday.
Al-Jubeir said the missile was manufactured in Iran before being smuggled in parts into Yemen, where "operatives from the Iranian Revolutionary Guards and Hezbollah" assembled it and fired it on Saudi Arabia