Labour leader snubs anti-Balfour Arab party member over Balfour
The article from Al Monitor is followed by a direct and angry editorial from Haaretz

Sports journalist and Israeli Arab Labour Knesset member Zouheir Bahloul
Comments of Israeli Labour chair Avi Gabbay against Israeli Arab Labour Knesset member Zouheir Bahloul reflects Gabbay's strategy of abandoning left-wing values to seek right-wing votes.
By Mazal Mualem, Al Monitor
November 03, 2017
Zionist Camp party leader Avi Gabbay and Knesset member Zouheir Bahloul exchanged accusations this week. But the clash between Gabbay and Bahloul, the feeble reconciliation they declared and the silence of the party's legislators over Gabbay's public hazing [ridiculing] of Bahloul amount to a dangerous milestone in Jewish-Arab relations.
They are also a stain on the annals of the veteran left-wing party, whose senior members lambasted Prime Minister Benjamin Netanyahu over his 2015 election day warning that the Arabs were "flocking in droves" to the ballot boxes, accusing him of incitement against the country's Arab community.
The incitement against the Arab minority (21%) by Netanyahu, by Israel's right-wing parties and even by centrist Yesh Atid party chair Yair Lapid (who coined a dismissive name for Arab legislators, calling them the "Zoabis" after controversial lawmaker Haneen Zoabi) is to be expected given their habit of translating Jewish-Arab alienation into populist name-calling. This week, Gabbay — who heads the left-leaning Labour Party and the Zionist Camp faction of which Labour is the senior member — contributed his part.
The highly publicized row started with Bahloul's announcement that he does not intend to take part in the festive Knesset session marking the centenary of the Balfour Declaration, one of the cornerstones of the Jewish State. Bahloul offered a rational explanation of his decision, saying he had nothing to celebrate.
"The Balfour Declaration gave you the right to self-determination, and I'm sure that anyone with half a brain understands that the people of Israel deserve self-determination, but what about my people? In addition to my Israeli identity, I also belong to my Palestinian identity. … I do not think it would be appropriate for me to participate as a free man in the festive session."
Gabbay's reaction was unambiguous and resounding, essentially making clear to Bahloul that he was persona non grata in the Labour Party. In media interviews and briefings, Gabbay pledged to remove from the Zionist Camp ticket "people who issue radical statements that do nothing to advance the interests of their constituents."
Gabbay appeared intent on turning his harsh message into a public hazing; otherwise he would have chosen to take Bahloul to task privately. The powerful message seemed directed, too, at party Knesset members who meant to back Bahloul's right to express a legitimate view.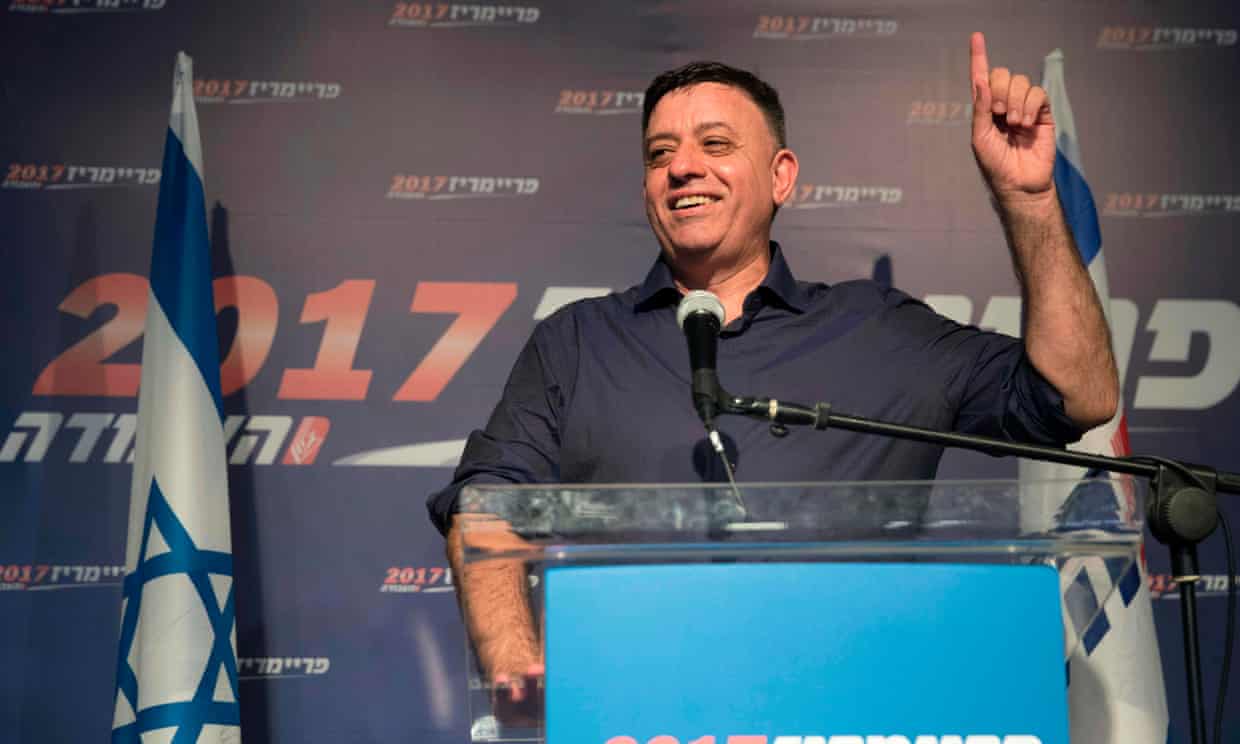 Political unknown, millionaire businessman Avi Gabbay, wins Labour's leadership election, July 2017. Photo by Jack Guez/AFP/Getty Images
In one fell swoop, Gabbay wiped out years of effort by the Labour Party to draw in the country's Arab voters, especially since the deep crisis engendered by the October 2000 rioting in which police shot dead 13 Arabs. As Labour Party chair in 2007, Amir Peretz took a historic step by appointing Knesset member Ghaleb Majadla as Israel's first Arab Muslim government minister.
Gabbay does not seem overly interested in this chapter of Labour's history, nor in the long-held opinions of experts and the Shin Bet security service that integrating the Arab community is a key to co-existence and to blocking radical trends that sometimes express themselves in acts of terror.
The integration of Israel's Arab minority into the fabric of Israeli society is not simply a slogan. A joint future is critical for the continued existence of the State of Israel as an egalitarian democracy in the spirit of the 1948 Declaration of Independence.
Gabbay only has eyes for electoral trends and figures
For now, Gabbay, who sees himself as Israel's next prime minister, is doing well in the polls. The question of what shape the country will take in a generation or two does not appear to interest him. Gabbay only has eyes for electoral trends and figures. For him, the Labour Party is simply a platform, and he therefore has no qualms about ruling out the participation of the Arab Joint List party, which represents most of the country's Arab voters, as a partner in a future coalition he intends to head. That is also why he declared that there is no reason to uproot West Bank settlers for the sake of a future peace agreement with the Palestinians. Such statements are dramatic, coming from a man who heads a left-wing party and given that most of its members are silent for fear of retribution, going along with his unilateral ideological shift.
Bahloul is an Israeli Arab. Like most of his fellow Arabs, he feels a shared destiny with the Palestinians and identifies with their aspirations for self-determination and an independent state. It's not a crime; it's part of his complex identity and his membership in a minority group. Similar views show up systematically in almost every survey. Bahloul is not a Zionist, just as more than 1.5 million Israeli Arabs, who constitute one-fifth of the population, are not Zionists and do not identify with the Balfour Declaration.
Bahloul did not run for the Knesset on a Likud Party ticket. He chose to join the major Zionist left-wing party based on his assumption that the far smaller, leftist Meretz Party does not have any prospects of replacing the current rightist regime.

Then-president Shimon Peres (right) sits in his office with Zouheir Bahloul, January 2, 2008. "With Labour, I'll have more of an opportunity to do the things I want to do in terms of bridging between Jews and Arabs," he said. Photo by Yossi Zamir/Flash 90
Bahloul, 66, has an impressive record of achievements as a journalist and sports-caster in the Israel Broadcasting Authority and other media. As a Knesset member, he continues to report regularly on football matches in fluent Hebrew. He is undoubtedly the personification of co-existence, even in the choice he made to enter politics in December 2014 as a member of a Zionist Party (and not of an Arab party, for example).
As expected, he came in for harsh criticism, contempt and incitement on the part of other Arab lawmakers. Knesset member Zoabi described his move as "humiliating," but he explained his decision to join Labour as stemming from "a belief that this party could replace the Israeli right. One can only change reality from a position of power. I am creating a very important discourse and dialogue with the Jewish public, and I will take advantage of it to affect change."
The conundrum presented by Gabbay since his surprise election in the July party primaries is nearing a solution: He wants to assume power, even at the price of changing the core values of the Labour Party and targeting Likud Party voters, those known as the "soft right."
Gabbay also reads poll results. He understands that after the wave of Palestinian violence against Israelis known as the individual [or knife] intifada, which erupted in October 2015, more and more Israeli Jews regard their Arab compatriots as collaborators with the enemy. The leadership of the Arab community is not blameless, either, in deepening the alienation and radicalization, as reflected in their decision to boycott the funeral last year of late President Shimon Peres, the ultimate icon of peace (a decision that Bahloul harshly criticized). Is this, then, not the time and place for the Labour Party chair to display leadership and stem the deterioration of relations?
Gabbay is distancing himself from any leftist labelling, just as Yair Lapid has been doing. In this sense, he is a type of Netanyahu and Likud clone, and there is no one in his own party who will stand up to him. Under these circumstances, there does not appear to be room for Bahloul in the party he called home.
Mazal Mualem is a columnist for Al-Monitor's Israel Pulse and formerly the senior political correspondent for Maariv and Haaretz. She also presents a weekly TV show covering social issues on the Knesset channel. On Twitter: @mazalm3
---
For Israel's Labour party leader, an Arab is a problem
It's now clear that in the eyes of Avi Gabbay 'Arab' and 'extremist' are synonyms
Haaretz Editorial
November 01, 2017
Zouheir Bahloul, a Knesset member from the Zionist Union party, decided not to attend any of the events marking the 100th anniversary of the Balfour Declaration. In response, "associates" of Avi Gabbay, who heads Zionist Union's main component, the Labour Party, said that Bahloul "won't be in the next Knesset" and that Gabbay "has had it with extremism."
But if Gabbay considers someone like Bahloul to be extremist, who would he consider moderate? It's hard not to conclude that for the Labour Party chairman, "Arab" and "extremist" are synonyms.
"Everyone who knows me and my views knows there's nothing more important to me than coexistence between Arabs and Jews in this country," Bahloul wrote in response. "The battle for an egalitarian existence, mutual respect and Israel's democratic space is my guiding light. This is why I entered politics, and this is what I fight for."
He's absolutely right. It's hard to think of any other Israeli public figure who better symbolizes moderation and Arab-Jewish coexistence than Bahloul. So what was there in what he said to earn him the name of an extremist? It seems his crime begins and ends with the fact that he is an Israeli Arab.
The demand that Israelis Arabs participate in celebrations of the Balfour Declaration – the cornerstone on which the state of Israel was founded – is excessive. After all, as Bahloul aptly said, "this is a declaration that constituted a watershed for the Zionist movement, but at the same time, for the Palestinian community, it constituted the beginning of their struggle for an independent state."
It's inconceivable for Gabbay not to understand that Bahloul – like any minority worldwide, including the Jews – has a complex identity. Bahloul is both Palestinian and Israeli. Anyone who supports the two-state solution, as Bahloul does, believes that independence for one people doesn't contradict independence for the other. Bahloul can support the Palestinian struggle for independence without being a threat to Israel, just as Jewish Israelis can support the Palestinian struggle without betraying their loyalty to the state.
The Netanyahu government is characterized by incitement and inflammatory language, by branding people as traitors and administering loyalty tests. Gabbay, as the person elected to lead a political change in government, is first and foremost obligated to free himself from this conceptual world view.
He recently declared that he wouldn't sit in a government with the Arab parties' Joint List. "I don't see what connects us," he said. When he was assailed over this and accused of making racist statements just like Yesh Atid chairman Yair Lapid – who declared, referring to Arab MK Haneen Zoabi, that he wouldn't partner with "the Zoabis" to block the right from forming a government – there were people who tried to defend him, saying he only had a problem with the extremists in the Joint List.
But it's now clear that there is no other way to understand Gabbay. His response to Bahloul paints him as a garden-variety nationalist – someone who doesn't want Arabs in his government, and also not in his party.