Balfour's legacy, in pictures
From DW (Deutsche Welle),
November 02, 2017

Er Sorry!
A woman wearing a mask of Queen Elizabeth stands next to an apology inscribed by the elusive British artist Bansky in Bethlehem, West Bank.

In Ramallah, around 3,000 people marched from the city centre to the British Consulate, many of them carrying banners with slogans such as "100 years of dispossession." It was on this day hundred years ago that Britain promised to Zionists to create a Jewish home in what is now Israel.

Palestinians [in Ramallah?] blame Britain for their current plight. They see the declaration as the original sin, that resulted in "nakba," or catastrophe, the mass displacement that resulted from the war surrounding Israel's creation in 1948. Photo by M. Torokman/Reuters

Jerusalem. Israeli police officer silences a protester. Demonstrators in East Jerusalem held a sit-in in front of the British Consulate, handing letters to diplomats. They called on Britain to apologize to the Palestinian people. Israeli police quelled the protesters when some raised the Palestinian flag.
From Middle East Eye. November 2nd.
Mint Press


A Palestinian protester in Ramallah, Thursday, Nov. 2, 2017. Thousands of Palestinians have taken to the streets in protest across the West Bank marking a century since the Balfour Declaration, Britain's promise to Zionists to create a Jewish home in what is now Israel. Photo by Nasser Nasser

Bethlehem:Palestinian children from a refugee camp attend a Banksy art event apologising for the Balfour Declaration. Photo by Ahmad Gharabli/ AFP/Getty Images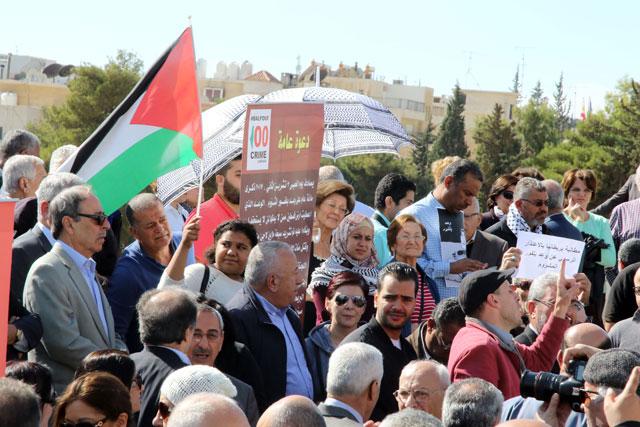 Amman: The National Jordanian Committee for the 100th Anniversary of the Balfour Declaration on Thursday staged a protest in front of the British embassy. Photo by Osama Aqarbeh
From the Daily Mail


Nablus. Photo by Majdi Mohammed, AP. The caricature of the European Jew enwrapped in the Declaration – here misnamed as 'the promise'- being kicked along by a military boot may refer to present-day Israel.

Ramallah. Photo by Nasser Nasser/AP

Gaza city Photo by AFP

Outside the British Consulate in Jerusalem. Photo on Nov. 2nd by Mahmoud Illean/AP

Halhul, north of Hebron, photo by AFP