Showbiz execs organize to get their stars into Tel Aviv
The article from Jewish Forward is followed by one from Variety.

This week, Rihanna, above, is performing in Tel Aviv, Israel's style bubble where performers can feel the love and gratitude. See 2nd article.
Hollywood Insiders Form Group To Counter Celebrity BDS Campaigns
Creative Community for Peace Lines Up Showbiz Execs 
By Nathan Guttman, Jewish Forward
October 22, 2013
The Boycott, Divestment and Sanctions movement, which aims to isolate Israel because of its occupation of the West Bank, has often had trouble gaining traction on other fronts. But the performing arts have emerged as the one field in which calls to boycott the Jewish state have yielded some response. Roger Waters, Elvis Costello, Annie Lennox and Stevie Wonder, among others, have responded to calls from grassroots activists by canceling dates in Israel or declining to play there, or at Israel-related events, even as other performers, including Lady Gaga, Alicia Keys, Bob Dylan and Madonna, have pointedly ignored such calls.
But lately, a group opposed to BDS has been taking a notably different approach. Unlike its opponents, who focus on building grassroots pressure by fans, from the bottom up, the Creative Community for Peace has assembled an impressive roster of top entertainment executives supportive of Israel who are seeking to influence artists from the top down to perform there.
"Because our members work within the industry, we are able to use our personal contacts to proactively reach out to artists and their representatives to provide balanced information about Israel," said Lana Melman, CCFP's director. "We prepare them for the possibility of a boycott campaign, educate them about Israel and the artistic freedom there, and work to arrest potential cancellations."
CCFP, which formed in 2011, does not yet have its status as a tax-exempt charity recognized by the Internal Revenue Service. But while awaiting the processing of its application, it has partnered with StandWithUs, a group widely perceived as being on the far right of the pro-Israel spectrum. Pending acceptance of CCFP's application, donors to the organization send their contributions to StandWithUs, an already recognized public charity. StandWithUs channels these donations to the newer group. This enables CCFP supporters to claim their donations as tax deductions. CCFP also currently shares office space with StandWithUs.
These are legal and commonly used practices for new groups in the not-for-profit world, according to tax experts. But CCFP's choice to partner with StandWithUs — a group that has co-produced videos with Israel's foreign minister, Danny Ayalon, rejecting the notion that the West Bank is occupied — has moved critics to question its real agenda.
"Why not align themselves with an organization that is closer to their projected position as apolitical?" asked Andrew Kadi of the pro-boycott U.S. Campaign to End Israeli Occupation.
CCFP's founding member David Renzer, in an email to the Forward, said his organization has "always operated independently" of StandWithUs and that "there is no day-to-day relationship" with the group."
The criticism has not stopped CCFP from bringing together an impressive roster of Hollywood heavies behind its banner. They include, among others, Ben Silverman, a former co-chair of NBC Entertainment; Jody Gerson, co-president of Sony/ATV Music Publishing; Gary Ginsberg, executive vice president of Time Warner; Samuel Schwartz, co-founder of the music talent agency Gorfaine/Schwartz, and Ron Fair, chief creative officer and executive vice president of Virgin Records and former chairman of Gefen Productions. Fair has also produced albums for acts such as the Black Eyed Peas and Christina Aguilera, and these high profile connections underline the kind of personal and professional relationships the group can bring into play.


Alicia Keys, top American R & B singer performed in Tel Aviv, July 4th, 2013. She named her son Egypt Daoud Ibarr Dean and says she performs to 'bring peace and love'. Photo Getty Images
The latest show business clash over Israel involved Grammy award winner Keys, who performed in Tel Aviv on July 4 despite a massive mobilization of critics that organized a petition signed by 16,000 people, calling on Keys not to "play apartheid Israel." The protest was joined by Pink Floyd musician Waters and by author Alice Walker, who wrote a series of personal open letters to Keys appealing to her to boycott Israel.
In response, the music industry executives on CCFP's advisory board contested Walker's comparison of Israel to apartheid-era South Africa. The group also organized a counter petition in which more than 18,000 signatories called on all artists to proceed with their plans to perform in Israel and to allow "the power of your music to help bring hope and peace to the region."
At the end of the day, it was the pro-Israel activists who won this battle when Keys went ahead with her July 4 performance.
Renzer, former head of Universal Music Publishing Group; Steve Schnur, a top executive at the leading video game producer EA, and Ran Geffen-Lifshitz, an Israel-based music producer, are the founders of CCFP.
The group's website offers a view of Israel aimed at pop artists and their followers, showcasing Israel's cultural diversity and technology. But it touches only briefly on issues relating to Israel's conflict with the Palestinians, the topic at the core of the boycott campaign.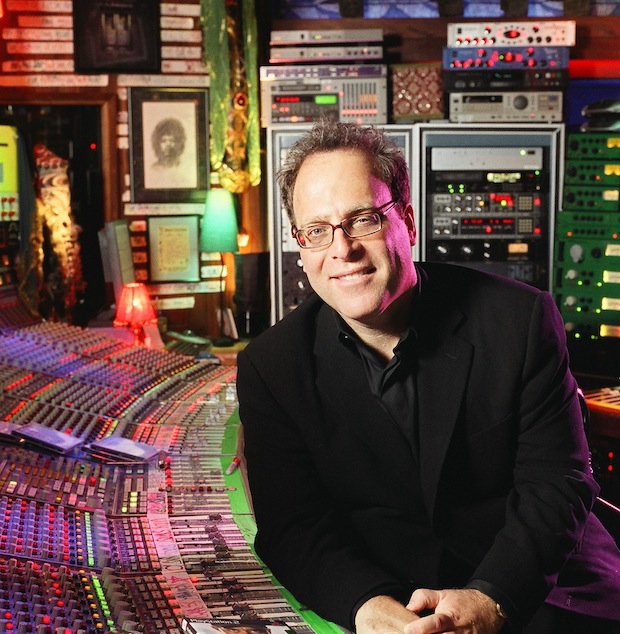 Steve Schnur, executive of a video games company, rep for various music performers and a founder of CCfP.
The website describes CCFP as a group composed of members with diverse political views about how Israel can attain peace. But it also takes positions that appear to be held by only a narrow spectrum among Jews who support Israel. Among other things, it argues against the notion that settlements are an obstacle to peace with the Palestinians though Secretary of State John Kerry recently stated that "the United States of America views all the settlements as illegitimate." A recent survey of American Jews by the Pew Research Center found only 17% of American Jews believe that settlements help Israel's security.
As does StandWithUs, CCFP also disputes the use of the term "occupation" — a description that even right-wing Israeli leaders such as Ariel Sharon have acknowledged as accurate — to describe Israel's hold over the West Bank.
The website also strongly challenges the pro-boycott activists' claims of Israeli apartheid practices as a "false description."
The group's success is hard to measure. Its website is packed with photos of internationally acclaimed artists performing in Israel and posing on the streets of Tel Aviv or at the Western Wall in Jerusalem. It also boasts testimonials and videos of artists that have visited Israel, from Dylan to Justin Bieber.
Still, it is not clear how many artists have been swayed by CCFP's pro-Israel campaign, or what role CCFP or other activists played in ensuring that artists include Israel in their world tours.
David Siegel, Israel's consul general in Los Angeles, has no doubts. "They are effective because they work from inside the industry," he said. "They have gained a lot of resonance, and they are, essentially, the only organization focused on the cultural boycott."
In terms of assets inside the entertainment community, groups on the other side of the battle can mainly deploy Waters, the former frontman for Pink Floyd. Waters not only supports the boycott, but has also taken it upon himself to reach out to fellow performing artists to convince them to scratch their Israel concert plans.
Last December, it was Waters who wrote to Wonder, calling on him to reconsider his performance at an event hosted by Friends of the Israel Defense Forces, in Los Angeles. Wonder canceled the planned gig. BDS supporters also took pride in convincing Costello to call off his performance in Tel Aviv.
But while the public battle has focused on artists already scheduled to perform in Israel, a music industry insider who has been involved in bringing top-of-the-line artists to Israel noted that the greater concern rests with those who have not yet scheduled their concert tours.
"It is difficult to bring artists to Israel as it is," the industry executive said, noting the relatively small market Israel represents. "But politics makes it even more complicated. These people don't like to get involved in it."
Siegel, Israel's top diplomat involved in reaching out to the entertainment industry, underscored this point. "We're talking about artists that are used to having everyone love them, and now they are getting hate mail and petitions," he said. "That's why the best way to talk with them is from within the industry."
Contact Nathan Guttman at guttman@forward.com or on Twitter, @nathanguttman
---
Rihanna and Other Artists Who Play Israel Feel the Pressure
Twitter-based BDS Movement urges entertainers and others to stage anti-apartheid-like boycott
By Debra Kamin, Variety
October 16, 2013
Pop star Rihanna has confirmed an Oct. 22 concert in Tel Aviv, a decision that has delighted her legions of Israeli fans but angered proponents of the Boycott, Divestment and Sanctions movement, a global campaign calling for the use of political and economic pressure to compel Israel to withdraw from Palestinian land.
SEE MORE: From the October 15, 2013 issue of Variety
Known in the Twittersphere as #BDS, the movement has been gaining momentum since its inception in 2005, and has caused ripple effects across Israel's academic, agricultural and manufacturing sectors. Its proponents, who consider Israel's policies against Palestinians tantamount to apartheid, have pushed — with success — for Israel's detractors to adopt a total refusal to purchase Israeli products, to target corporations and universities that do business with Israel, and to encourage governments to levy penalties against the Jewish state until it fully withdraws from the territories it captured in the 1967 Six-Day War and allow all Palestinian refugees the right of return to their pre-1948 homes.
Artists and entertainers have been drawn into the fray, with directors bowing out of film fests, musicians scrapping concerts and intellectuals refusing Israeli awards in a bid to avoid traveling to Jerusalem or Tel Aviv. In July, "Reluctant Fundamentalist" helmer Mira Nair spurned an invitation to bring her film to the Haifa Film Festival, writing on Twitter, "I will go to Israel when the walls come down … I will go to Israel when Apartheid is over … I stand with the (Palestinian Campaign) for the Academic and Cultural Boycott of Israel and the larger Boycott, Divestment and Sanctions Movement."
Nair is one of the biggest names to bow to the pressure. While the BDS movement has gained global support, and nearly 14,000 users follow @BDSmovement on Twitter, the past few years have seen some of the world's most prominent artists ignoring BDS' pressure and even issuing statements condemning the injection of politics into their profession.
This past summer, Alice Walker wrote an open letter to songstress Alicia Keys, urging her to cancel a planned July 4 concert in Tel Aviv.
Keys nevertheless went ahead, with the singer explaining to the New York Times, "I look forward to my first visit to Israel. Music is a universal language that is meant to unify audiences in peace and love, and that is the spirit of our show."
Online petitions and campaigns sometimes bordering on harassment are routine. Jon Bon Jovi, Elvis Costello and the Pixies have all nixed scheduled concerts after facing such intimidation, which appears in floods of Facebook messages, viral letters and tweets, and threats of blowback in the form of diminished ticket sales in other locations across the globe.
But when a truly big music act books a tour date in Tel Aviv, BDS has, so far, floundered. Triumphs for the Twitter counter-movement that calls itself #BDSFail have included 2012 sellouts by Madonna, Lady Gaga and Linkin Park, along with the Red Hot Chili Peppers.
As for Rihanna, her local promoters say the Holy Land performance is 100% on, and the star is being prepped for the expected media backlash that will no doubt accompany her when she steps onstage for 50,000 eager fans.
@debra_kamin
---
Notes and links
In Israel, Alicia Keys Stood with Military Occupation and Oppression, Ignored Human Rights

From End the Occupation, July 2013

Keys' visit to Israel was proudly tweeted at least eight times by Israel's Ministry of Foreign Affairs, and various Israeli consulates. Showing the importance the government attaches to major artists visits in light of Israel's growing cultural isolation, Israel's consulate in Philadelphia tweeted, "Alicia Keys blew Tel Aviv away at her July 4th concert, and Rihanna is next! Will you be at her October 22nd show?" There is no evidence that Keys and her representatives objected to the use of her name and performance by Israeli officials to the benefit of the state of Israel. However, Keys and her legal representative, the firm Ziffren, Brittenham, LLP, whose partner David Byrnes is also an advisory board member of Creative Community for Peace, took legal action to remove from Youtube a video made by activists of Palestinian women protesting set to the tune of "Girl on Fire" that called on Keys to cancel her show in Israel. CCP later asserted that the activists were using Keys' "work for their own self-gain."

For a sustained attack on CCfP and one its founders and main PR man Steve Schnur see
Creative Community for Peace in Letter to Jose Feliciano: Healing with Music in Colonial Times, Building Bridges Over the Bodies of the Oppressed, Pulse, August 2013

Welcome To The Creative Community For Peace

From their website

(Motto: Don't Let Israel's Detractors Politicize Art; video Let the music play)

We represent a cross section of the creative world–those who create and help create music, films, and television programs–and their fans.

We may not all share the same politics or the same opinion on the best path to peace in the Middle East. But we do agree that singling out Israel, the only democracy in the region, as a target of cultural boycotts while ignoring the now-recognized human rights issues of her neighbors will not further peace.

We understand the power that our music, our films, our television shows, and all arts have. They have the power to build bridges. Foster better understanding. Encourage dialogue. And hopefully lead toward greater mutual acceptance.

If anything, turn up the music, expose more of our films and television shows to wider audiences, and encourage people from all cultures to interact and build greater dialogue and understanding.

If you support the message that the arts can build bridges—please join us in this important mission.

Israel in the Footsteps of My Grandparents:
Israel is simply too precious a gift to be left solely to the Israelis. We all have a stake in its future.
(Article by Steven Schnur on how to act on his beliefs.)