Rebellion against oppressor Hamas in Gaza
Brief news reports from Ma'an news and i24 followed by an analytical piece from Edmund Sanders, LA Times.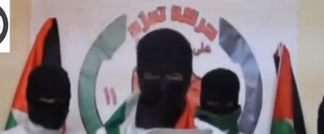 Tamarod, Gaza: 'They are no brothers of ours' they say of Hamas in their video (Arabic, no subtitles.) A brief accompanying statement says [edited for readability] Masked men launch 'Tamarod', "a rebellion against injustice in Gaza," a statement directed to Hamas, the ruling authority in Gaza. They invite the people of the Gaza Strip to come out and rebel against the rule of Hamas, which they call 'Balzalm' – the oppressor. Published on Aug 19, 2013

Hamas: Egypt trained 'Tamarod' members in Gaza
By Ma'an news
August 24, 2013
GAZA CITY — Egyptian intelligence and security services trained members of a group calling itself "Tamarod Gaza," a senior Hamas official charged Friday.
In a video released Sunday, masked activists read a statement by "Tamarod Gaza" calling for protests across the enclave on Nov. 11 to overthrow Hamas.
On Nov. 11, all "tyrannies and oppression practised by the Muslim Brotherhood in Gaza" will come to an end, according to the statement.
The Egyptian Tamarod movement is a protest group that organized opposition to the rule of president Mohamed Morsi, the Muslim Brotherhood leader who was deposed on July 3.
Hamas' Yahya Mousa told the Lebanese newspaper El-Nashra that Tamarod had centres in the West Bank and Gaza and that its members were trained by Egyptian intelligence and security services.
Hamas security services have detained members of the group in Gaza and they are being interrogated, Mousa added.
"There is a big difference in reality between Egypt and Gaza. Those traitors don't have any place among the Palestinian people who protect the political system and resistance," Mousa said.
"These groups will not succeed and will not have any impact in Gaza," the Hamas official said.
Mousa dismissed the group's claim that it is fighting "oppression" in Gaza. "This doesn't mean anything. Our people in Gaza suffer the oppression of President Mahmoud Abbas, Israel and the US," he said.
He added: "These groups want to sink the nation in blood to keep Israel as the only power and controller in the area … The Arab nation is being exposed to an international conspiracy which Israel and the US lead."
Mousa said Washington's "war on terror" was a conspiracy against political Islam in the region, and he accused the Palestinian Authority of being a part of a US coalition.
Gulf states are sponsoring the coalition, which is conspiring against Egypt where it created a "fascist and criminal coup," the Hamas official said.
The coalition is working against dignity, freedom and revolutions in the Arab nation, he added.
Responding to the report, a high-ranking Egyptian official said Hamas was trying to protect itself from the anger of the Palestinian people.
"We feel pity for Hamas for having such minds that lost its people due to oppressive and unjust practices against them and began using excuses to justify its failure and protect itself from the anger of Palestinian people," he told Ma'an.
"There must be a decision taken inside the movement to escalate against Egypt to try to throw all problems in Gaza on its biggest sister Egypt," he added.
In July, a group calling itself "Tamarod," Arabic for rebellion, marched through Ramallah calling for a third intifada.
Masked protesters rallied through Ramallah's streets, chanting that a third intifada, or uprising, would restore the dignity of the Palestinian cause.
They called on Palestinian factions to resume military activities and to unite in resistance against Israel's occupation.
---
Gaza-based Tamarod-inspired movement challenges Hamas
Call for Palestinians to take to the streets to end Islamist group's tyranny stresses non-violence
By i24 news
August 20, 2013
A movement inspired by the recent uprisings in Egypt has emerged in the Hamas-controlled Gaza Strip, calling the Palestinian people to take to the streets to oust the Islamist group, which they accused of multiple crimes against civilian population.
The group identifying itself as "Tamarod [revolt] against the oppression in Gaza​" uploaded to YouTube on Monday a statement announcing a mass-demonstration on November 11th with the intention of removing Hamas from control over the coastal enclave. The statement, translated into English by the Palestinian news agency Ma'an, drew explicit analogies with the ouster of the Muslim Brotherhood-backed President Mohammed Morsi in a military overthrow in July.
November 11th is the anniversary of the death of PLO (Palestine Liberation Organization) chief Yasser Arafat, a leader who represented secular Palestinian nationalism, as opposed to the hardline Islamist ideology of Hamas.
"We can't remain silent any more, and those who count on our defeat are mistaken losers, while those who count on our tolerance should know that tolerance could come to an end," said a masked speaker, adding that on the day designated for the upheaval "tyrannies and oppression practiced by the Muslim Brotherhood in Gaza" shall end. "They have practiced fraud in the name of religion and resistance declaring themselves as believers while they labeled us as disbelievers."
---
Hamas crackdown on Tamarod group reflects panic, analysts say
Youth group Tamarod Gaza seeks rebellion against Hamas, which has seen a dramatic reversal of fortune with the Muslim Brotherhood's ouster in Egypt.

By Edmund Sanders, LA Times
August 21, 2013
GAZA CITY — The homemade YouTube video features four masked men in matching T-shirts, standing like soldiers as one reads a statement lambasting Hamas for killing civilians and calling for the overthrow of the Gaza Strip's Islamist government.
They call their new Palestinian youth group Tamarod Gaza — using the Arabic word for "rebellion" — after the similarly named Egyptian protest movement that helped bring down Islamist President Mohamed Morsi and Hamas' mentor, the Muslim Brotherhood.
When the brief amateurish video appeared this week, many Gazans laughed it off as a joke, noting that the would-be rebels looked like teenagers blowing off steam.
Hamas, however, didn't find it as amusing. On Tuesday, its security forces arrested four young men in Gaza who they said had produced the piece, accusing them of collaborating with Egypt and Hamas' longtime Palestinian rival, Fatah, in the West Bank.
The swift crackdown was the latest sign that Hamas, which has controlled the impoverished seaside Gaza Strip since 2007, is under growing political and financial pressure since the Muslim Brotherhood's collapse in neighboring Egypt.
In the abrupt reversal of fortune, Hamas has gone from holding near state-like status during Morsi's rule to being vilified by Egypt's new military-led government as a terrorist group responsible for inciting unrest in the Sinai Peninsula.
Egypt's army has reinstated tight border restrictions — partly lifted under Morsi — at the Rafah crossing and destroyed more than half of Gaza's smuggling tunnels, costing the Gazan economy $100 million to $200 million a month, according to Hamas Economic Minister Aladdin Rafati.
The network of tunnels had been a lifeline for Gaza since Hamas seized control of the enclave, a move that led Israel and Egypt to impose restrictions on the flow of people and goods because of Hamas' refusal to disavow violence and recognize Israel's right to exist.
Though Morsi's government never opened the Rafah border crossing to commercial trade, as many in Hamas had hoped, it substantially relaxed restrictions on individual travel, creating an alternative for Palestinians who are unable to exit Gaza through Israel. Since Morsi's ouster July 3, hundreds of Palestinians have been stranded, waiting for sporadic border openings so they can move in or out of the territory.
Shipments of Egyptian-produced gasoline through the tunnels have been slashed by nearly 70%, resulting in long lines when the fuel is available. (Gasoline from Israel is still easy to find but costs twice as much.) New construction projects have been postponed because cement and other materials can't be delivered through the tunnels.
Hamas is feeling the pinch too, since it gets a significant portion of its $800-million annual budget from taxes imposed on tunnel commerce, generating an estimated $10 million to $30 million a month. With tax revenue down dramatically, Hamas workers got only half their pay last month and, according to one report, Hamas had to borrow to cover the shortfall.
"The situation is not good and of course we are under pressure, but it's not the first time we've experienced hard times," Hamas Deputy Foreign Minister Ghazi Hamad said Wednesday. "Survival is in our genes. We know how to make accommodations."
Critics say Hamas, after initially appearing stunned and paralyzed by Egypt's turmoil, has responded in recent weeks by tightening its grip in Gaza.
Nighttime security checkpoints on streets are back. Journalists have been arrested or threatened in anonymous phone calls. Two independent news outlets, Maan and Al Arabiya, were shut down.
"They got much more aggressive after the collapse of Morsi," said one of Tamarod's founders, who has been arrested and questioned several times by Hamas security forces. He did not want to be identified for fear of being arrested again.
The young man said Tamarod, launched in April, plans to hold a demonstration Nov. 11 in Gaza and has collected signatures from 32,000 supporters.
"We will start out peaceful, but are ready to die to achieve our goal," he said.
It remains to be seen whether the movement will catch on with young Gazans. Similar attempts over the last two years to organize large demonstrations of Palestinians fizzled, partly out of fear of retribution by Hamas but also for lack of interest.
Yet Hamas' harsh response reflects the sense of panic in the organization, said Fathi Sabbah, head of the Palestinian Institute for Communication and Development in Gaza City.
"Hamas is a little paranoid," he said. "They think that if they close their eyes for five seconds, they'll lose control."
At the same time, he said, the group's political enemies, including the Egyptian army, Fatah and Israel, may see an opportunity to apply further pressure. Sabbah said Hamas would find it difficult to restore ties with Egypt as long as the army remained in power there.
"They want to punish Hamas," he said.
Meanwhile, Hamas is scrambling to find new international allies. The Muslim Brotherhood was the group's chief backer, politically and financially, but now it's fighting for its own survival.
"They put all their eggs in the basket of the Muslim Brotherhood and they lost," said Ahmed Assaf, a senior official with Fatah.
Until two years ago, Iran was also a key Hamas benefactor, but that relationship cooled after Hamas refused to back Syrian President Bashar Assad, an ally of Iran, and moved its political bureau out of Damascus, the Syrian capital.
Hamas political chief Khaled Meshaal moved to Qatar, but the new emir, Sheik Tamim bin Hamad al Thani, who took over from his father in June, is facing pressure from Persian Gulf countries to tone down Qatar's support for Hamas.
"They need to find a new patron, but they've burned through most of them," said Jonathan Schanzer, analyst at the conservative Foundation for Defense of Democracies in Washington. "There's a potential to bankrupt the movement."
Hamas officials downplayed their financial problems and predicted that relations with Egypt would normalize once the democratic process there was restored.
"We're very cool and relaxed," said Hamad, the deputy foreign minister. "We're not running around the world, knocking on doors for help. We just have to be patient. We still don't know what the outcome in Egypt will be. You can't ignore the Muslim Brotherhood. They can come back."