Palestinians create three more peace protest camps, fearful IDF destroys them UPDATE
News reports from ISM, Ma'an and Mondoweiss. Many photos.

Israeli forces surround Palestinian activists in a village named Al Manatir on land belonging to the West Bank village of Burin, February 2, 2013. The 4th protest village was established to protest settlement expansion and harrassment faced by neighboring Palestinian villages. Photo by Ryan Rodrick Beiler/Activestills.org)
---
By International Solidarity Movement
February 10, 2013
Today, the South West Popular Committee along with international activists embarked on a new effort to establish a village, Canaan, on Palestinian land in South Hebron Hills. The village's name was not accidental. We wanted to declare that we are the indigenous people of Palestine. We are the descendants of the Canaanites and our ties to the land can never be broken or taken away.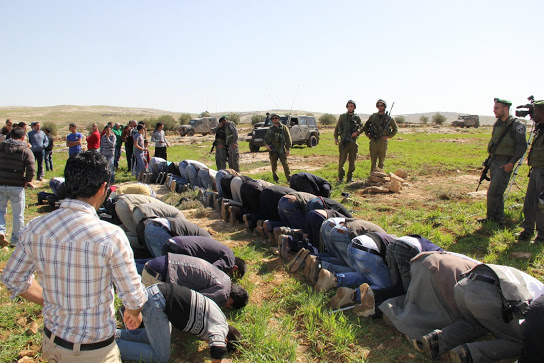 Praying at Canaan, the fifth protest village
Early last night, various Palestinian activists from a wide array of villages in the South West Bank area along with international activists met in a home to discuss plans for the coming day. Residents of Canaan just after they erected the tent. Signs were prepared which stated 'Our Land is Our Right', 'Canaan Village' and a declaration of intent which stated that "we are the sons and daughters of the Cananites, we establish Canaan Village on endangered Palestinian land." "We declare that it is our natural right to develop, reclaim, improve, use and live on all our lands free and without threat from occupiers/colonizers."
In the early morning hours, following a night of planning, we established Canaan as our first attempt, in the south of Yatta (the entrance to Twani). Within less than a minute, while we barely managed to establish the tent, an occupation jeep arrived. The occupation soldiers encircled us and told us we must leave. We refused to obey such a racist demand. An officer of the occupation army then went on to demolish our tent, steal our additional tents and equipment and violently prevent us from reclaiming our land and our belongings.
Several hours later, we went on with a much larger group of activists, international supporters and an especially large number of journalists, to the east Yatta, near Ein Mai'in, Hazawai, we established a large tent and began building a room from stones of the land. Within half an hour, we were heavily encircled by at least 6 jeeps of the occupation forces. A large military vehicle which fires skunk water was brought in. We were told that we have 10 minuets to leave the area and that the land was a 'closed military zone'.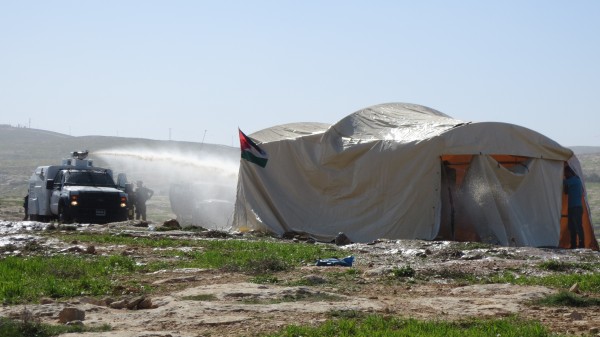 IOF tanker firing skunk water on the people of Canaan.
[Skunk Reuters, September 3, 2012. Imagine taking a chunk of rotting corpse from a stagnant sewer, placing it in a blender and spraying the filthy liquid in your face. Your gag reflex goes off the charts and you can't escape, because the nauseating stench persists for days.

This is "skunk", a fearsome but non-lethal tool in Israel's arsenal of weapons for crowd control. It comes in armored tanker trucks fitted with a cannon that can spray a jet of stinking fluid over crowds who know how to cope with plain old tear gas.]
We did not yield of course and were immediately showered upon by heavy skunk water. Occupation soldiers then went on to attack journalists and arrest them. They beat an elderly woman and other activists. In several instances, activists jumped in and prevented with their bodies the arrest of two people. After several hours of struggling with the occupation soldiers which numbered more than 50, four journalists, eight Palestinians and two international activists were arrested, our tent was destroyed and we were prevented from returning to our land. For many hours during the hot afternoon, hundreds of activists remained in the area and demanded the right to return to the Canaan Village.
---
Israel Violently evacuates Nablus protest village and injures dozens
By Occupied Palestine/Ma'an
February 03, 2013
NABLUS — Israeli forces evacuated a protest tent set up earlier on Saturday by Palestinian activists in Nablus, leading to clashes which injured at least 20 people.
Earlier, around 200 people from across the West Bank set up the "Al-Manatir neighborhood" encampment in an area of Burin village that activists say is slated for confiscation by a neighboring settlement.
Burin is squeezed between the Bracha and Yitzhar settlements, and is the target of regular settler violence.
Israeli forces raided the area and forcibly removed all activists from the site. Soldiers fired multiple tear gas canisters at the protest village, injuring at least 20 Palestinians, witnesses said.
Palestinian Authority official Ghassan Daghlas told Ma'an that during the clashes, settlers attacked Burin with fire-bombs and rocks, damaging homes, cars and setting fire to olive trees.
Earlier on Saturday, 16-year-old Zakariya Al-Najjar was hit in his thigh by a bullet fired by settlers in Burin, a Ma'an reporter said.
Groups of settlers also gathered near Yizhar settlement and threw stones at passing Palestinian cars.
Palestinians Diyaa Bani Audah, Ashraf Abu Rahmah from Bilin, Wahib Qadus, Barakat al-Najjar, Bakir al-Najjar, Ibrahim al-Najjar and Udayy Ahmad from Burin were detained by Israel's military during the clashes. An Israeli army spokesman confirmed that seven people were arrested.
Fatah official Mahmoud al-Aloul told Ma'an that Palestinians will continue to confront settlers and illegal settlement expansion. "If they demolish a protest village, we will erect a new one, and we will continue until the Palestinian people retrieve all their rights," he said.
Burin protesters said they had been buoyed by a report issued on Thursday by United Nations human rights investigators who called on Israel to halt settlement expansion and withdraw all settlers, adding that the practice could be subject to prosecution as a possible war crime.
The "Al-Manatir neighborhood" is the fourth such initiative in recent weeks.
The Bab al-Shams village was set up in an area where Israel plans to build the "E1″ settlement, severing the West Bank from Jerusalem.
Then, locals established the al-Karamah (Dignity) village in Beit Iksa, northwest of Jerusalem, which is set to be tightly encircled by Israel's separation wall.
Last week, activists set up the Al-Asra, or prisoners, protest village in the village of Anin, northwest of Jenin.
Israeli forces have moved to evacuate the camps and dismantle their structures.
Reuters contributed to this report.
---
Clashes break out at new protest village in Jenin
By Ma'an news
January 26,28, 2013
Protestors pictured in Anin village, adjoining the 3rd protest camp of al-Asra -'Prisoners' village'. Photo by Raed Abu Baker/MaanImages
JENIN — Israeli forces assaulted a Palestinian official on Saturday during clashes at a newly erected protest village in Jenin, witnesses said.
Dozens of Palestinian activists set up the Al-Asra, or prisoners, protest village in the village of Anin, northwest of Jenin, on Saturday, Palestinian Authority Minister of Prisoners Issa Qaraqe announced during a press conference.
Anin village is located next to Israel's separation wall.
The governor of Jenin Talal Dweikat and member of the Palestinian Legislative Council Jamal Hwail attempted to enter the village with activists, but were prevented from doing so by Israeli forces.
Physical clashes ensued, and Israeli soldiers assaulted Hwail and fired tear gas at the activists, witnesses said, causing several injuries.
The brother of hunger striker Yousef Yassin, from Anin village, was arrested by soldiers, witnesses said.
An Israeli army spokeswoman said that "200 Palestinians hurled rocks at soldiers, who responded with riot dispersal means." No injuries or arrests were reported, she added.
The Al-Asra protest village is the latest action in a wider strategy of popular Palestinian resistance to Israeli land annexation.
On Friday, activists rebuilt the al-Karamah (Dignity) village which was torn down by Israeli forces on Monday.
The tent village was established to protest Israel's land confiscation and settlement building in the area of Beit Iksa, set to be entirely encircled by Israel's separation wall once completed.
Last week, Israeli forces tore down the tented village Bab al-Shams, set up to protest Israel's plans to build the "E1" settlement on the land, severing the West Bank from Jerusalem.
---
Activists set up new protest village in Nablus, settlers shoot teen
By Ma'an news
February 03, 2013
NABLUS — Palestinian activists and farmers on Saturday erected a new tented protest village south of Nablus, sparking clashes with settlers which left one teen injured.
Around 200 supporters from across the West Bank set up tents in an area of Burin village that activists say is slated for confiscation by a neighboring settlement.
Israeli forces immediately moved to shut down the area, and blocked traffic at the nearby Zaatara checkpoint, stopping several buses of activists destined for the village, witnesses told Ma'an.
Soldiers fired tear gas and sound grenades to disperse the activists, and detained five Palestinians, they said.
Israeli settlers also raided the village and fired at the Palestinians. Zakariya Al-Najjar, 16, was hit by bullet in his thigh, a Ma'an reporter said.
Settlers managed to seized a trailer in the encampment, activist Salah Al-Khawaja told Ma'an.
He said fistfights broke out between Palestinian men and Israeli soldiers trying to remove them.
An Israeli military spokesman said forces used riot-dispersal means when Palestinians threw rocks at them.
Residents said the new village was established to protest Israeli land confiscation for settlement building. Burin is squeezed between the Bracha and Yitzhar settlements, and the target of regular settler violence.
They are calling the new encampment the "Al-Manatir neighborhood" after the traditional stone huts built for watchmen in Palestinian agricultural land.
It is the fourth such initiative in recent weeks.
In January, Palestinian activists started a new wave of tented protest camps in the West Bank.
The Bab al-Shams village was set up in an area where Israel plans to build the "E1" settlement, severing the West Bank from Jerusalem.
Then, locals established the al-Karamah (Dignity) village in Beit Iksa, northwest of Jerusalem, which is set to be tightly encircled by Israel's separation wall.
Last week, activists set up the Al-Asra, or prisoners, protest village in the village of Anin, northwest of Jenin.
Israeli forces have moved to evacuate the camps and dismantle their structures.
---
Al-Manatir: the protest village in occupied territory that was destroyed before it was built
By Allison Deger, Mondoweiss
February 04, 2013

Erecting the first tent at al-Manatir. Photo by Simon Krieger
Saturday morning moments after Palestinians planted metal huts and canvas tents on a rocky hilltop in the northern West Bank village of Burin, Israeli settlers were pelting them with rocks. Armed with slingshots and at least one gun the settlers stormed the Palestinians who were setting up a protest encampment similar to Bab al-Shams in the E-1 corridor, the fourth such encampment in the past month.
But the confrontation escalated and the encampment, which was to be named al-Manatir, was never established.
Burin is located in the Nablus governorate, which sees the highest rate of settler violence in the West Bank. Attacks are almost daily. There are 12 settlements and 36 outposts in the district, and the outposts are often home to the gun wielding "hilltop youth," a violent gang of settlers known for "price tag" attacks on both Palestinians and the Israeli military. The volatile atmosphere runs through all of the small villages near Burin. Just a few days ago the International Solidarity Movement highlighted Urif, a village a few kilometers from Burin, noting after two months of habitual settler attacks in December 2012 that 17 women had miscarriages, which they speculated was caused by the harassment.
At 9:30 am Saturday morning around 50 Palestinians went to work erecting tents. By 10 am, many supporters had joined them, bumping the number of protesters to 200. The settlers who live on the next hilltop over were irate; one activist described them as being like enraged mothers flinging their bodies across an army of brutes in order to save their young. She said it was like a movie. But the settlers who were dressed in white with their faces covered, were not striving to keep anything they already owned. Palestinians from Burin have a deed for the land where the protest camp was supposed to extend. And according to villagers, the ownership is not contested by the state of Israel.
Initially the Israeli military kept the settlers at bay. Such harassment is common in Burin, but it is atypical for the army to intercede on behalf of Palestinians. However, the reprieve only lasted a half an hour and by noon the settlers snatched two of the Palestinian's metallic huts and carted them back up the hilltops.
Fadi Quran, a Ramallah based activist, showed me a video of the settlers stealing the shelters while the military watched without reaction. "It's apartheid, it's plain to everyone's eyes," said Quran, explaining the military's crackdown on the Palestinians and relative blind-eye to the settlers. "Here are the soldiers firing at us and here are the settlers carrying the tent up the hill."
Reflecting the sunlight, the huts looked like miniature Frank Gehry designs bobbing– as far from subversion as the settlers could walk.
Shortly after the shelters were stolen, a group of about 30 settlers ran off towards the outskirts of the Palestinians village and indiscriminately attacked houses. They threw stones and were soon met by Palestinians who tried to protect their neighbors' homes by throwing rocks at the settlers.


IDF fire teargas after settlers have stolen the shelters. Photo by Simon Krieger

Back at the protest site the military fired tear gas and live bullets. Unlike other direct actions where the Israeli military positions itself at a distance from the protesters and incrementally advances to meet their opposition, in Burin the army fired while swarmed by Palestinians and settlers. With nowhere left to go the Palestinians took cover inside of Burin's windy streets.
Tear gas choked the entire village by the time I arrived in the late afternoon. One infant had been rushed to a hospital and later a woman in her twenties was driven out after inhaling too much gas. My first interaction with Palestinians inside of Burin was a mother with three young children who jumped in our car for a ride to cleaner air. I dropped them off and then headed towards the chorus of live fire in the center of town, where the organizers were resting.

Soldiers force protesters to abandon camp. Both above photos by Simon Krieger
By nightfall the Palestinians had lost steam. Most people held small cloths to their faces, soaked rubbing alcohol and distributed by the Red Crescent Society; and one activist gripped a halved onion. For some, the entire day had been spent running from the military. In the evening it was unclear what they were still doing in the village. The protest encampment was cleared hours ago and the huts that were salvaged were now abandoned in Burin's alleyways. The village was also sealed off by a checkpoint, and 18 were arrested and three injured, according to Tweets that same day from activists. The settlers had shot one Palestinian in the leg and destroyed around 100 olive trees. The injured youth, Zakharia Yaser Nijar, 17, a high school student from Burin, was taken to a hospital in Nablus.
Before leaving, Amar Eid, 19, from Burin, pointed out to me to three different hilltops that have settlers. I asked him the name of the settlements and he laughed and said, "We can't know all the names. There's too many." The settlements of Adei Ad, Bracha, Yitzhar, and Mitzpe encircle the stone and concrete houses of Burin.
Simon Krieger is a Ramallah based photojournalist from Bern, Switzerland. His photographs are published on his personal website and here.